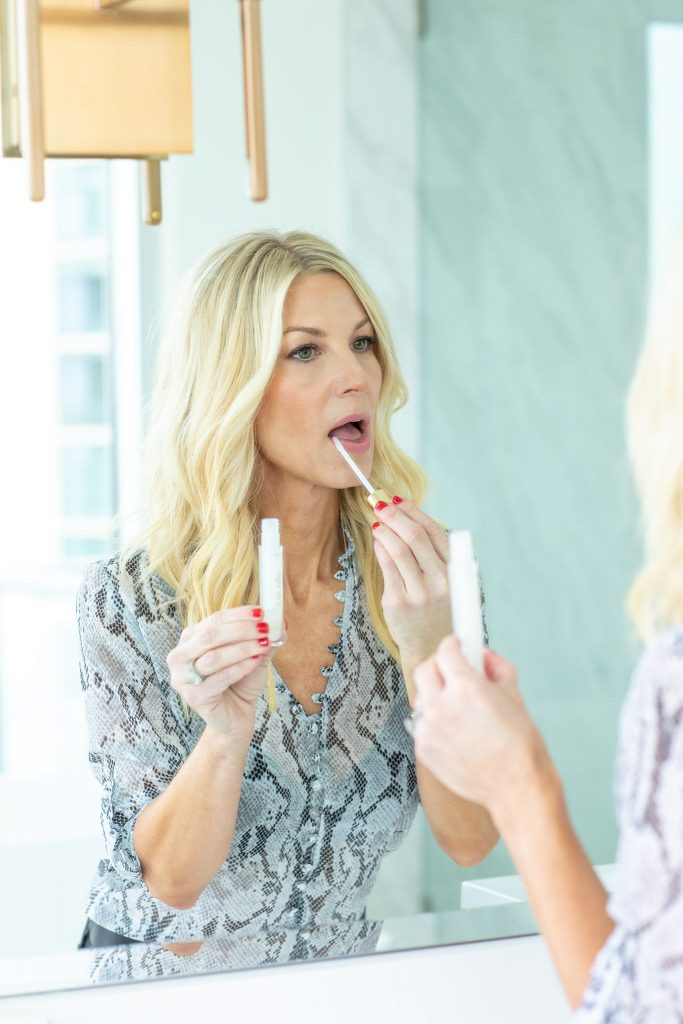 Who else is just treading water….trying to juggle all the things? Even though the pandemic has slowed things down in some ways, it has also made life more complicated. Most of us are busier than ever trying to navigate it all.
Even at home, I still want to look and feel my best. Excited to share my 5 minute makeup routine for busy women! This simple routine is the perfect way to feel great even if you are staying in all day. It also works for daytime errands too!
Click on the widgets below to shop all my favorite items for glowy skin!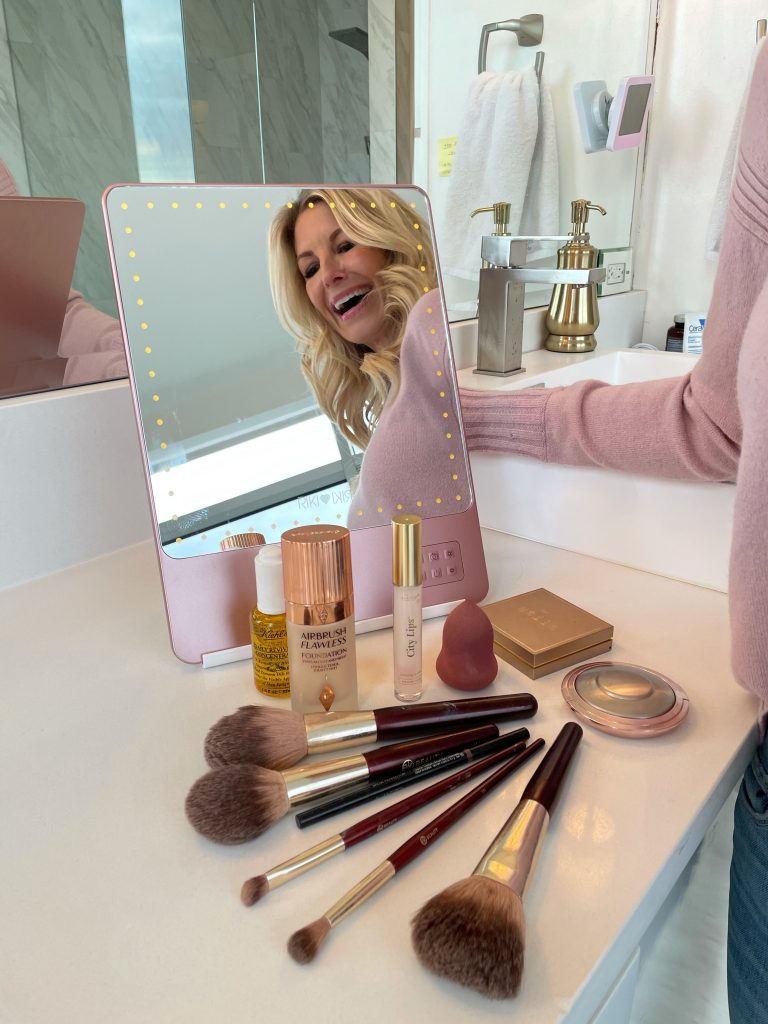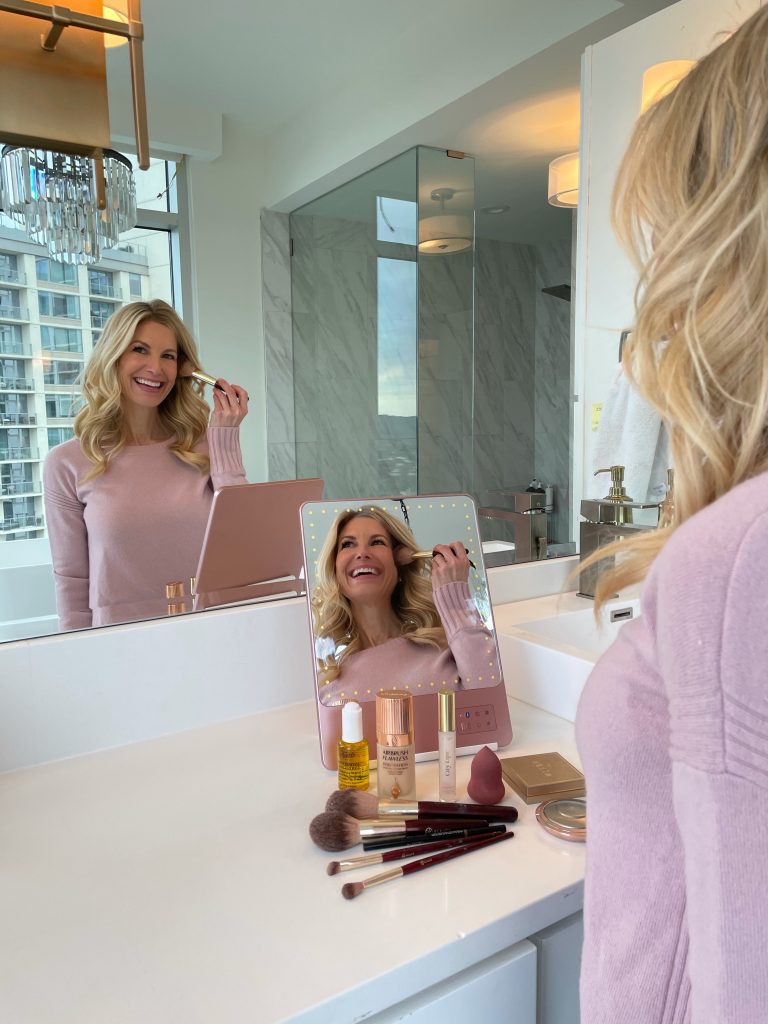 I keep my daily routine minimal.  I use makeup to even out my skin tone,  cover blemishes and make me feel and look refreshed all day long. I also have eyelash extensions, which make my eyes look brighter without daily mascara or shadow.
I have noticed my skin taking on more texture I've aged. Mine shows up most around my eyes and lips, where my skin is the thinnest.  That's why I prefer creamy formulas instead of foundations. Honestly, I prefer creams over powder-based makeup in general because it doesn't settle into the little fine lines on my face.
I start with clean and moisturized skin and apply a bit of Charlotte Tilbury Light Wonder Foundation in medium. It's super lightweight but still offers enough coverage. I have very fair skin so I like mixing it with a bronzer on my hand first and then blending it onto my face with The BK Beauty Makeup Blender.

My favorite bronzer is Sisley's Phyto-touche Bronzer Gel. It's a bit pricey but worth it! A dab will do ya – don't use too much, maybe a pea-sized amount. I mix some face oil into the bronzer during the winter,  when my skin is dry.  The Beautycounter brightening facial oil has vitamin C and makes my skin look plump. I dab a bit of bronzer on the back of my hand, drop in a bit of oil and apply it to my face with my beauty blender. For summer I switch to the Kiehls Daily Revival Anti-Aging Oil. It leaves my skin feeling dewy, but is light enough that it doesn't clog my pores. 

Next up – concealer! Believe it or not, I am actually recommending a drug store brand! My favorite is the Maybelline Age Rewind Concealer – I love the spongey tip applicator and the neutralizer color matches my skin perfectly. It's super affordable and effective – never cakey! Dab the creamy product under your eyes and over blemishes and use the BK Beauty blender to smooth it all in. It's very natural looking!

I cover up blemishes with Becca Concealer. Apply a small amount on sunspots, blemishes, red spots and boom – they disappear!  Again, I love the creamy formula because doesn't highlight all the texture on my face.
Now let's talk about eyebrows! My favorite eyebrow brush is the Anastasia Brow Wiz in the color blonde. It really defines my brows with a very natural color. I swipe on just a bit of brow gel to hold my brows in place all day long without any flaking.

The Beauty Counter Cream Blusher in Carmel is the perfect neutral warm color for winter. I apply this with my fingertips,  dabbing it across the cheekbones for a really natural look. To add a little highlight, I swipe a tiny bit of the Stila Hue Highlighter Bronzer on with my BK Beauty brush.

I switch to a pink hue on my cheeks for the summertime. My all-time favorite color is  Orgasm by Nars. It's very natural looking with just a hint of shimmer.
Can't forget to mention this makeup mirror – it's one of my favorite new things! (Oprah agrees, it made her favorite things list in 2019.) It's the Riki Loves Riki skinny mirror. (Thanks for the recommendation @lisajbeauty.)
Reasons why this mirror is amazing:
thin size and comes with an adjustable stand that fits easily on bathroom counter
built-in and natural LED light with 5 stages of brightness
3x magnifying mirror built-in
Built-in FaceTime and selfie clip
comes in a small travel size too!

Ok the final touch to my daily routine is a bit of lipgloss! I prefer gloss over lipstick because my skin and lips are super dry.  Citybeauty makes a fantastic lip plumper line. It comes in 15 colors, is long-lasting, and isn't sticky!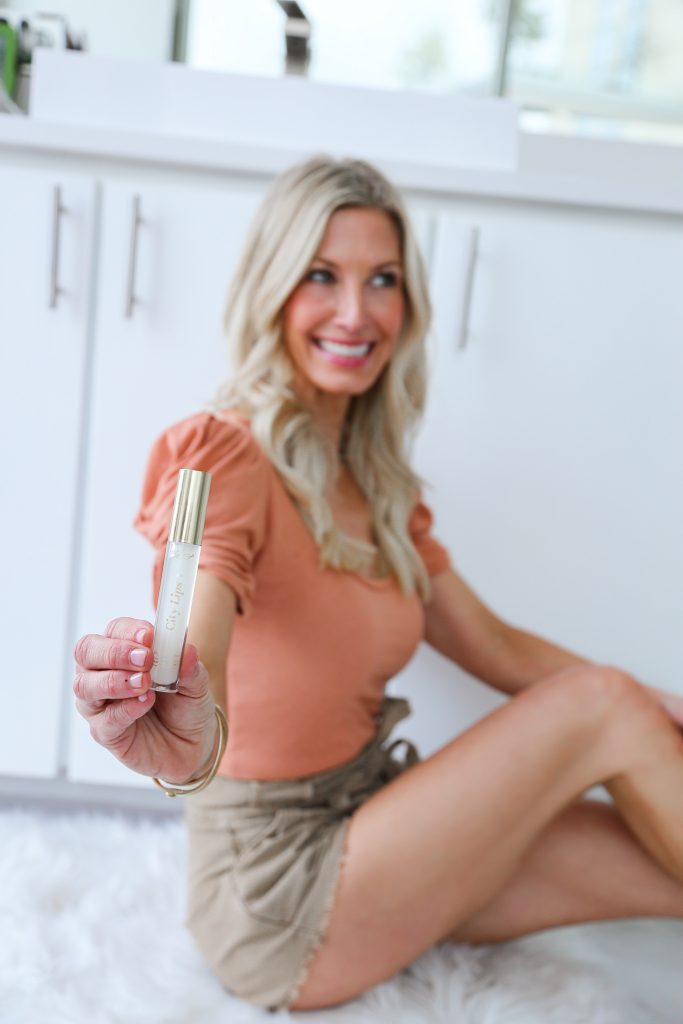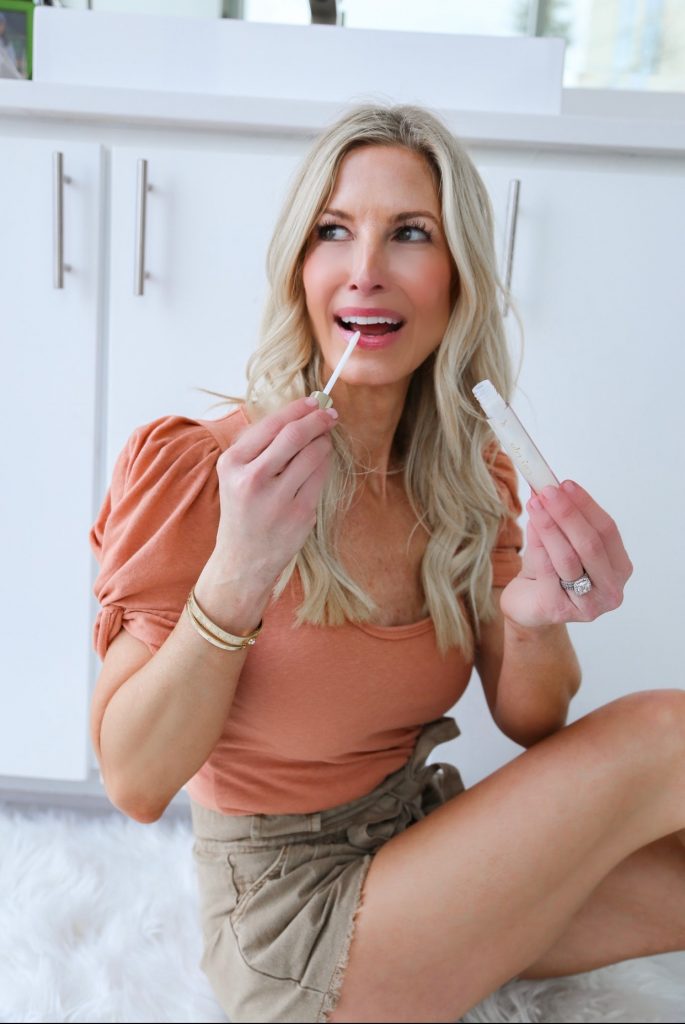 I often apply the clear on top of my other glosses for the plumping effect. There are also shimmer and opaque colors too. The ingredients in this gloss plump and hydrate lips and smooth out my fine lines too.
Click here and use code DONNA at checkout for 25% off this gloss! I swear it's my non-surgical lip plumper!

Ok ya'll…..I promise this routine takes less than 5 minutes – and then you are ready to go for the day!   I hope this gives you some ideas on how to switch up your makeup routine! Want more ideas on how to look your best everyday? One of my favorite makeup bloggers of all time is Lisa J….she has the best tips! I love watching her Youtube videos. One of my favorites is her tutorial on maturing skin! Watch it here. I also recommend my latest blog post on my beauty secrets to help you look 10 years younger.
Thank you so much for reading and for all your support. Sending much love from downtown Austin, TX.