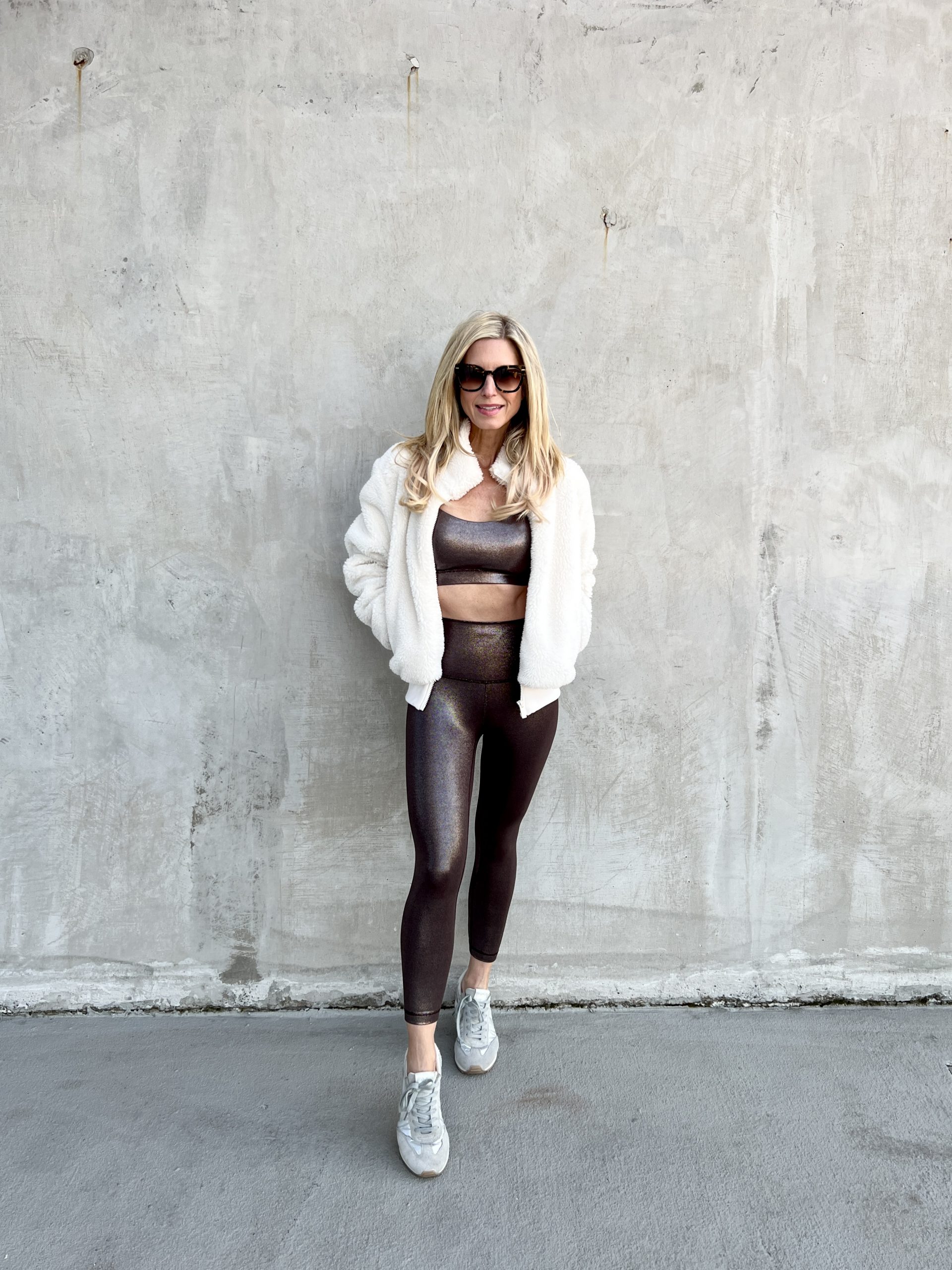 Who else is having a hard time getting motivated to exercise? Does clothing affect your mindset like it does mine? When I have a new outfit to sport, I'm always more excited and motivated. Getting over the holiday health slump is hard!
 When I put on something I feel really good in, my mood is immediately boosted! That is why I'm excited to share outfits to refresh your workout wardrobe for 2022.
AMAZON
The good news is: you don't have to break the bank to look good while you sweat! There are so many affordable styles to choose from right now.  I tend to favor high quality pieces that will last, because I wear them every single day. But, if you are shopping on a budget, I've included some items that are affordable and still chic!
Ok y'all these are my favorite budget friendly finds ever! These leggings and top are only $20.  The leggings come in full length and crop version and have one style that features pocket.
There is no compression but they do feel so comfy like a second skin. I wear the xxs – I'm only 5'2." I have them in 4 colors and have washed and dried them many times, they don't shrink or fade.
This crop is so dang cute and comes in like 5 other designs. It has a built-in shelf bra too. I'm wearing a size small, I'm a 34C cup. Honestly the straps were a little long and aren't adjustable so I just put a little stitch in the back to make it fit me a little better. Totally worth $20!
LULULEMON
Obsessed with this shiny fabric that feels buttery soft. Part lycra, feels weightless and wicks the sweat from your body. Comes in black too!
Wearing an xxs legging and small top. I'm 5'2″. Wearing a small in the sherpa white coat.
ALO YOGA
All my favorites on sale at Alo! High quality, won't shrink or fade. Click on any picture image to shop. 
L-R: 1. Long sleeve asymmetrical top comes five colors. Looks cute tied to side
2. One shoulder sports bra so cute worn solo or peeking out from an off the shoulder top.
3. Hi waist leggings in purple are comfy and slimming.
4. Moto puffer pants in black have a drawstring waist and side pockets. 20% off!
5. Sherpa jacket has removable hood. Heavier weight is great for the cold temps.
ZELLA
This brand is fab! Same quality and style as Lululemon but half the cost.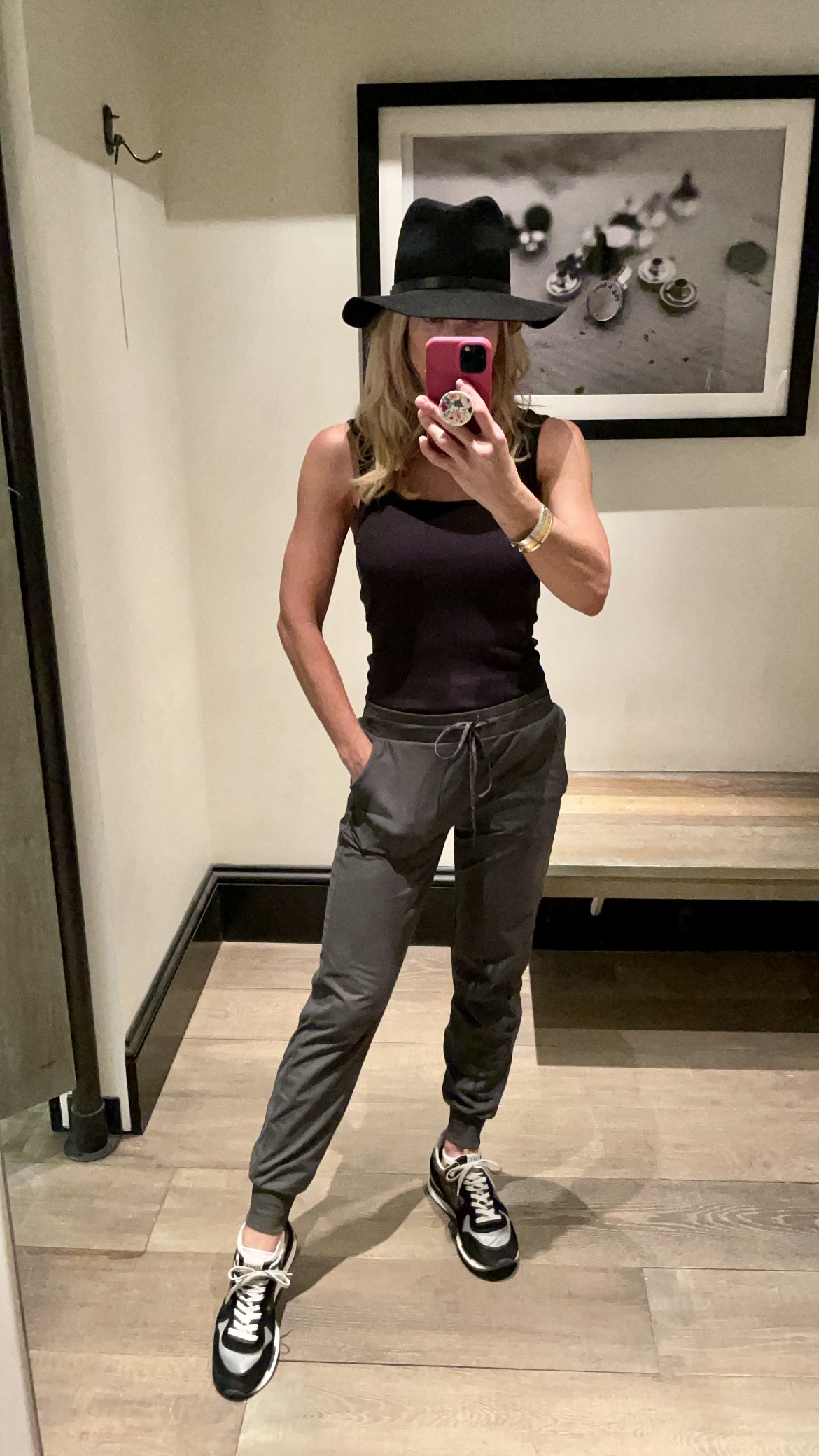 Live in joggers. I wear these on repeat and have them in every color. They run big size down. I am wearing an xxs, I'm 5'2″.
The designer of Zella clothing used to work at Lulu! He left and now designs this line – I love the affordable prices and chic styles.
You can't beat the pricing! Bomber is $100, leggings $50, sports bra $25, zip up jacket $70 – all on sale.
OUTDOOR  VOICES
Leggings have lots of compression to really hold you in! Sweat tech fabric wicks the sweat from your body! No more sweat rings.
This tank has a built in shelf bra and comes in 5 other colors. Doesn't shrink or fade.
I wear my On Running shoes probably everyday! It's like walking on clouds.
ONZIE
High rise legging in leopard is slimming and chic! Comfortable and doesn't fade! I've owned this outfit for over 2 years and it still looks new.
It does run a little big so size down. The material is soft but durable! Comes with full length leggings and biker shorts too – so cute!
SNEAKERS UNDER $60
Athletic shoes don't have to break the bank! I found these cute styles that will perform well and all priced under $60.
Thanks for reading my post on how to  refresh your workout wardrobe for 2022. Hope this inspires you to try out some new workout gear!
Looking for more fitness inspiration? Check out my blog post on 7 daily  habits I created that have helped me lose weight and keep it off!
I also love Kayla Itsines. This is one of my fav posts on how to get started on a fitness plan. 
Be sure to follow me on Instagram @donnatryba. I post workouts and other health tips there everyday!
Sending good vibes from downtown Austin, Texas.

**I  partner with affiliate platforms where commission may be earned based on clicks and or purchases, and I would love it if you decided to use the links above! Affiliate links help bloggers like me to fund the free content that we provide on our blogs.