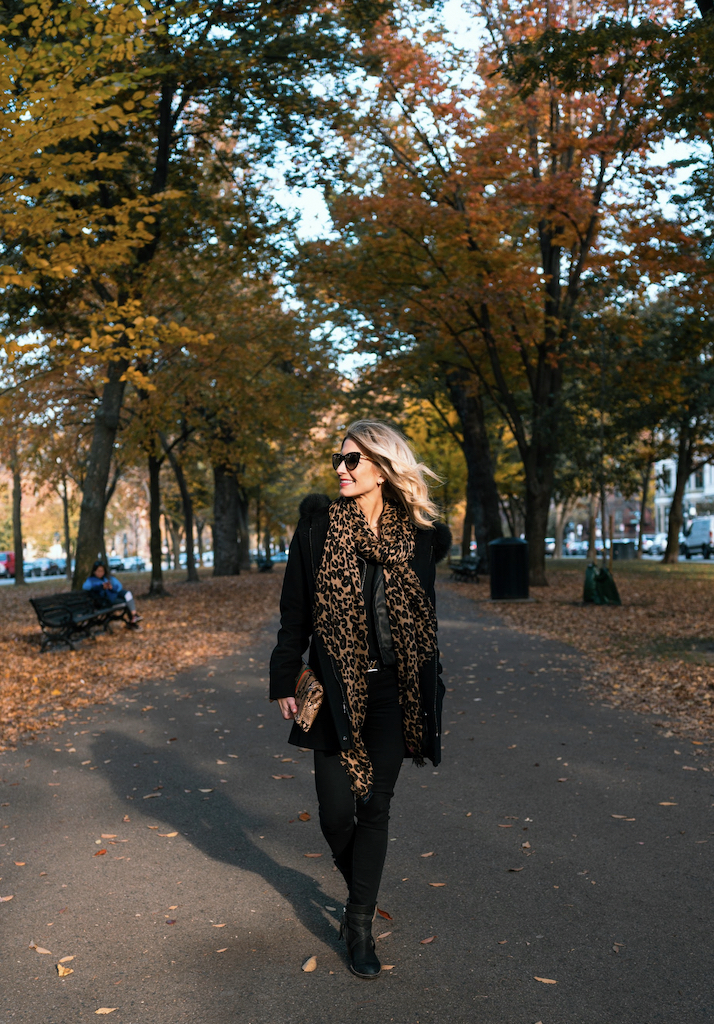 Don't get me wrong….I do love summer, but it was a really hot one this year in Austin, Texas so I have really been enjoying the cooler temps lately. So excited its fall because I get to break out my boots and sweaters! I live in a high rise and have a small closet, so my winter clothes move into my girl's closets during the summertime. I just switched them all out and had a blast going through my fall and winter wardrobe – it inspired to share some of my favorite looks for cooler temps.  These are classic combinations – ones that are so easy to throw on and mix and match together.
Sweaters and Denim

One of my favorite go-to looks is a cozy sweater and jeans. This grey sweater by Paige and black denim is perfect for a girls night out or a casual lunch. It's so easy to dress up and down. I wore this last weekend to dinner with my hubby – I added heels and a pair of chunky statement earrings to dress it up. The best thing about this combo:  you probably own these items already! Go shop your closet and reach for these on the days you say to yourself: " I have nothing to wear!"
 Faux Fur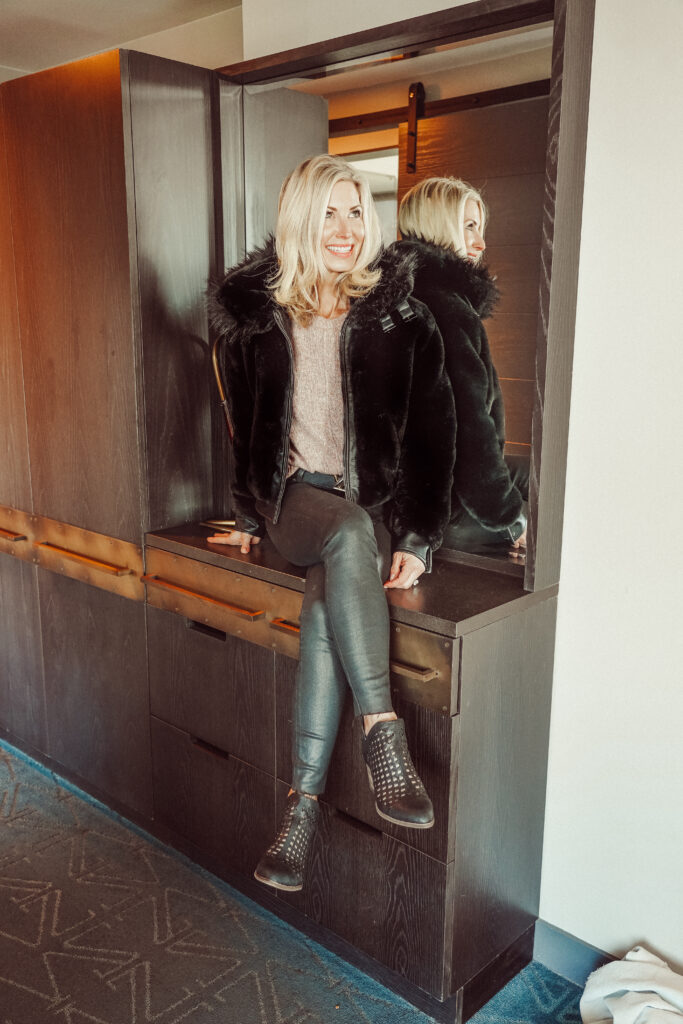 This faux fur coat is one of my favorite things I own. It's from BlankNYC and looks like it cost a fortune – but was only $80. I get compliments every single time I wear it. I truly believe coats like this are stand out pieces….and have become so popular and affordable. I keep my closet stocked with so many in different colors and styles. Fuzzy ones, animal prints, with and without collars….the choices are endless and they are easy to throw on over any outfit and completely change the look.
Leather Jackets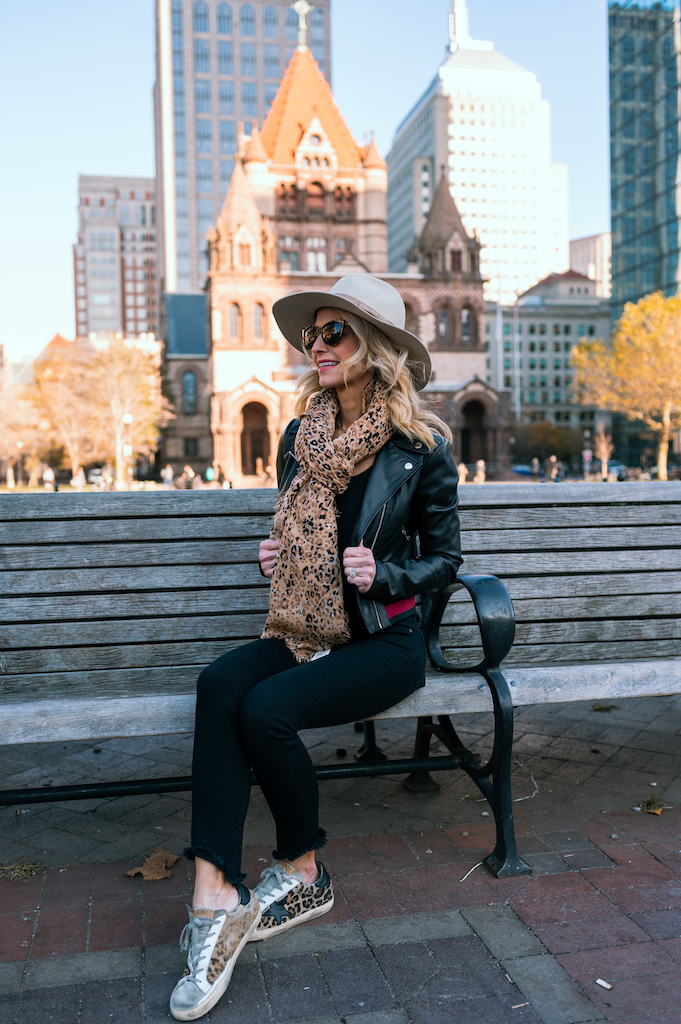 Leather jackets are staples in my wardrobe – and are also very affordable these days. I have lots of faux leather – like this one from Express.  It's the perfect layer over tees, with jeans or skirts. I love cropped ones and moto ones….the options are endless! Personally, I love to rock a leather jacket with an all-black outfit. You can't go wrong and it looks great through the winter too. I wore this one last year in Boston in November. It was perfect for cooler temps because its lightweight. The black color is neutral and pairs with literally any color. I wore it with sneakers for touring the city during the day and put some heels on for dinner that night with jeans.
Sneakers and Scarves
Sneakers and scarves are practical, stylish and an easy combo that makes your wardrobe feel endless.  I collect them in all different colors and patterns. These golden goose animal print sneakers were a splurge – but I literally wear them all the time. There are so many great dupes of this brand out there under $50 too.
Oh and my obsession with scarves goes deep y'all. I have several drawers full of them in my closet. It's a bit embarrassing! I tend to purchase new ones when I travel as little momentos of the places I've been to. On occasion I  splurge on a scarf that I  think will be a classic – like this gorgeous silk one from Gucci. The pink is so feminine, but the neutral gold-toned pattern goes with nearly everything. I love that its lightweight so I can wear all year long.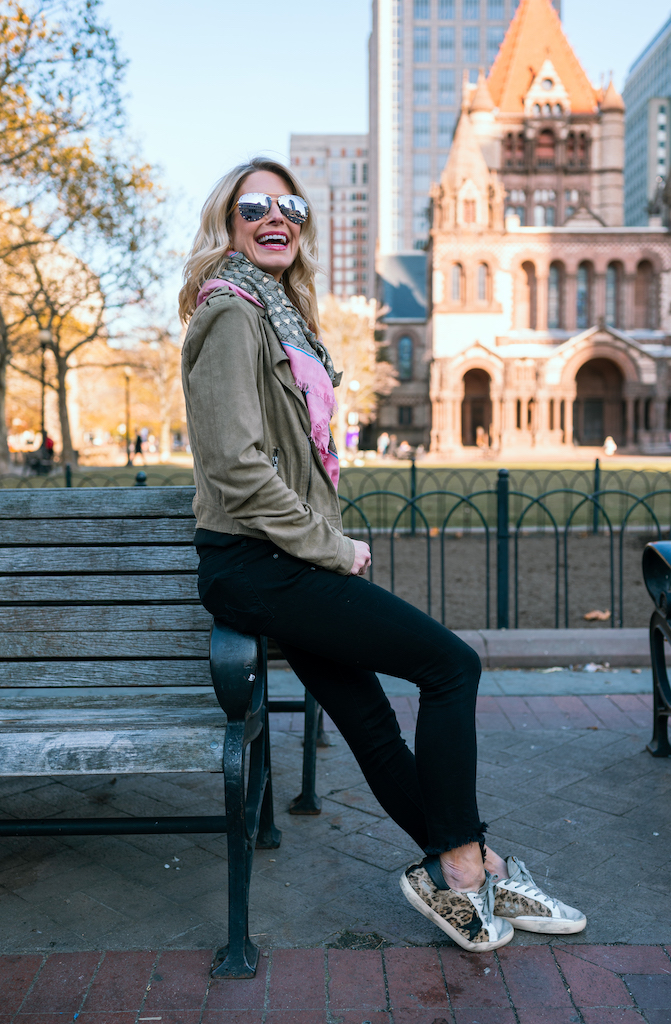 I'm love fall ya'll and I cannot wait to see some of you rocking these amazing trends this season! Send me some pics of your favorite outfit ideas in the comment section below! I'm always on the hunt for new combinations. Be sure to follow me over on Instagram @donnatryba – I'm always posting fitness and fashion tips there to share with you all! Sending air hugs and much love from downtown Austin, Texas. xo,dt