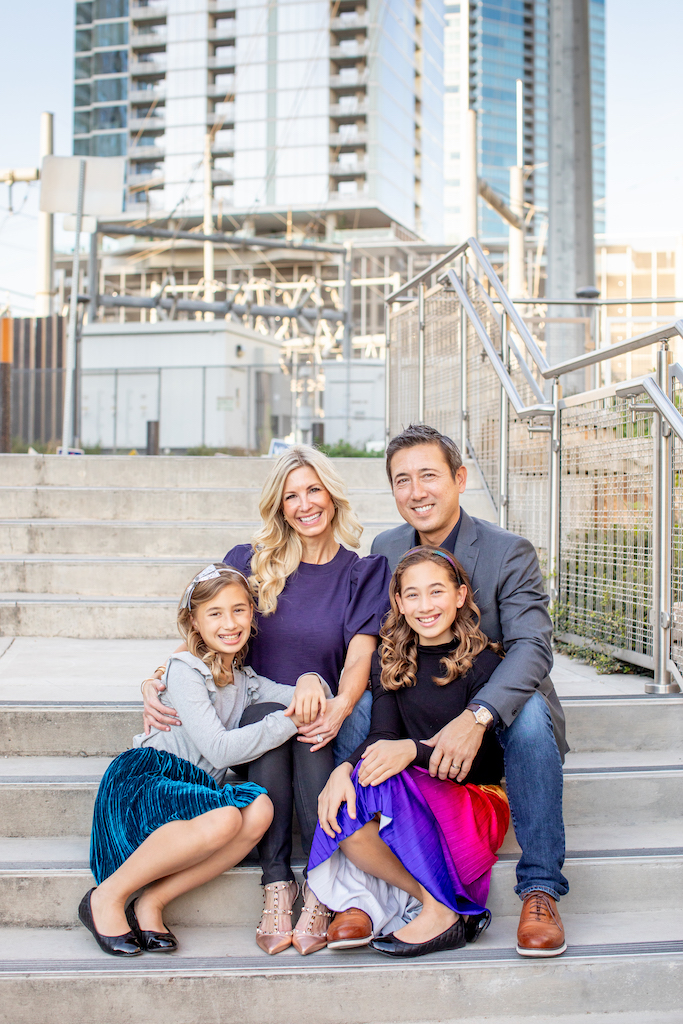 Let's be honest…….family photos can be so stressful right? Behind all those amazing photos on that Christmas card are probably melt-downs and a lot of frustration. I've yelled, danced and generally humiliated myself in public so many times to get the best shot of my kids….I have so shame! I can't explain the nostalgia of having these photos of my girls to look back on….to capture our life together throughout the years. I often look back on sessions of our family from years ago and it brings me such joy!
I'm pretty good with my tripod, but when it comes to family photoshoots I prefer to hire a professional – it takes the stress off me! We took ours last week with my good friend Kerri Lohmeier and they came out absolutely stunning!
My girls are now 9 and 11, so we have had a lot of practice as a family taking pictures together. I've made some mistakes and learned along the way!   I'm excited  to share my 4 tips to rock your next family photo session.
Be Prepared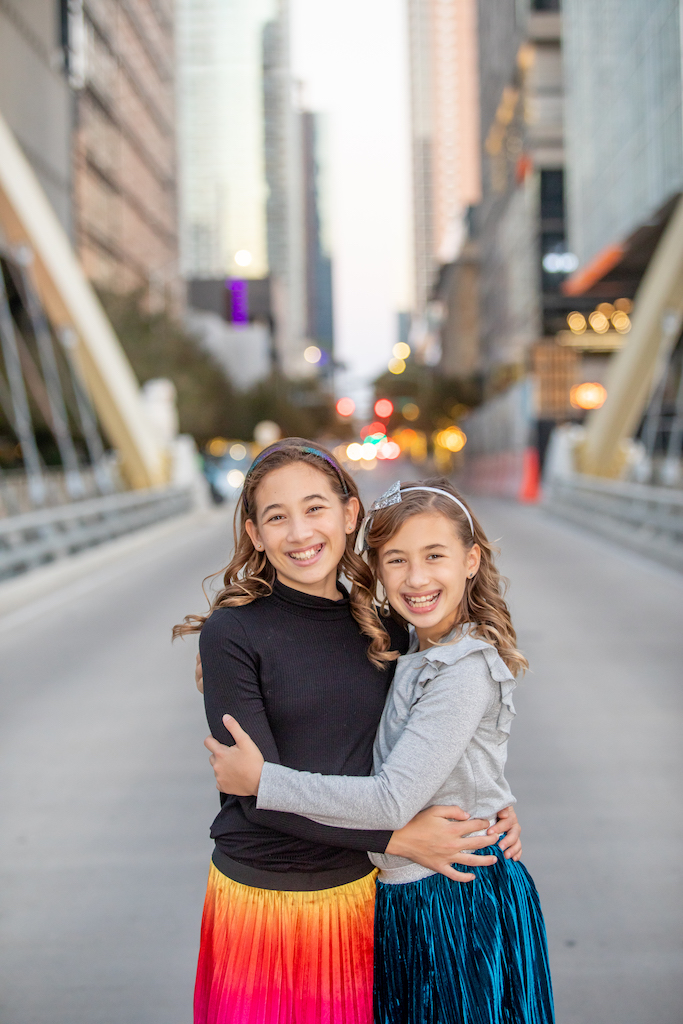 I can't stress this enough….prepare everyone ahead of time. My girls are a little older now so the sessions have gotten easier each year…(bribing works really well! Ha!) I have been known to promise ice cream after or a trip to the toy store if the shoot goes well. This gets them excited about taking the pictures.
I make sure the kids aren't too tired and get enough rest the night before – and I always have lots of snacks on hand while we are shooting. When they start to complain –  a skittle or piece of candy keeps them smiling for me!
Let kiddos bring along a toy or item of comfort so they are relaxed during the shoot. Last year Mia brought her gigantic puppy Max along…it made her so happy that I was able to get a big smile like this out of her!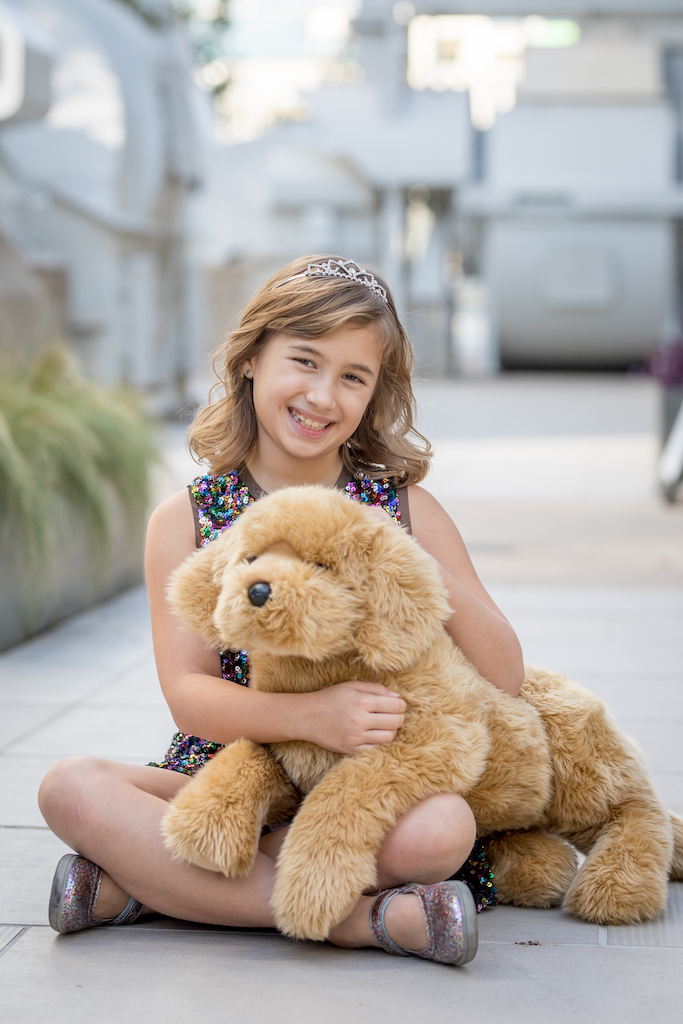 This year I even agreed to let our crazy cat Milo tag along on the shoot. It's bizarre….but he loves to ride in a stroller! He stayed put the entire time we were shooting, and even let us pull him out and take a few photos with him! He's definitely not a normal cat…….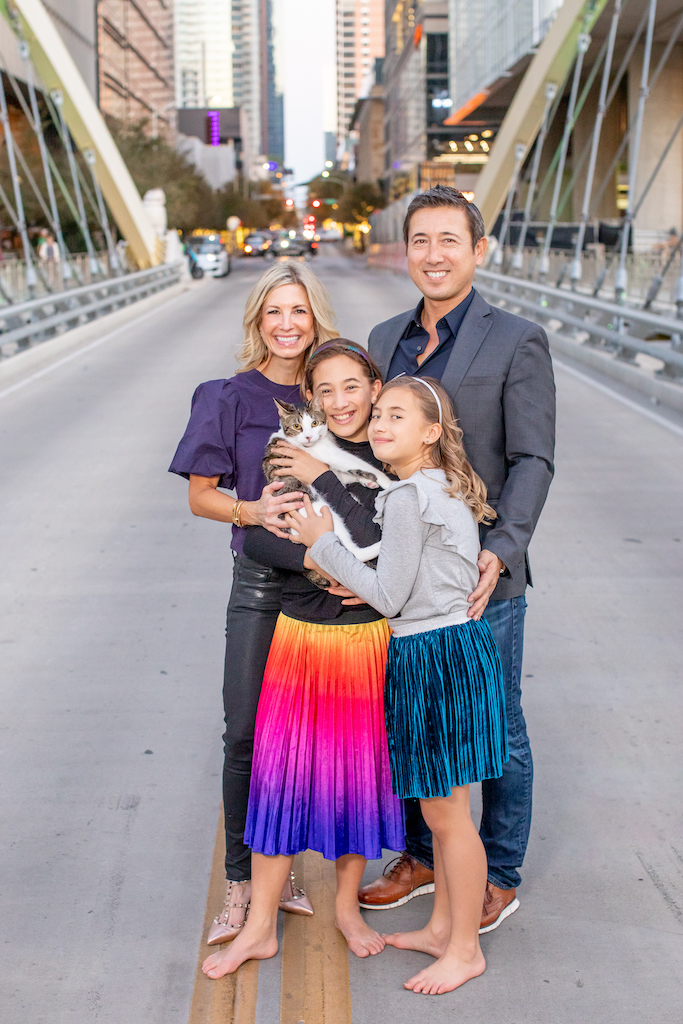 Go For Comfort
Keep everyone comfortable.  I have learned the hard way……if my kids are not comfortable then it's going to be tough to get them to smile. The pictures will come out best if everyone is wearing something they feel good in. Because my kids are a bit older, I let them go to the mall with me and pick out the outfits they liked, with my approval.
One huge mistake I made this year…..new shoes! I know right??? My girls were miserable toward the end of the shoot and had to take the shoes off. Epic failure! Be sure you have everyone try on outfits ahead of time to check the fit and comfort of all the pieces.
Act Natural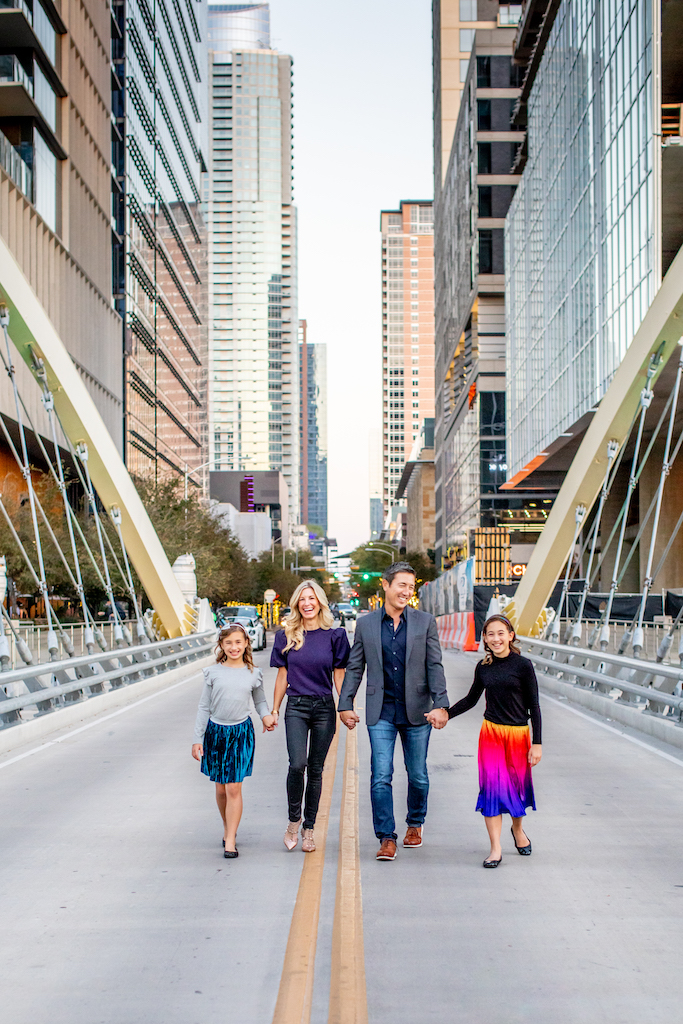 Kerri always keeps the poses simple so that we all look and feel relaxed and natural. In this shot we held hands and walked toward Kerri, smiling and looking at each other. I  legit had some corny jokes prepared ahead of time to tell during the shoot to make my kids laugh….it totally worked. Some of these candid shots are my favorites – it really shows off the connection and bond we have as a family.
Coordinate Clothing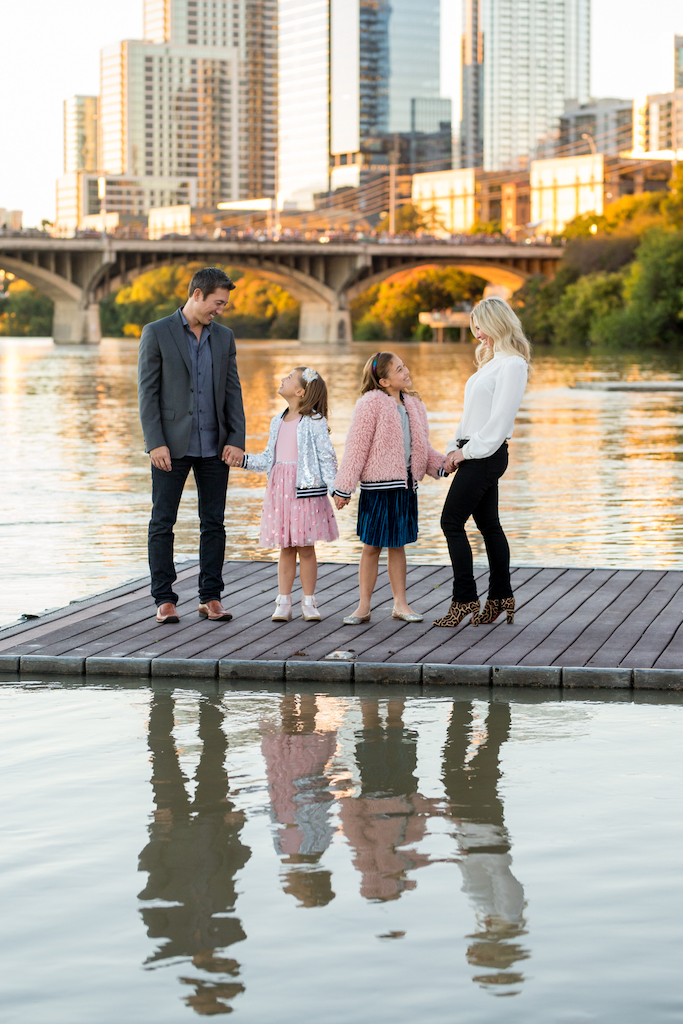 Wardrobe planning can be really challenging! Here are some other important tips to keep in mind when planning the outfits for your family photoshoot:
Keep the color scheme cohesive but not matching. Last year the weather was really cold so we picked out some fab coats for the girls to wear and styled around them. The pink and blue hues complemented each other so well. I chose neutral colors for me and Andy.
Limit patterns. Consider picking one outfit for your family photos with some interest and coordinate around it.
Add in different textures through the material of your clothing. I loved the velvet skirt Juliana wore and the sequins on Mia's jacket. The textures added depth and interest to our pics.
Fitted or tailored outfits always look better than loose-fitting clothing
Add layers rather than bringing a change of clothes. It's a quick and easy way to change up your looks.
The most important thing I have always kept in mind….it should be fun! The idea of documenting this moment in time for us as a family is so special. I try to relax about the idea of perfection and simply let our family's personality shine!
Hope these tips help you have a fun family photo session this year! Have any tips for me? I love hearing from you guys – please leave a comment for me below! Be sure to head to Instagram and follow me @donnatryba – I share more fashion and fitness tips there.  Want to learn more about downtown living with kids? Check out this blog post. Love these styles? Shop them all by clicking the pictures below. Have a great day my friends and thanks for reading! Sending air hugs and much love from downtown Austin, Texas. xo, dt