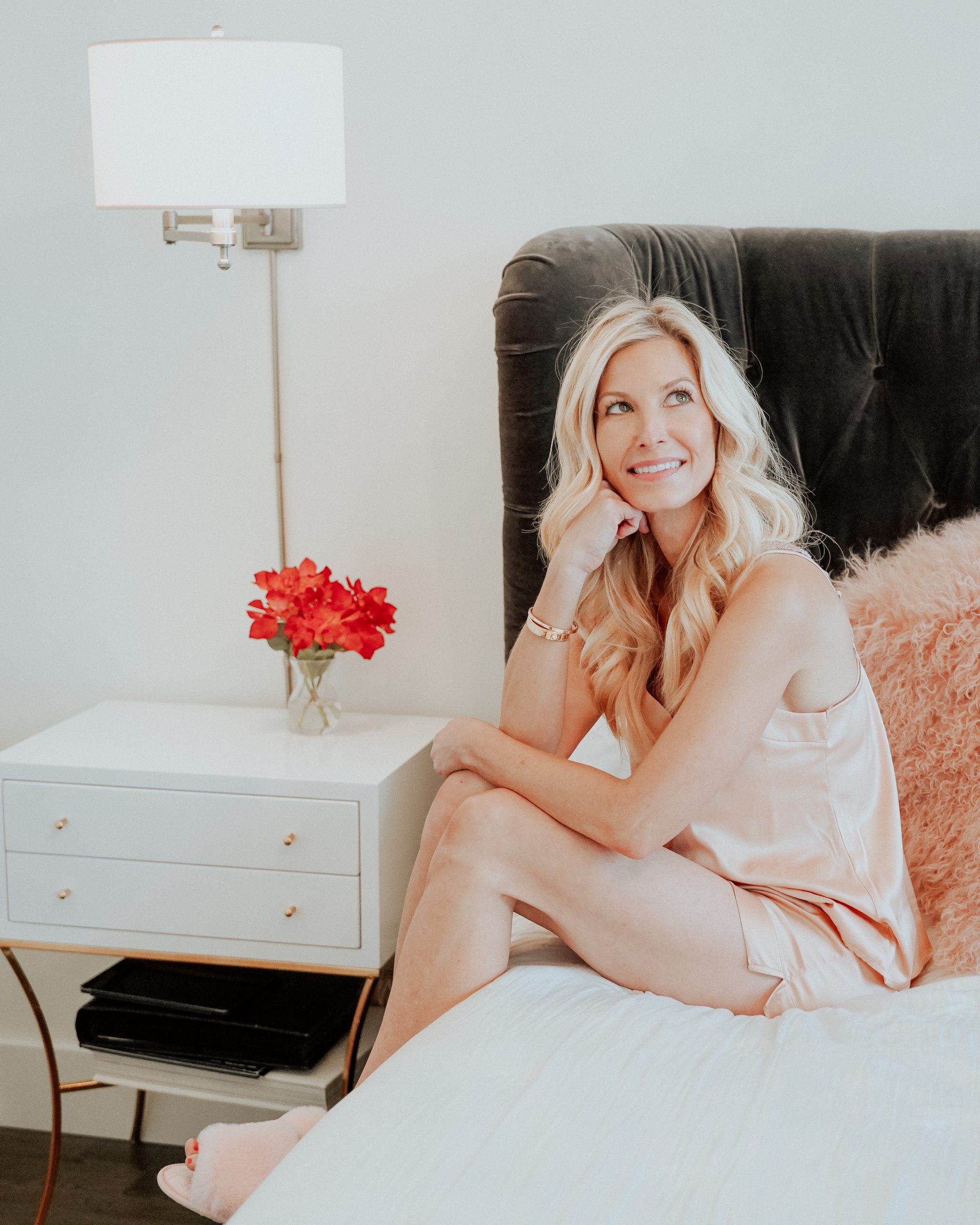 Ahhhhh it's fall in Texas y'all! One of my favorite times of the year. This season sure reminds me how change really can be beautiful.  The huge cypress trees around Town Lake are finally turning from green to vibrant red, orange and yellow.  These colors inspire me to make some changes of my own. Just like I update my fall wardrobe and break out my boots, coats and scarves…….I also transition my makeup and skincare routine just a bit. So excited to share three makeup tips for mature skin.
CHOOSE CREAMY TEXTURES
I have never worn a ton of makeup and my routine is pretty simple. I really think less is more, especially as I age and my skin takes on some texture. I  generally prefer cream-based products because they glide on smoothly. After turning 40, I have noticed that powder makeup settles into my fine lines, making them more pronounced.
I think most of us wear a cream foundation and concealer….but I also now wear cream blush, highlighter and even eyeshadow. I have naturally dry skin, so it's even more important for me to skip powder-based makeup in the fall and winter when my skin is the driest.
I am loving the Charlotte Tilbury Light Wonder Foundation: it's lightweight, minimizes any pores and also feels and looks very hydrating. There are ten shades and it took a while to find my perfect color. I settled on the warm peach –  I think it really gives me a natural dewy glow.

Dior Forever Skin Correct in the natural color is the perfect concealer for under my eyes. It hides all my fine lines, doesn't crease and makes me look youthful and bright.
Beauty counter makes my favorite cream blush. It contains jojoba and feels so silky smooth and hydrating on my skin. I just dab a bit on my cheeks and I'm good to go! I wear the caramel color in the fall and the hibiscus pink in the summer.
Highlights are super important to keep my skin from looking too pale. I am loving the natural highlights I get from the Peter Thomas Roth 24K Gold Prism Cream.  I blend it down my cheekbones, the bridge of my nose, inner corner of my eyes and my cupid's bow. It makes my skin look radiant without looking glittery.
TRICK OUT THOSE EYES AND LIPS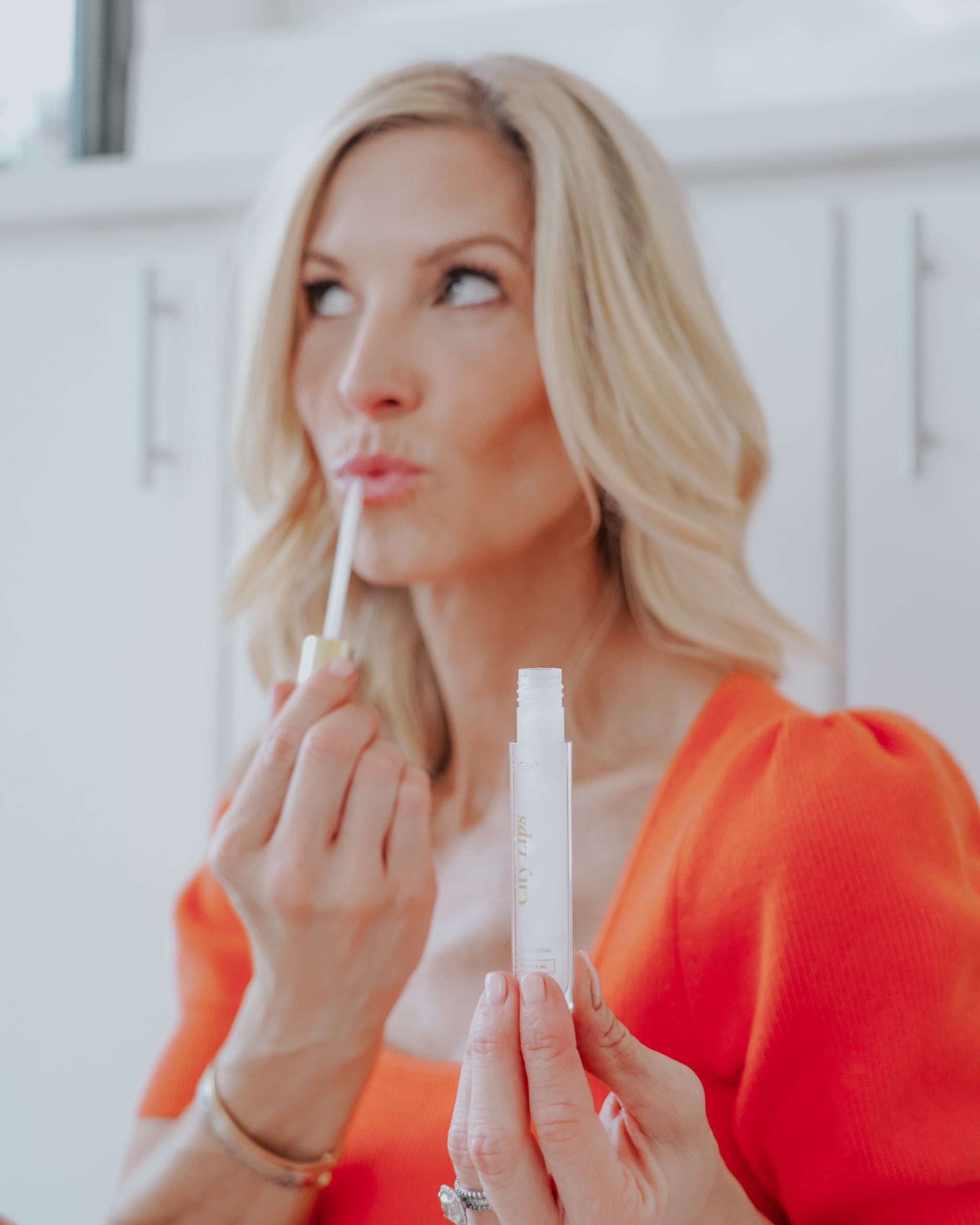 I usually wear coral or bright pink for summer – but now that fall is here I'm all for the darker hues, like bold reds and deep plums.  I generally wear gloss because it's hydrating –  Chanel gloss tends to be a favorite because it's not sticky or heavy on my lips.
City Beauty Official makes a fantastic lip plumper/gloss combo that I'm obsessed with. It contains hyaluronic acid and really smooths out the fine lines on my lips! The red velvet color is perfect for the holidays.
BK Beauty just released a new eye palette and I'm obsessed. The velvet texture of these warm neutral colors are amazing. I like that it also has a little pop of color too.

One little secret thing I do to keep my lips moisturized is this DIY natural scrub:  mix coconut oil, brown sugar, and a tiny bit of pumpkin spice – I swear it tastes better than Starbucks! Apply this once a week to slough away dead skin…makes my lips so smooth! 
DONT FORGET YOUR SKIN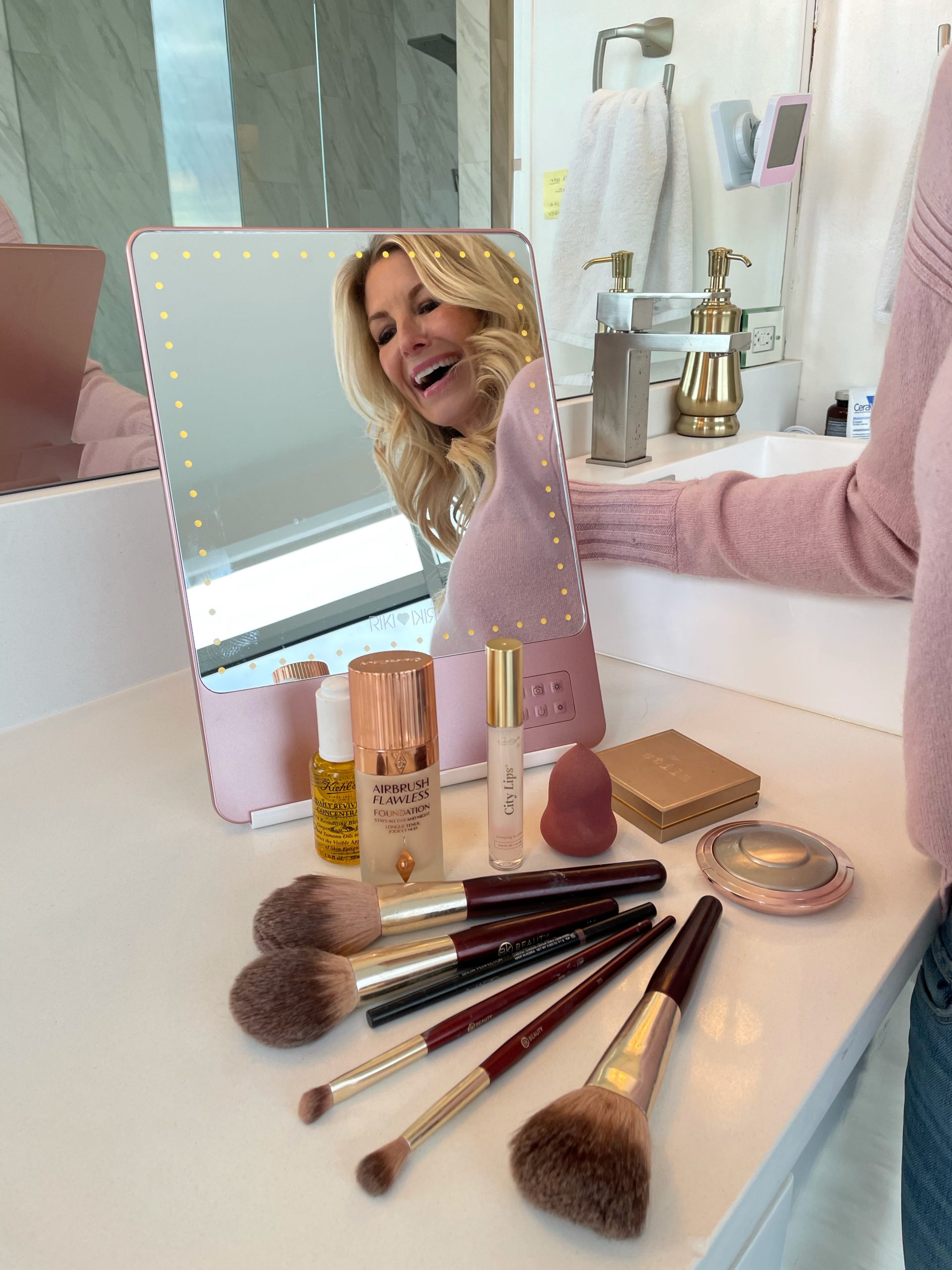 I admit it……I'm pretty neurotic about my skincare. I probably have 50 jars of creams, lotions and potions for my face! I spent 15 years studying medicine, so I know how important it is to invest in high-quality medical-grade skincare products. It's an investment for sure – but worth every penny!
Luckily one of my besties Kelly is a nurse practitioner at Westlake Dermatology – she's my beauty guru!  The reason she recommends these products:  they are backed by clinical research to guarantee that they work because they have more stabilized ingredients. I have been using these brands since my late 30's and I know that is the main reason that I don't look 46. (Well, that and lots of sunscreen!)
I know that the very first and most important step to a  flawless makeup application is starting off with well-hydrated skin. I use these three products for the fall to ensure maximum hydration:  Revision DEJ lotion , SkinCeuticals Triple Lipid Restore and Bvisibly plumps my skin – I  can literally see my fine lines soften after I rub this stuff in. It sounds crazy but it's true. These two work well for all skin types too. And let's not forget, even though the skies are overcast – SPF is still a must! I slather on Elta MD suncreen before my makeup every single day, rain or shine. Click on the pictures to shop these products:

With the stress of the holidays, these simple steps help me look and feel my best. Hope you enjoyed these tricks! For more on fashion and fitness, follow me over on Instagram @donnatryba! Want to learn more about wellness? Check out my article on a healthy lifestyle here. Thanks for reading along. Sending air hugs and much love from downtown Austin, Texas. xo,dt