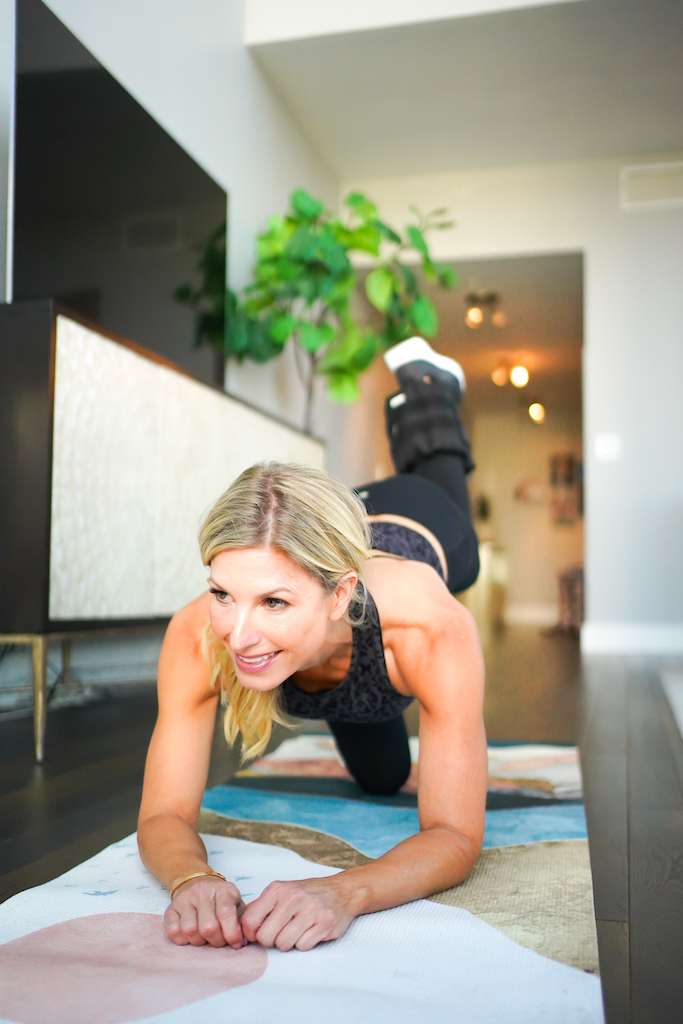 My booty and thighs are the first places I gain weight. That's why I'm sharing the simple secret to a better booty!  I'm always looking for ways to lift and tone up my derriere, especially as I age and gravity takes its toll! I started using ankle weights three years ago when I hired my first personal trainer. It's one of my favorite exercises because you can see results so quickly if do these exercises consistently.
USE  ADJUSTABLE ANKLE WEIGHTS
My trainer cautions that form is really important when you use these weights….so  be sure not to walk around in them! Your body was not made to have 5 lb-feet!  You can throw off your body mechanics by straining the ankle joint and leg muscles. Walking around in them is an easy way to hurt yourself. Want to learn more about how to safely wear ankle weights, read this article. 
I recommend the adjustable ankle weights – that way you can start lighter and add on weight as you get stronger. To get the most of out of this exercise, you want to work against gravity to increase the resistance on the muscle. Since gravity is pushing down, you want to move the ankle weight in an upwards motion.
MY BOOTY BUSTER ROUTINE
I call this workout my "booty buster." It's a series of four different exercises of 20 reps each. I have been doing these exercises for the past three years consistently about 2-3 times a week. I started with just 2 lb weights on each ankle and have now worked up to 10 lbs on each leg!  This routine has helped me tone and lift my booty, strengthen my glute muscles and helped eliminate my cellulite.
Now, remember y'all…. you can't out-train a bad diet, so these exercises alone won't get rid of those dimples on your bum.  However, strength training, along with clean eating will firm up your body and booty!
OK…let's get started: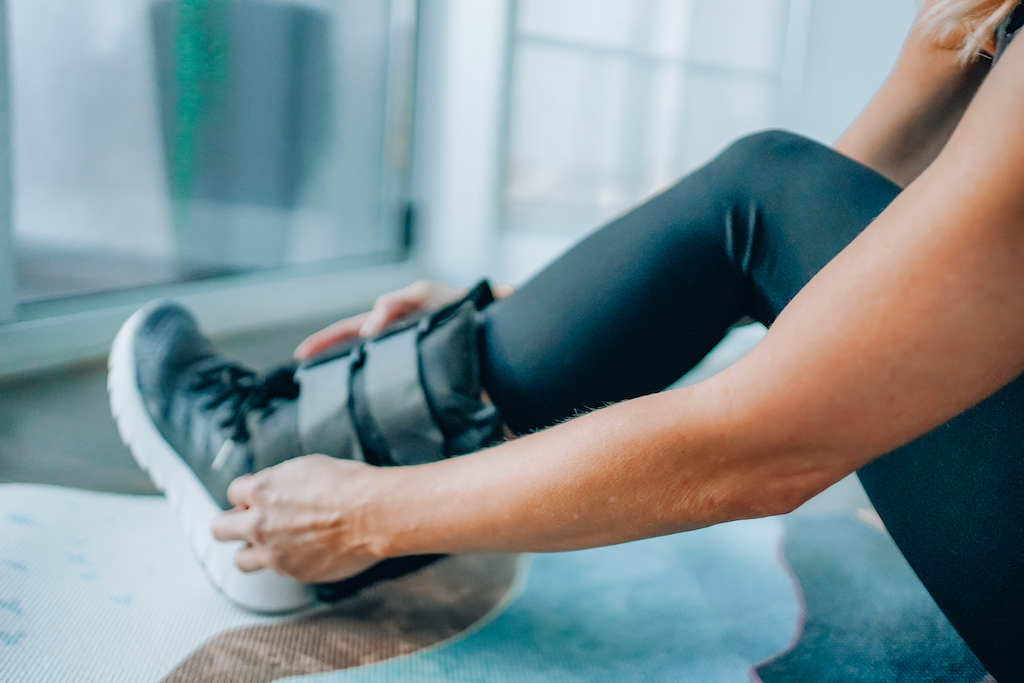 Securing the ankle weight to your right ankle. Get down on all fours with your hands directly beneath your shoulders and knees directly beneath your hips. Keep your back flat and arms fully extended, your abs tight and hips steady.
Fire hydrants
Keeping your knees bent and hips squared to the floor, lift one knee out to the side like a dog peeing on a fire hydrant. (haha!) Do 20 reps and then repeat on the other leg
Donkey Kicks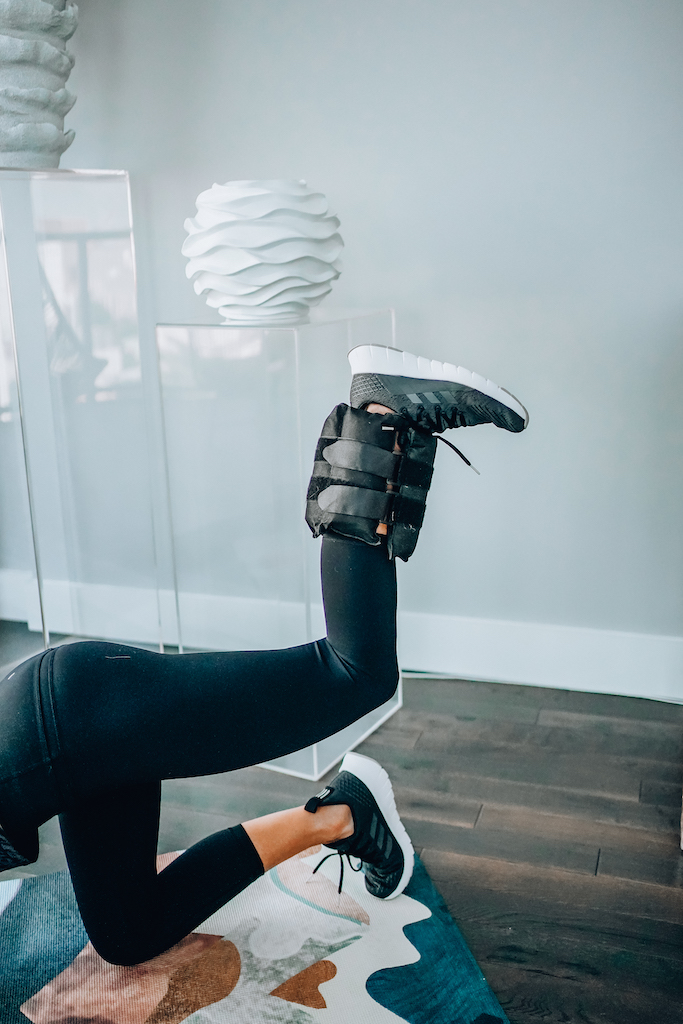 Bend leg at the knee and lift up and down, squeezing the glute at the top. Do 20 reps and switch legs.
Booty Lifts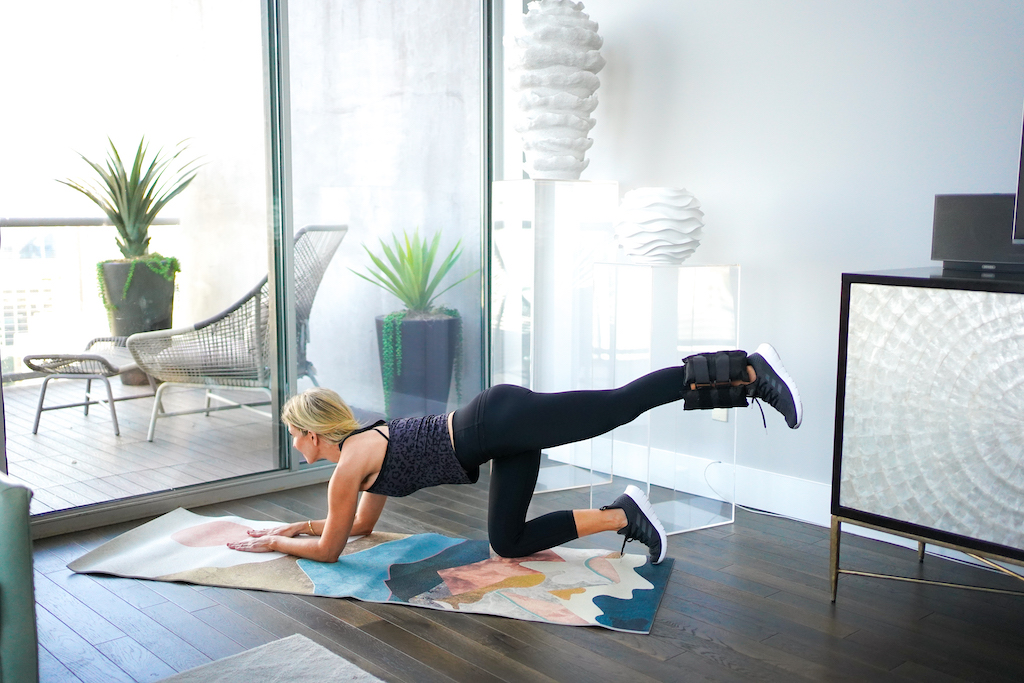 Keep your leg straight and point your toe. Lift leg up and down – squeezing at the top. Repeat 20 times.
Rainbows
On your last butt lift, keep your leg straight, and bring it out to to the LEFT of your torso. Lift your leg and make a rainbow shape, up and over to the RIGHT side of your body, crossing over your hips. Draw another rainbow back over to the LEFT, and repeat 20 rainbows in each direction.
Do all these exercises on one leg, then move the ankle weight to the other ankle and repeat the entire cycle. I love the burn I feel in my booty by doing this workout! Along with a healty diet, I swear these exercises were the SECRET to eliminating my cellulite and lifting my booty. I started out using only 5 pound weights when I started doing these exercises two years ago. Now I am up to 10 pounds on each leg! I do these 2-3 times a week and my booty has never looked better!
Hope you are loving these exercises as much as I have. Here is a link to my favorite adjustable ankle weights, floor mat and swell water bottle (don't forget to hydrate y'all!) Want more tips on staying healthy? Read this blog post on my tips for Intermittent Fasting. Stay healthy! Sending air hugs and much love from Austin, Texas. xo,dt