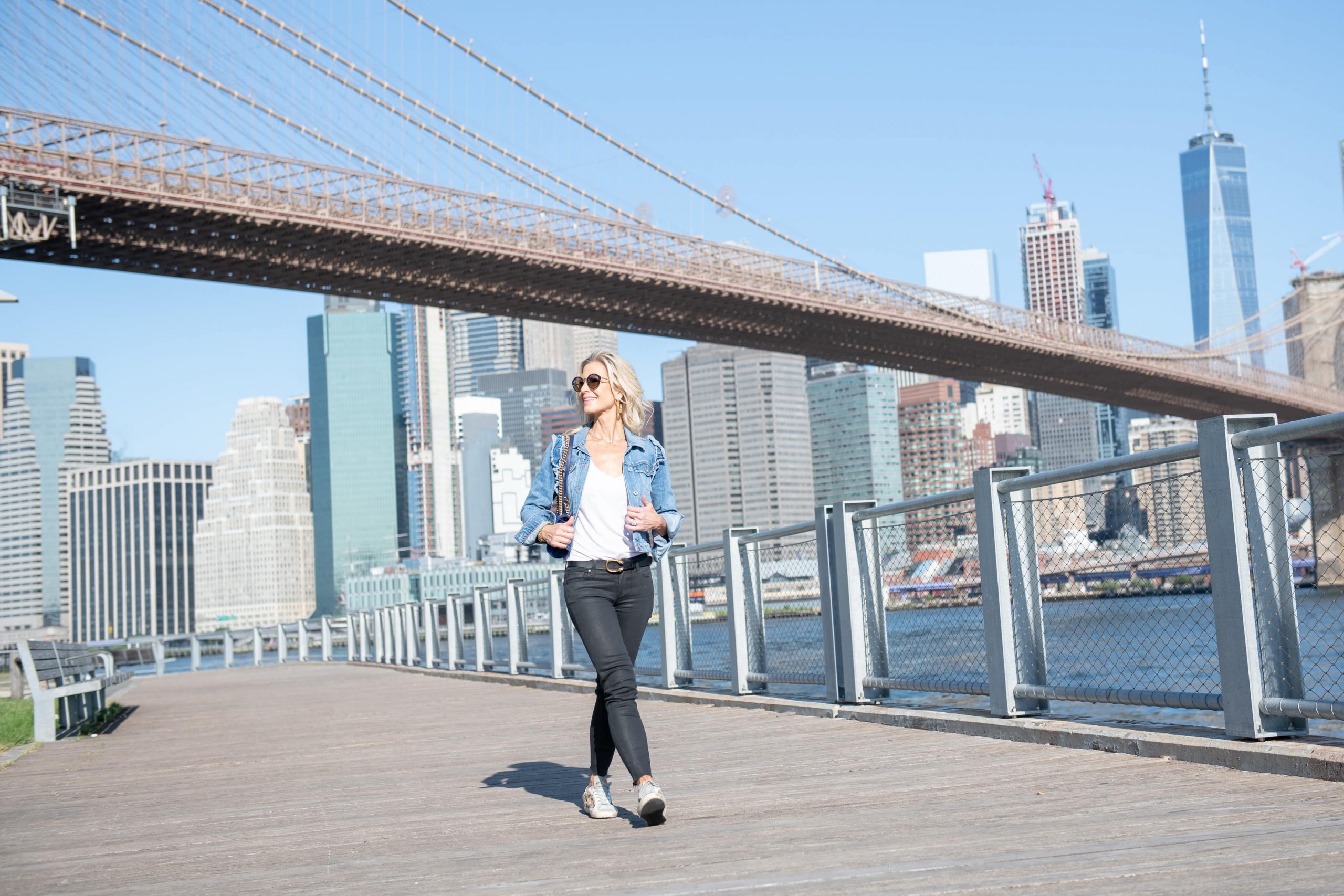 We all know how hard it is to keep up with your normal fitness routine when you are traveling. I have done my fair share of traveling and I will have to admit before turning 40, I didn't keep up with working out when I went on vacation. Excited to share some easy ways you can stay fit while traveling.

Flying and traveling to and from the airport can be exhausting and more times than not I ended up sleeping in and getting far off track from where I was pre-vacation. 
Staying motivated to exercise on vacation is hard….. but so is coming home after a trip and feeling sluggish and my clothes not fitting!! I always say "choose your hard." So, I make an effort to stay on track when I travel so I can get back on track easier!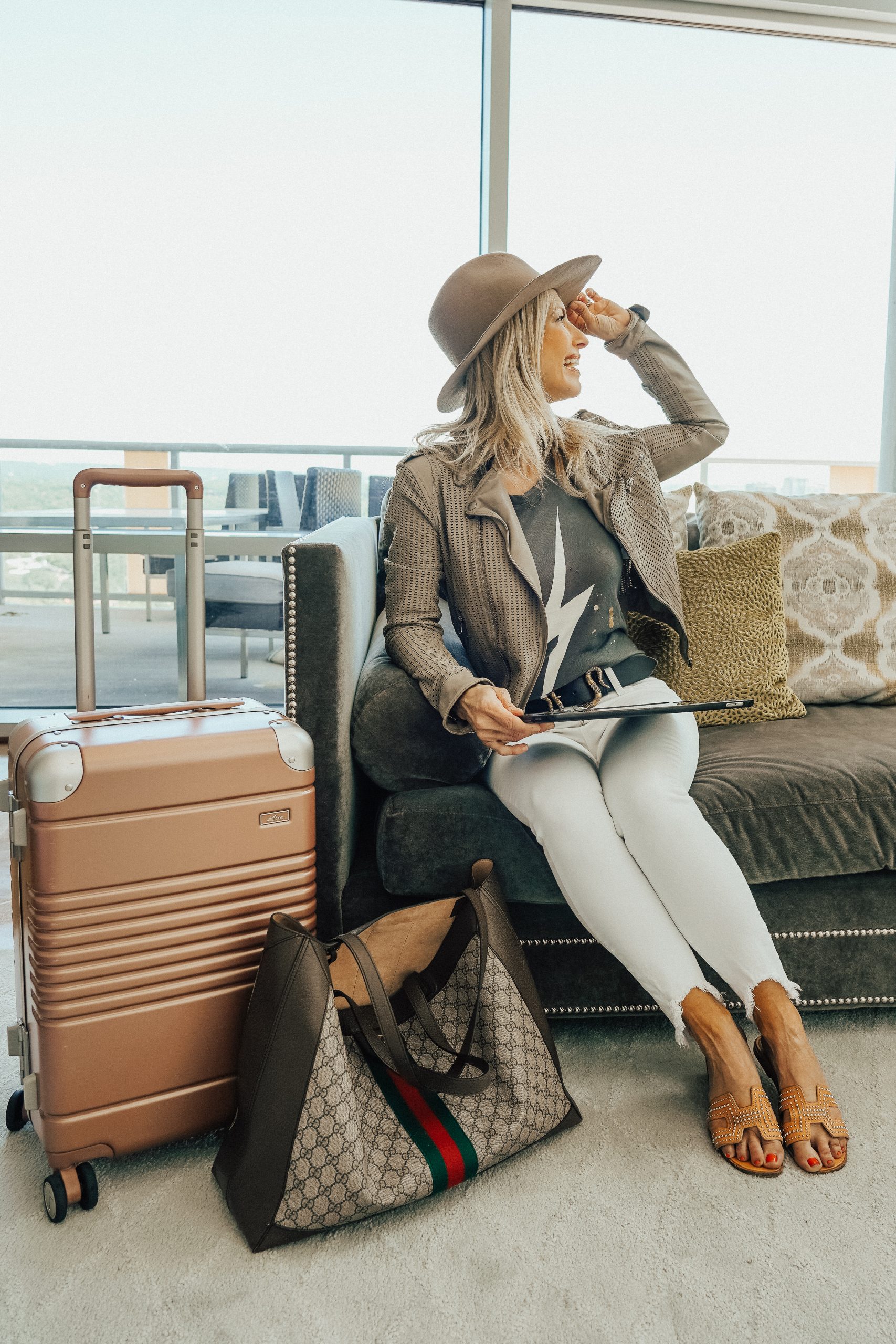 I give myself some grace and enjoy the trip! Dinners out and fine wine are my jam! But, I don't overthink it either. I have come up with a few clever fitness hacks that I have been using to keep me healthy and fit while on vacation. Hopefully these tips will be easy ways for you to stay fit while traveling.
Quick Tip to Shop My Site
I post and link most of my Instagram outfits and all products you see on my blog using an app called @liketoknow.it. It makes shopping all these images so easy for YOU!  If the exact item is not available, I try to link something very similar.
Head to iTunes or the app store and download the free @liketoknow.it app. Once you sign up and create an account, be sure to follow me @donnatryba. You will then be getting a weekly email from LTK with all my looks right to your inbox. You can also follow other bloggers to see their outfits on a daily basis. It's free and a fun way to shop! CLICK HERE TO DOWNLOAD THE FREE APP!

Plan Ahead
Packing weather-appropriate workout clothes and shoes are key if you are going to make fitness a priority while you are traveling. I travel with lightweight sneakers that are easy to pack and don't take up too much room in my suitcase. I also often book hotels based on whether they have a gym available or are close to a cycle class. This helps keep me accountable! 
These are some of my very favorite sneakers! Click on any image to shop.

Dress Comfy
I throw on a lightweight jacket in case I get chilly on the plane and always carry a scarf in my bag for extra warmth. The lightweight cotton scarves are perfect for summer and wool and cashmere are my go-to's for winter and fall.
Round out the look with some comfy shoes. I tend to wear my golden goose sneakers, they are perfect in case I have to run to catch my flight! I linked some cute dupes below!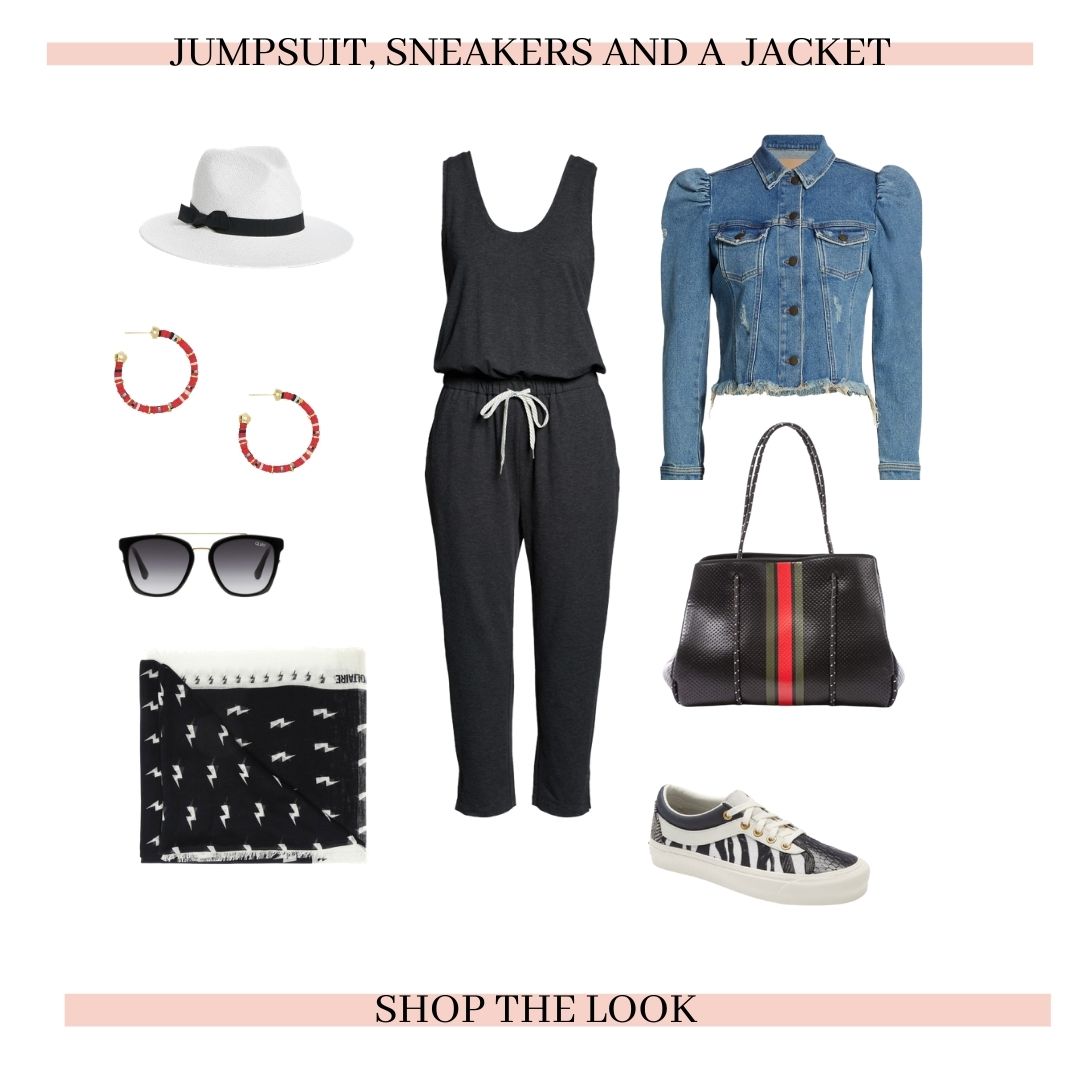 A great travel bag is vital! I take along a bigger carryall to hold all my things on the plane or in the car. I take a smaller crossbody inside of the carryall as my purse. I love the flexibility of having both bags with me.

Do Hotel Workouts
This workout comes in handy while traveling somewhere like the beach, where I know I might not be moving a lot during the day. I always try to book a hotel with a gym. But if one isn't available I do this quick 15-minute routine in my hotel room before heading out for the day.
I often pack resistance bands if I'm going on a long trip. It is effective, works most body parts, and requires no equipment. It really gets my blood pumping and energizes me for the day!

Quick 15 minute hotel workout
30 Seconds:  Mountain Climbers
30 seconds rest
1 Minute High Knees
30 Second Rest
30 Seconds Crunches
30 Seconds Scissor Leg Lifts (alternate leg on top after 15 seconds)
30 Second Rest
1 Minute Up-Down Elbow Plank (alternate leading elbows)
30 Second Rest
1 Minute Burpees
30 Second Rest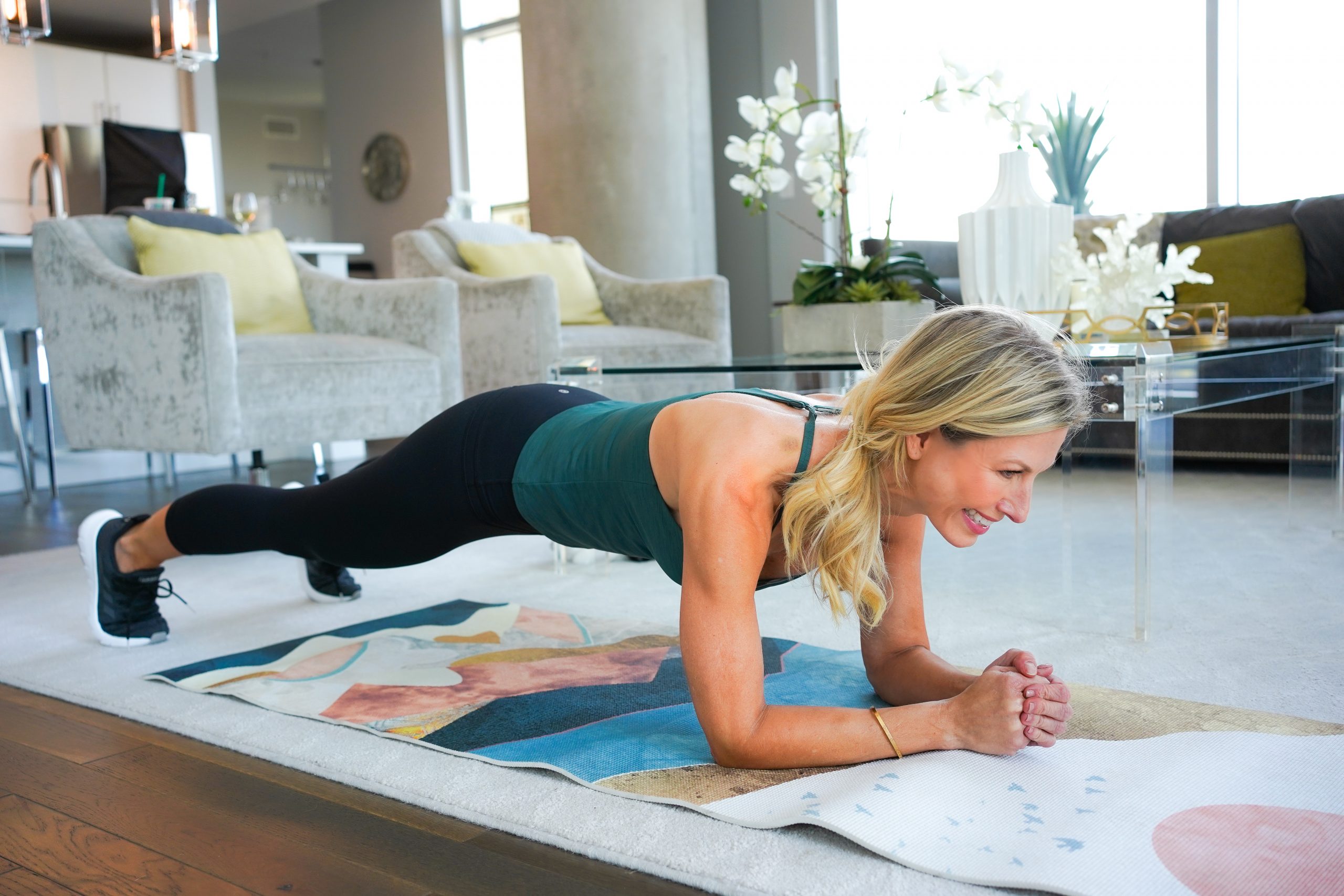 Walk as Much as You Can
Depending on if you are traveling for work or for fun, I suggest walking everywhere you can or going for a morning sightseeing run around the city. This is a great way to learn about your new surroundings and keeps you in shape, especially if you plan to sit or relax the rest of the day. 
Andy and I recently visited Charleston, South Carolina, and did a walking tour with a guide – it was a perfect way to get in some exercise and check out all the cool sights of the city. This allowed me to move my body and stay healthy without even thinking about it. We walked almost 2 miles! I was sure to wear my tennis shoes to stay comfy too.
Bring Healthy Snacks
Going to dinner hungry is an easy way to blow your diet! I always have snacks in my travel bag like protein bars, crackers, and nuts.

Stay Hydrated

I also cannot stress enough the importance of staying hydrated. We often confuse hunger for thirst and this can cause us to overeat.   I keep a small swell bottle in my carry-on and drink often! This also keeps me from overeating or snacking too much. 
I know these tips have helped me in the past when I have struggled to find the motivation to keep up with my workouts! I can tell you though, if you keep up with your fitness goals while you are on vacation, it will make a big difference. Small habits lead to positive change if you do them consistently! Looking for more tips on travel and fitness? Check out this blog post. 
Thank you for reading! If you are interested in hearing more about my fitness journey and the helpful tips I have for staying healthy, check out my 7 Basic Things I Do To Stay Fit post.  Sending good vibes from downtown Austin, Texas.