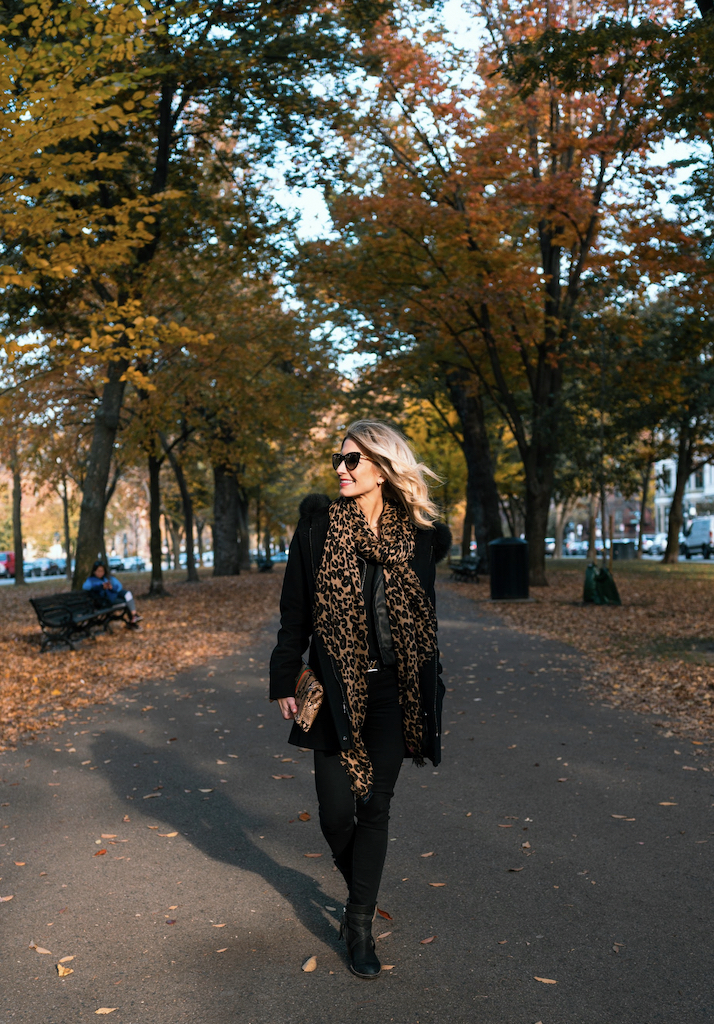 Our recent trip to Boston was really incredible! Autumn in the city was just gorgeous, with the changing colors illuminating everything and enticing you to enjoy and explore.
This city defined by its history and sports culture, full of homey, cheers-esque bars and an insane number of museums. If you are short on time be sure to pop into the Museum of Fine Arts and the Isabella Gardner Stuart Museum.
These are some of the highlights during our stay….
Beacon Hill – We enjoyed the brick sidewalks, the Victorian style houses and the posh cafes. I'd have to say it is definitely the most picturesque area of Boston, with its antique lanterns and rich colonial history. I discovered this boutique called "Dress" – they had such cute clothes, along with scented candles and other home décor.
Stroll through Boston Public Garden – I enjoyed some of the most beautiful foliage visiting this fall!
It's in the heart of the city, right next to Boston Common (which is another great spot to just hang out with an ice cream or coffee, and people watch!)
Take a swan boat ride and feed the ducks. The squirrels are spoiled here (everyone feeds them) so they come right up to you! Bring a few almonds to keep in your pocket – rumored to be their favorite – so you can lure them in to snap a cute photo!
We hopped on the ferry to Charlestown and headed over to see the USS Constitution.. It's a great way to see the city skyline, and you have the option of sitting inside or climb to the top deck when the weather is nice for even better views!
When you reach the other side, be sure to tour the "Old Ironsides" ship, inside the Boston National Historical Park and part of the Charleston Navy Yard. It's FREE to tour.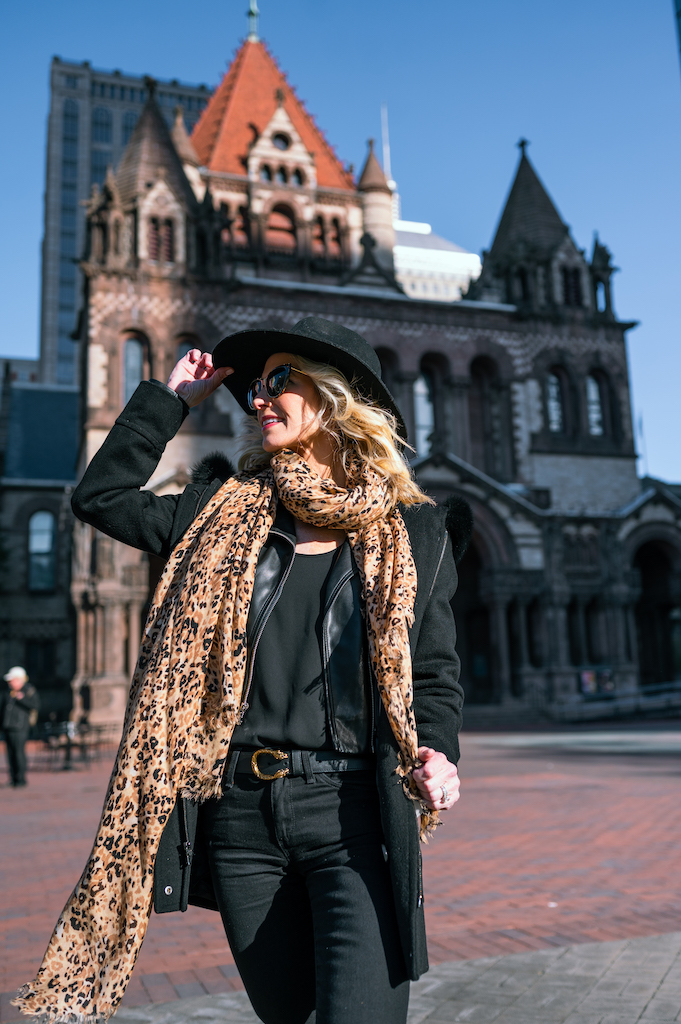 Fun Things for the Kids
If you're taking the entire family to Boston, there are so many fun things to do where both adult and child will have a blast. Check out the New England Aquarium, The Museum of Science, Legoland Discovery Center and the Franklin Park Zoo.
Where to Eat
Zuma– this restaurant has a lively bar, a superb wine list and a great atmosphere.
Quincy Market – also known as Faneuil Hill Market, this colorful and lively historic market complex offers cuisine for everyone. As with so many gorgeous buildings in Boston, it is a National Historic Landmark, with dozens of shops and street entertainment. You can easily spend an entire afternoon here.
Fox and Knife– amazing Italian food.  The chef has a James Beard award and it's a great place for foodies. We had a delicious focaccia appetizer  and the main meal was out of this world.
Yvonne's – this is a trendy upscale bar/restaurant with inviting mahogany walls and amazing pumpkin hummus! They have a speciality cocktail menu and offer fantastic seafood.
Where to Stay
I tagged along on a business trip with the hubby, and was privileged to stay with him at The Mandarin Oriental Hotel – so swanky y'all! It was  intimate and luxurious with posh rooms,  customer service that is out of this world and a location that can't be beaten. Super cute bar,  restaurant with yummy gourmet food and a spa that can't be missed.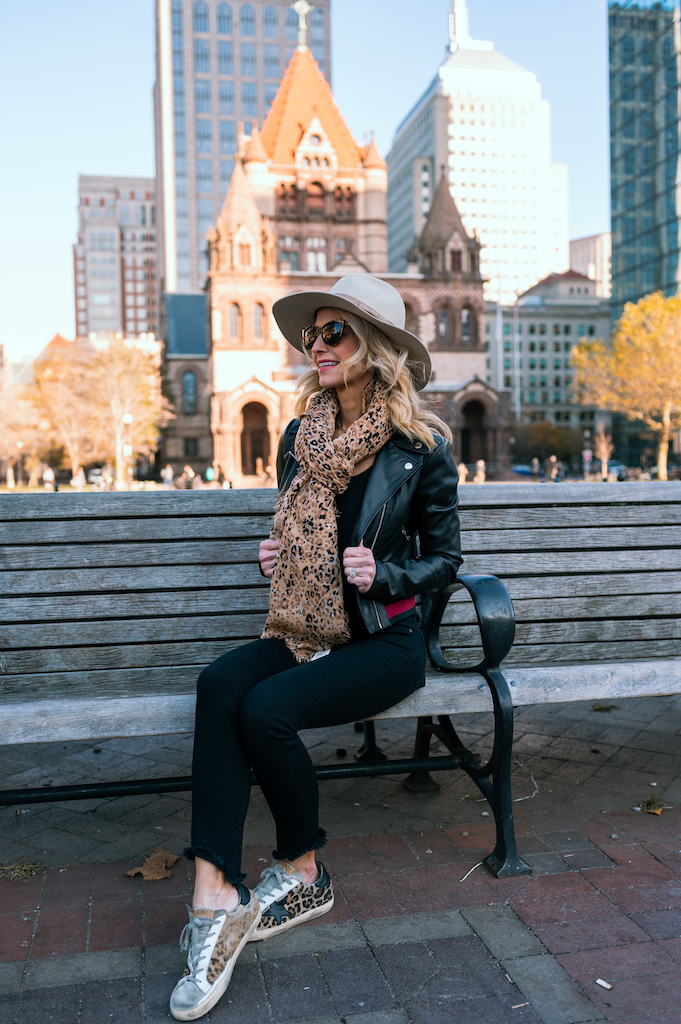 And OMG! There is an attached shopping mall to the hotel – no way!!!! I fell in love with a shop called Aritza. Stylish and affordable buys for  $50-100. Snapped up the cutest things there including this darling hat and animal print scarf – both under $50!!!!  I linked some similar items here – click the pic to shop!

It's such an amazing place – hope this guide helps you if you ever get to visit Boston. Be sure to follow me over on Instagram @donnatryba where I share more fashion, fitness and travel tips.  Sending air hugs and much love from Austin, Texas.
xo,dt