Fall is the perfect time to wear your scarves, wool dresses and blazers, sweaters and boots.  I love adding cozy layers and wearing all my heavier fabrics like leather and suede. It's one of my favorite times of the year because I feel like simply throwing on a jacket or scarf creates a whole new outfit – it is such an easy time to switch up your wardrobe because the options are endless.
Layers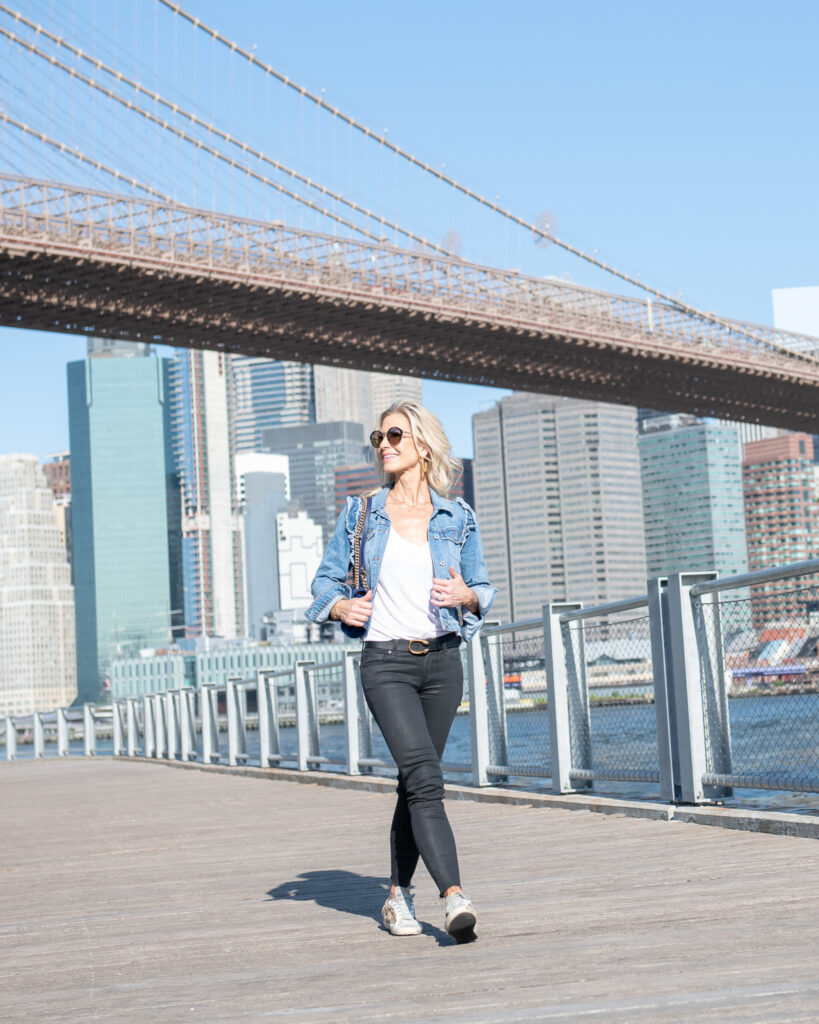 The easiest way to turn your favorite summer pieces into fall is to add layers….wool coats and hats make your outfits feel more seasonally appropriate and keep you warm.
Layering is not just practical but is also a great way to elevate any look.  A few basic must-haves in your wardrobe are cropped denim, scarves, hats and light jackets.
Cropped denim is a great place to start because these jackets are affordable, come in a variety of styles and can be worn all year round. Denim options are limitless! I love traveling in this outfit, like I did last summer in NYC. The dark denim hides any stains and dresses up easily at night when you throw on some heels. Wear any white tee underneath this cropped denim jean jacket and add some comfy sneakers. They are the perfect shoe for sightseeing – and helpful to have on if you have to run through the airport to catch your flight – ha!
I also have light jackets in so many colors because I can throw them on with anything. The fall temperature in Texas are unpredictable….light jackets are the perfect way for me to stay warm and add some dimension and interest to any look.
Finally, scarves are a great way of adding another cool and quirky aspect to your outfit and is one of my all-time favorite accessories – I have a huge drawer full of them in my closet. Some are long, some are short. A variety of colors and lengths allows me to throw one on with any outfit and It's functional too because it keeps me warm when the temps drop. This one from @aritizia is the perfect pattern to add some interest to this all-black look.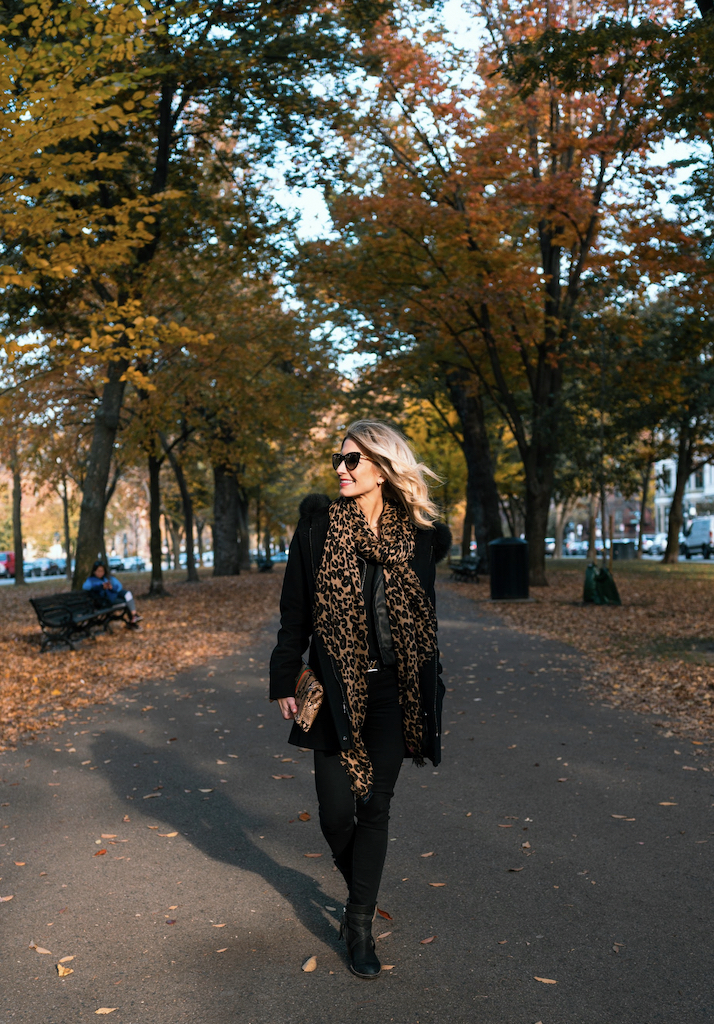 Bring out the Moody Colors and Heavier Fabrics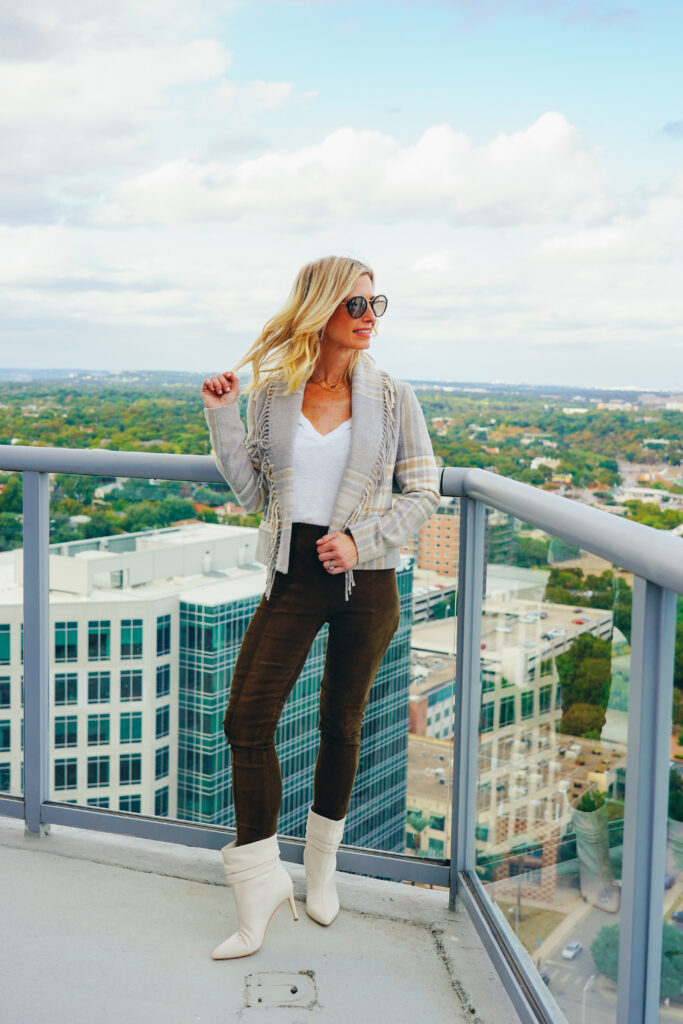 Another great way to transition your wardrobe to fall is to bust out bolder, richer colors and pull your leather,  suede and wool pieces. These leggings and wool blazer are the perfect for cooler temperatures. I wore this outfit to a girls dinner last week and got a ton of compliments.
One thing I don't do? Follow fashion rules. No white past Labor Day? No way! I wear white and pastels all year long. The boots I have on above are more cream than white but I keep them in the front row of my closet all year because they go with everything.
Change out your footwear
I'm not one to wear boots in the summer – my feet get too hot and sweaty in Texas!  I get so excited for fall because I can finally put away my sandals and flip flops and move my sneakers and boots to the front of my closet. I absolutely love boots – especially when they are in fun prints and patterns like these I'm wearing here from Steve Madden. I am obsessed with animal prints this year…. I consider them a neutral – ha! Sprinkling in little pops animal prints here and there sure add some fun to your look.  These boots are affordable and have a small kitten heel which makes them super walkable.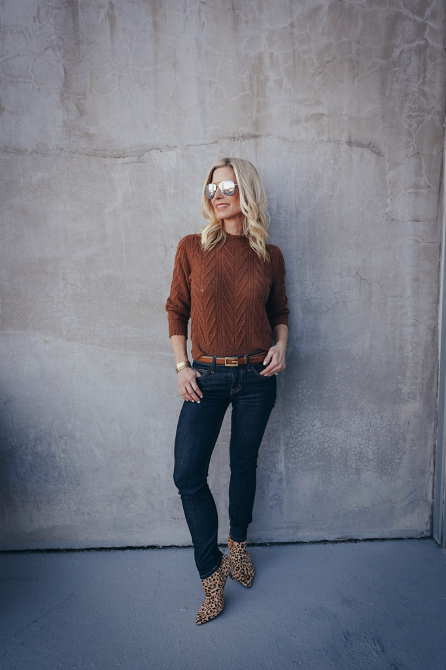 However, if you are looking to splurge this year on a classic and timeless boot….look no further than Christian Louboutin.  I only bought my first pair last year….. and its quickly  become one  my all-time favs ( I mean who doesn't love the signature red bottoms?) I always buy my boots an entire size bigger fyi. ( European brands tend to be narrow.) It leaves my foot some space to move around, which keep my toes from being squished.  These here have the most amazing heel. I get compliments every time I wear them!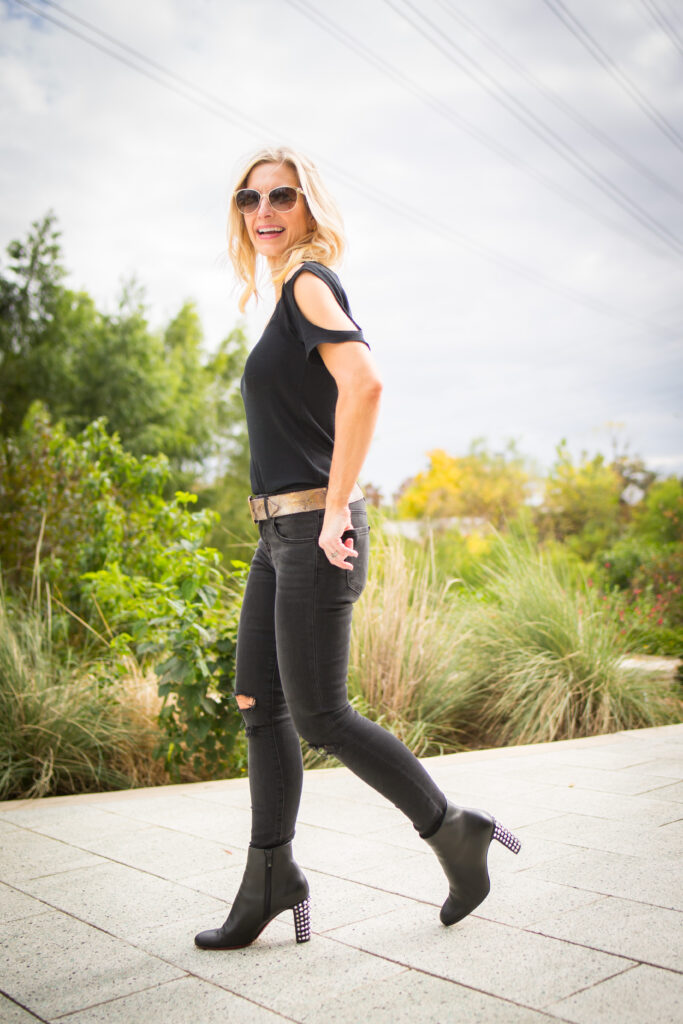 I hope this post gave you some inspiration and ideas on how to easily transition your wardrobe this fall. I would love to see some of your ideas….be sure to share them with me on Instagram @donnatryba. Sending air hugs and much love from downtown Austin, Texas.