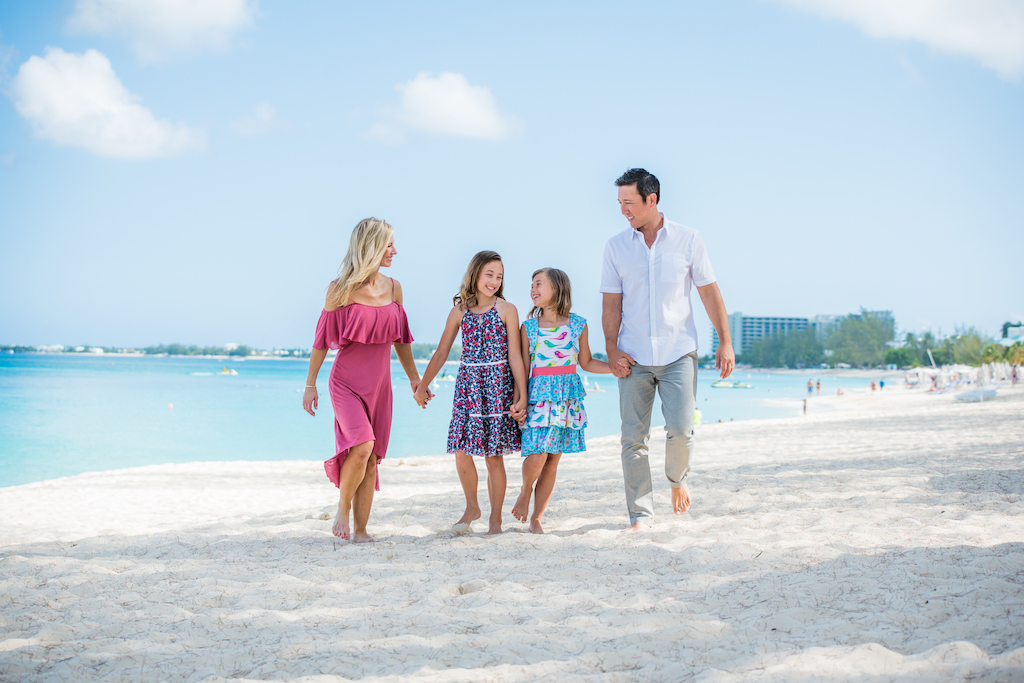 This was our favorite family vacation ever. Big words coming from a family that travels often….atleast we did before Covid. We have taken our girls to Tokyo, Dubai, Aspen, Hawaii, Jackson Hole, Wyoming, and Paris. We have been to some of the most amazing places on earth and we all agree that this trip was our favorite. It was a combination of an amazing hotel, situated on the most scenic beach ever!
Location, Location, Location
Ritz is located on Seven Mile beach – one of the most spectacular views I have ever seen.  Within moments of arrival, my kids were begging for the beach. We threw our bags down, threw on swimsuits and headed for the sandy shore. Holy moly! I have never seen water that clear – you can literally snorkel in waist-high water.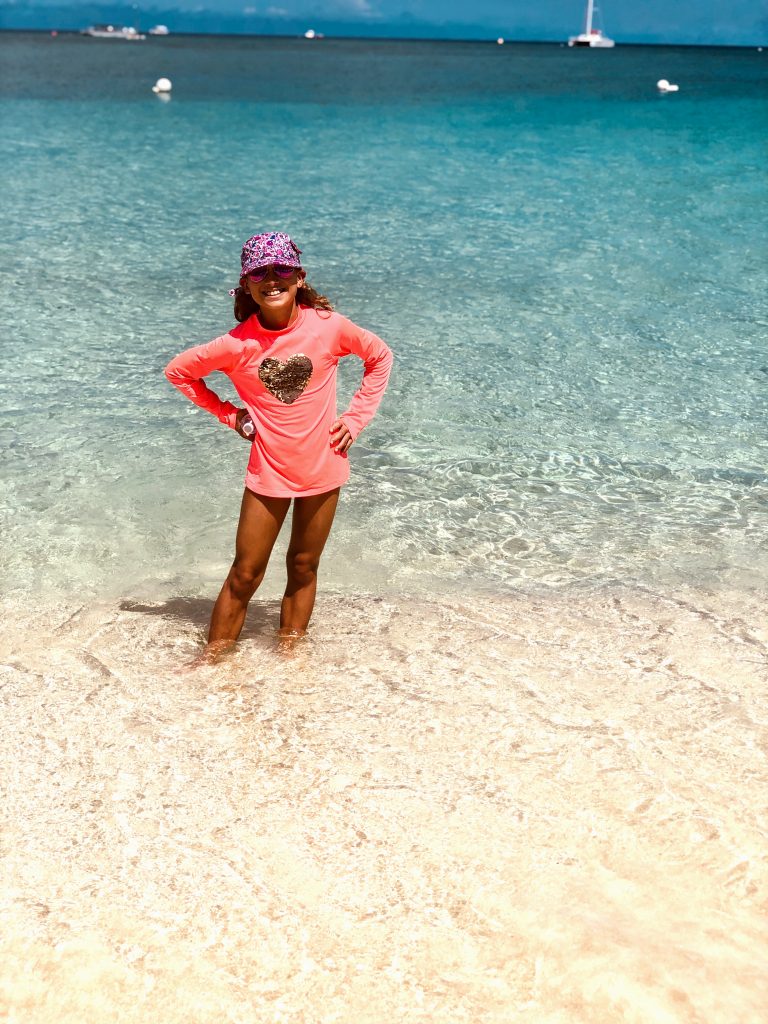 The Ritz Hotel
Holy cow the service was totally over the top. You expect great service while staying at a Ritz, but this hotel goes above and beyond. The staff greets you with a smile, often addressing you by first name. Daily "treats" were sent to our room from the kitchen. Because we upgraded to a room in one of the residences, we had access to our own concierge. He booked our cabanas each day, made reservations for us on and off the property and answered our questions. It was amazing to have this service at our fingertips.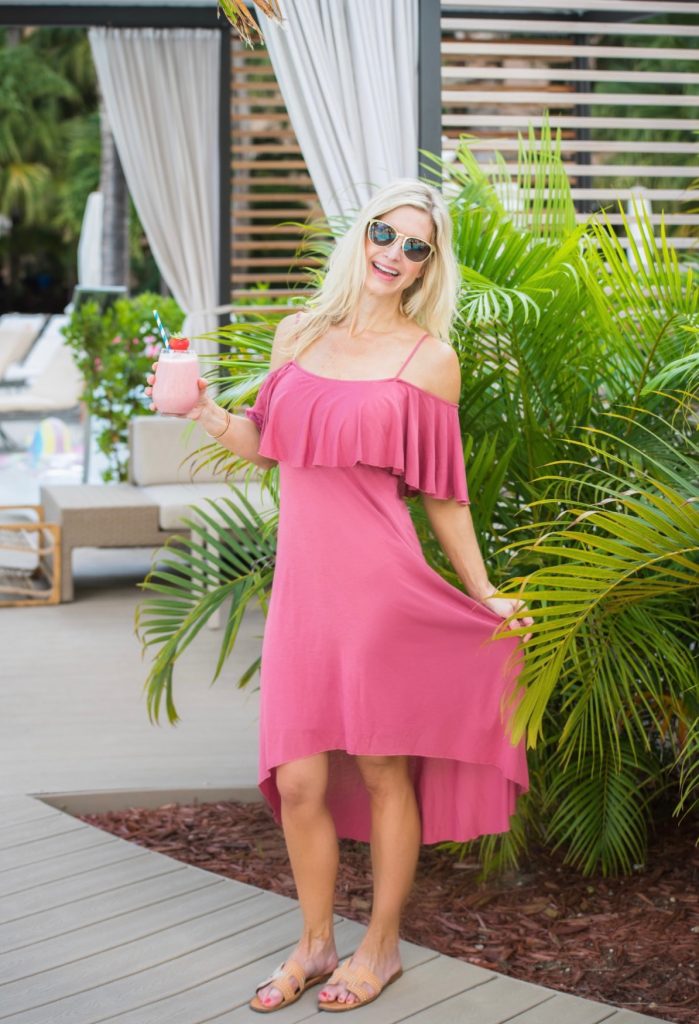 One of the best features of this hotel is their elegant rooms, all with balconies. The resort has two towers connected by a skywalk, the ocean tower and the resort tower. It's worth the price to pay for an ocean view room and a residence equipped with a full kitchen. To save on cost, we ordered grocery delivery from Hurley's and often ate a light breakfast and afternoon snacks back in our hotel room.
La Prairie Spa was one of the most luxurious spas I have ever been to! The wood walls are covered with carved polyester laquer and resemble water-carved rocks. My husband and I booked a couple's massage as a treat for my birthday. We arrived early to relax in the Silver Haven reflection room and enjoy the jacuzzi. Worth.every.penny.
The Best Things About the Hotel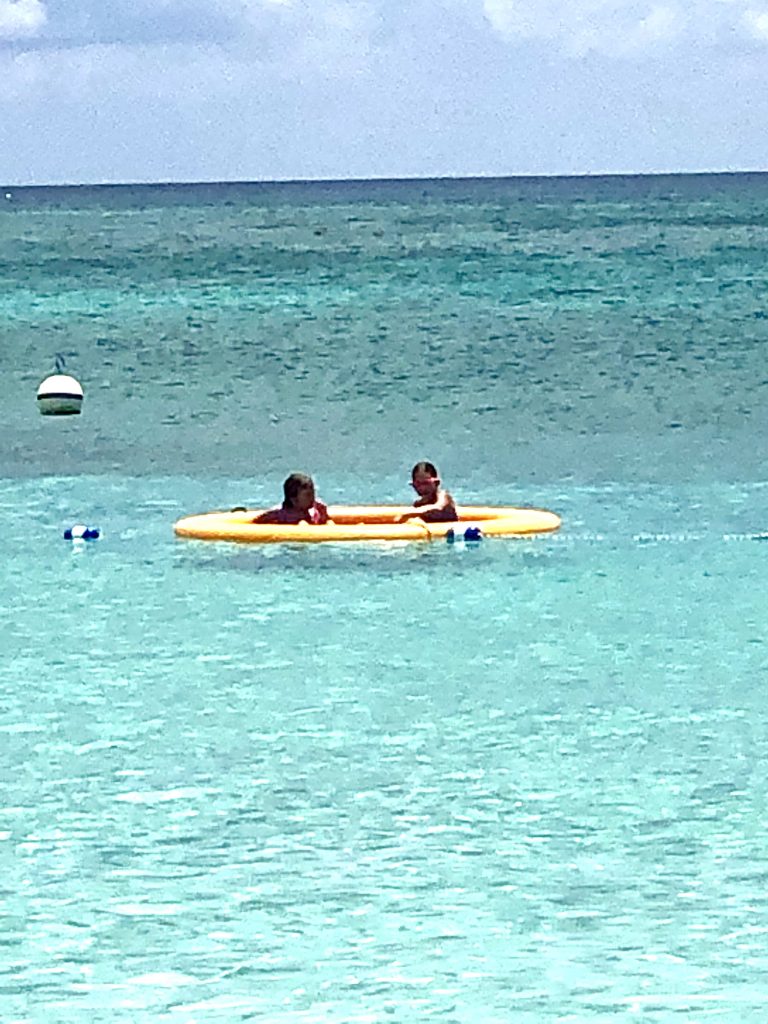 Water Sports Galore
My girls went crazy over their glass-bottom kayaks. You could easily see all kind of colorful fish and underwater sea life. It was like snorkelling without getting wet! The resort fee also covers daily use of water bikes, paddleboards, snorkel gear and canoes. They also offered something I had never seen before – a water hammock! These floating ring rafts allow you to lounge about 60 feet from beach. And omg – this place has a Waterpark! The Starfish Cay water play area for kids features small slides and a dumping bucket. My kids loved this fun break from the sandy beach.
The resort offers both cabanas near the beach and daybeds on the beach. Be sure to make reservations in advance. It's a must-do since the beach chairs lining the shore fill up quickly. The Oasis and Haven beach cabanas are a little too far from the shore for us, it was tough to keep a close eye on the kiddos. The daybeds were a great option for our family. They are right on the shore with seating big enough for 4 and a canopy to provide some shade for us. The daily rental came with free sodas and waters, and wait staff to take your food and drink orders.
Lots of Restaurants, All Yummy
Andiamo offers Italian cuisine and was my kiddos favorite. My hubby and I got away for a few adult dinners out:  Taikun, the gourmet sushi restaurant and Blue by Eric Ripert. Make sure you are ready for a four-hour dinner at Blue, where they offer a  6 or 7-course prix fixe tasting menu. It's pricey but worth it. Seven steakhouse was another great place offering steaks and fine wine.
We often visited Cupboards, the little shop/bakery in the hotel, that offered afternoon ice cream treats and cheaper breakfast options.
Stingray City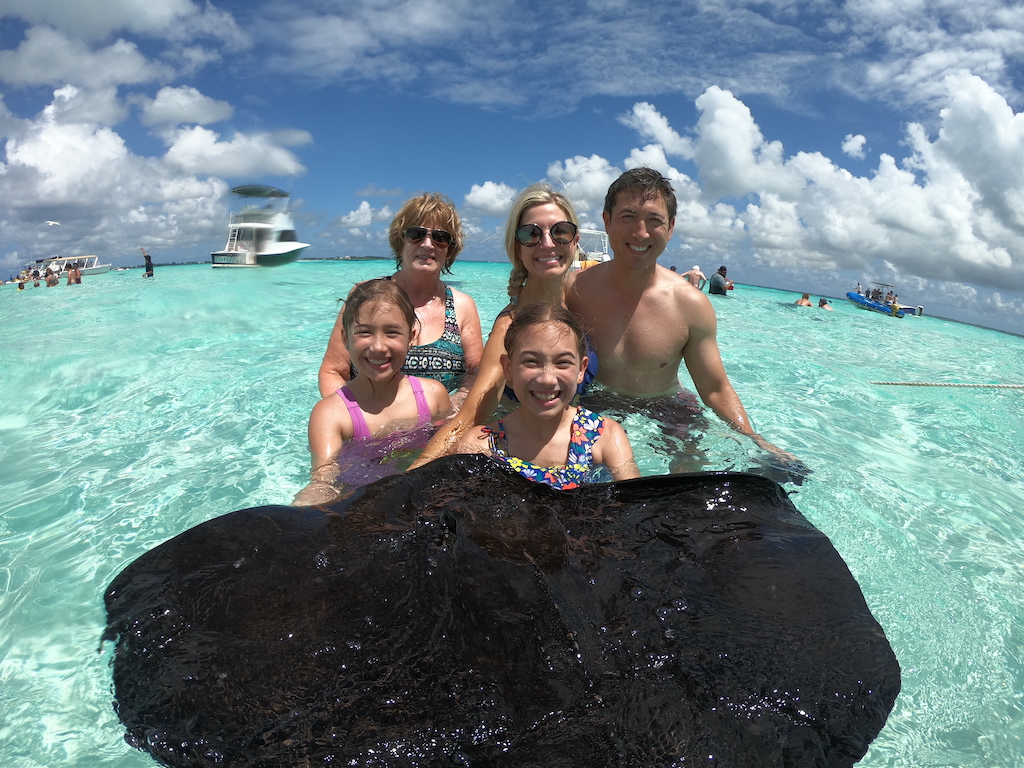 After a short 15-minute boat ride we reached a shallow sandbar. It was amazing to see all of these amazing creatures in their natural habitat. When we waded into the water we were surprised how they swarmed around us. They were happy to take snacks in exchange for belly rubs! The divemaster warned us to be careful of their tails…but otherwise we felt totally safe.  I highly encourage everyone to try this adventure of a lifetime. It was certainly the highlight for our family.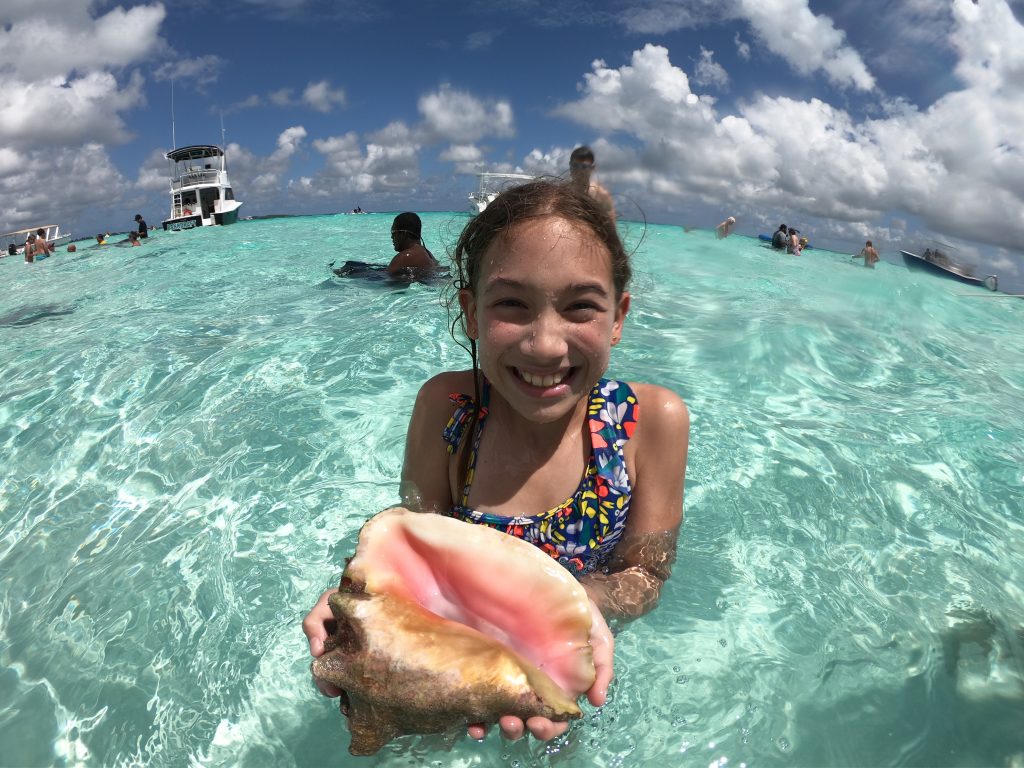 We booked a private boat for a scuba diving trip – and were shocked when the boat took us only about 100 feet from shore to the dive site. We joked that we actually could have just swam over! Cayman is truly a scuba divers dream: water so clear, and warm, littered with bright shiny coral and colorful marine life. I spotted a lobster big enough to feed an entire village! What an experience. Can't wait to go back and dive there again.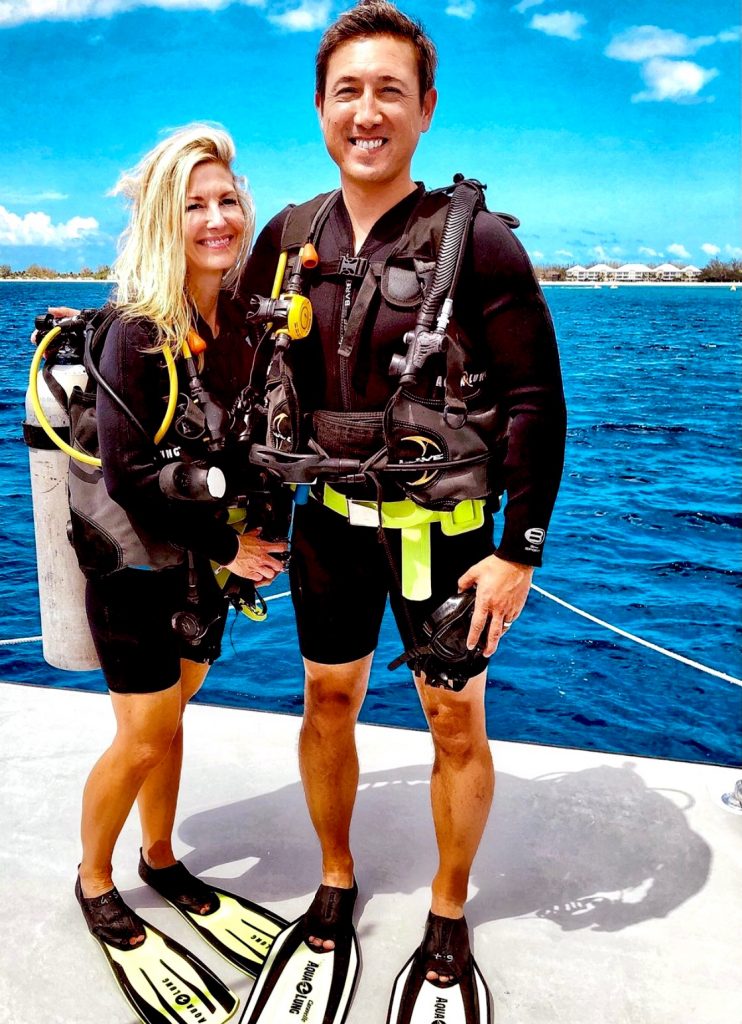 A FEW MORE TIPS:
Everything on the property is quoted in Cayman dollars but charged in US dollars – can be a bit confusing. Ask the hotel about the exchange rate.
Download the Ritz-Carlton app, which is an excellent way to request housekeeping and access resort details. I love these apps so I highly recommend it for your stay.
Organize a pick up from the airport through the Ritz hotel concierge ahead of time. The taxi system at the airport works like a shuttle. All are minivans and pick up multiple people at a time. You may have several stops along the way to your destination to drop other riders.
Sure – this vacation won't come cheap. Staying at the Ritz never is.  There is a $70 resort fee per day, but it covers wifi, all water sports, free meals for children under 5 and most of the hotel amenities. Food and drink were expensive, but I found the Ritz pricing to be in line with any other 5-star luxury hotel. And the over the top service, warm water, sandy beaches and endless fun family time in this resort paradise was well worth the money spent. Next time we come to the Cayman Islands, we will be checking into the Ritz.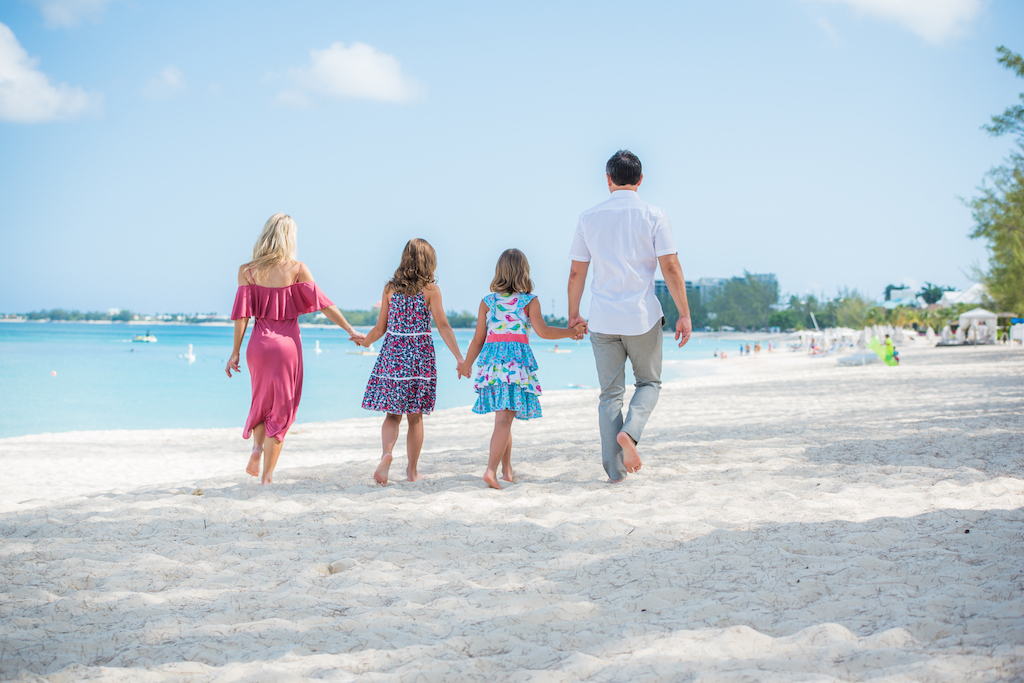 Hope you enjoyed this post about The Cayman Islands and the Ritz Hotel. Be sure to head over to Instagram and follow me @donnatryba where I share more tips on travel, fashion and fitness. Have a great day y'all! xo,dt