What a wonderful experience it was to meet up with my good friend Lauren Gremillion at Neiman Marcus to kick off my holiday shopping this year. After filling out an online survey of my gifting needs, I drove to the Domain in North Austin last week and spent several hours going through all the amazing gifting options she pulled for me. They really offer something for everyone – even those toughest to buy for like my husband!
Lauren, my personal shopper, met me at the door and showed me to my own personal "showroom" in the back, which was full of gorgeous and stunning items, separated by category. She pulled some things for my kiddos, lots of great options for Andy and even a few amazing items for me too!
I had a hard time deciding! There were a lot of great items to choose from for everyone on my list. I grabbed two Neiman Marcus cashmere sweaters for Andy. I loved the quarter-zip placket in the front and the pull-over style. I also got him some comfy Ugg slippers and a lightweight robe to wear around the house.
I was surprised to see so many options available in the store for kids! Clothing and toys galore. I knew Mia, my 9-yea- old, would love the sing-along  rainbow bling wireless karaoke Microphone. I mean – how cool is this! It has LED lights and a built-in speaker! I know she will be excited to open this on Christmas day and host her own dance parties in her room!
Mia is also super girly and quite the clothing hound, so I know she will love the velvet ruffle sleeve black dress by Hannah Banana. I didn't wrap this one because I know she will want to wear it Christmas Day so I am going to give it to her early.
My 11-year-old is a much tougher customer, and Lauren knew exactly what gifts she would love! Juliana has developed a love for baking, so this United Tastes cookbook was perfect. It features child-friendly recipes, one for each state. I love that it combines culinary history and geography (it includes maps of all 50 states.) There are even gluten-free and vegetarian recipes included.
Lauren wrapped all of my items and I was on my way! I had a blast during my appointment –   having a personal shopper really took the stress out of gift buying. Showing up and having all the items pulled for me made the shopping experience simple and saved me a ton of time. I also felt very safe during the entire process: all customers and employees wore masks and practiced social distancing.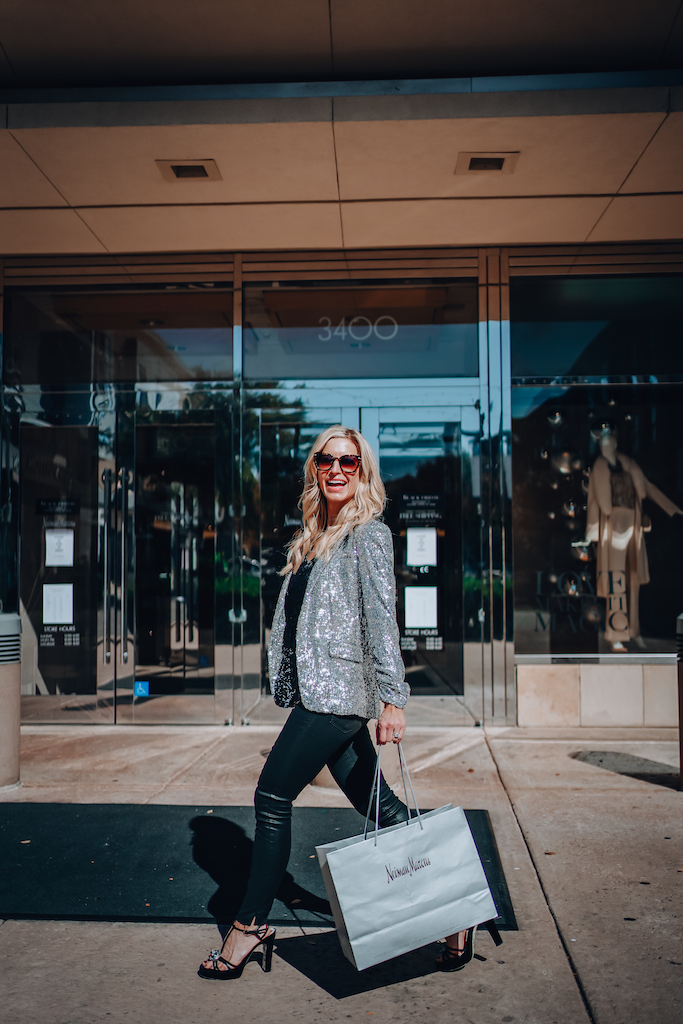 I still have some other gifts to buy, so I plan on shopping for the rest of them online at neimanmarcus.com. Shipping is free or I can choose curbside pickup. I love being able to get my packages without ever leaving my car! And guess who will be on delivery duty starting November 28? Santa! He's delivering packages every Saturday until December 19 from noon until 6 pm. How fun is that! Might get a little selfie with him 🙂
Hope you all enjoyed this blog post! I am always looking for ways to save time and share those tips with you guys.  I highly recommend the personal shopping experience at Neiman Marcus if you are looking to make your holiday shopping quick and easy this year! They really do have something for everyone!
xo, dt