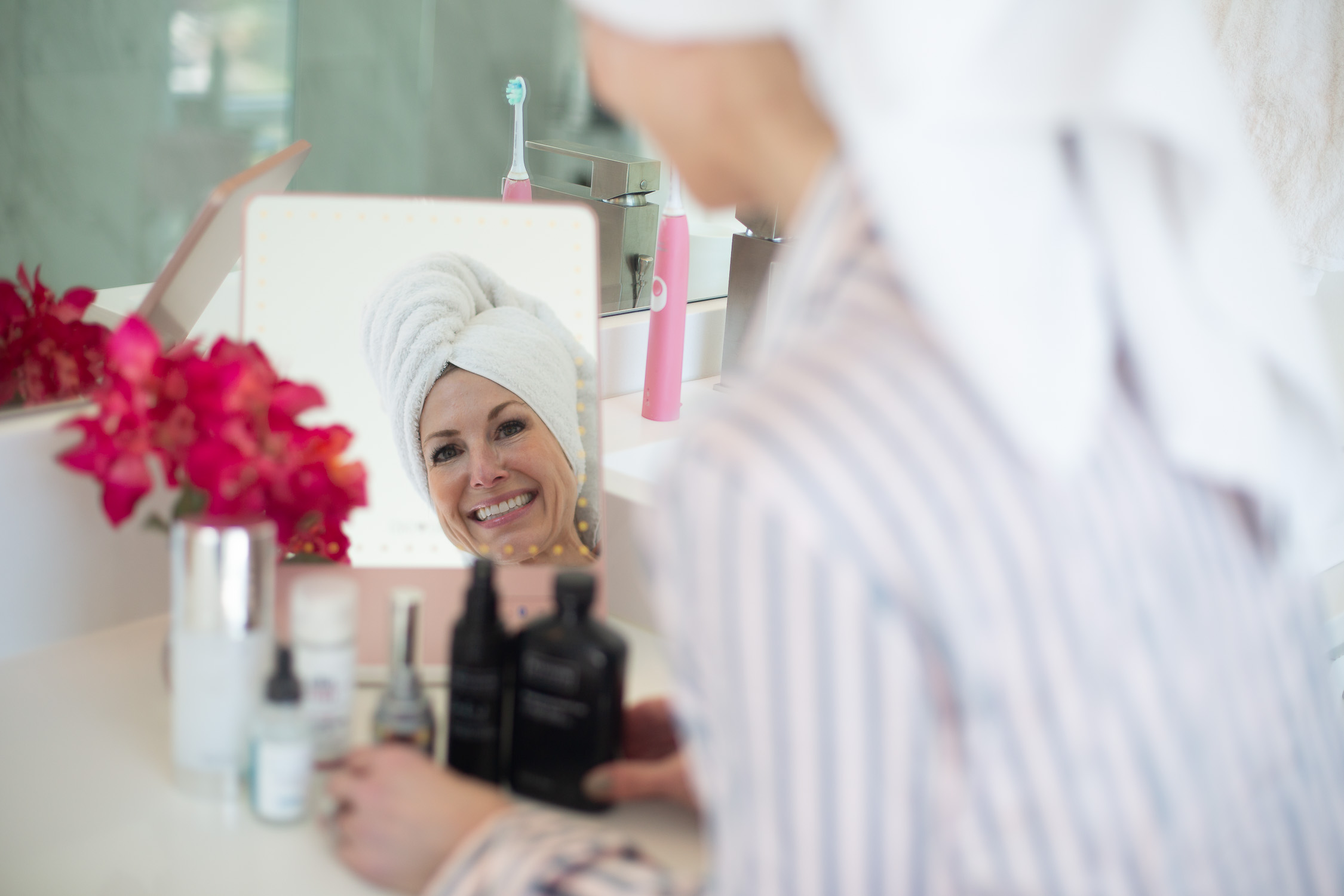 Are you struggling with dull, dry skin as you have aged? Want to look more youthful this year but the products you have invested in just don't work or are too complicated?
Feeling good in the skin I'm in is at the top of my priority list everyday. I exercise and eat healthy….but one of the best things I've learned is to invest in high quality skincare that will perform!
When it comes to my face I have done so much homework – and I'm excited to share 7 ways to refresh your skincare routine. 
Step 1: Girl Wash Your Face.  I use a gentle cleanser to remove any product residue, sweat, grime, and excess oil from my face every morning and night. I love this one from Revision Skincare – it's great for normal to dry skin.
If you are acne prone or have oily skin, use this Skinceuticals Cleansing Gel. It contains glycolic acid and  salicylic acid to refine pores without drying out your skin. Both of these are PH balanced and don't contain any parabens, phthalates, or fragrance.
Step 2: Exfoliate. It helps to remove dead skin cells and allow new cells to surface. I use a small amount about 2-3 times a week.
Step 3: Treat Your Eyes. This is where I show my age the most because its where my skin is the thinnest. I live and die by great eye creams!
I use all three every single morning and night. The color science reduces dark spots, Biopelle and Revision Line Eraser both soften the fine lines and depuff my under eye area. This is my trifecta!
Step 4: Moisturize.  Well-hydrated skin is healthy skin. I know when my skin is dry, the fine lines are super visible!  I use this lightweight cream moisturizer from Revision day and night. It contains hylauronic acid, peptides and vitamin C to brighten skin, hydrate, plump my skin and soften fine lines.
I use the SkinCeuticals Triple Lipid Restore once a day, especially if my skin is extra dry. A little dab will do the trick. It feels like I just got a facial! I follow it up with the B5 gel. It's super lightweight and helps the other products penetrate into my skin.
Step 5: Apply Serum. TNS serum is really the holy grail of my routine. It's one of the only products on the market clinically proven to stimulate your body to produce more collagen and elastin. I have been using this for a few years and I it has definitely given me a radiant and youthful complexion.
Step 6: Use Retinol Daily/Weekly. I swear by a good retinol. I have been using one daily for years! A  retinol is one of your best ingredients if you want younger, smoother-looking skin. It lessens the appearance of fine lines and reduces pore size. Start with a small concentration, like this .25 once a week and work up to the 1%. Your face will be a bit red at first but your skin will eventually get used to it!
Step 7: Always Wear Sunscreen.  I apply sunscreen every single day! It's my final step of a basic skin care regimen because you need a protective barrier shielding your skin from UV damage.
I hope that these tips help you get glowy skin! Want more tips to up your skincare routine? Check out this blog post that share more of my secrets to youthful skin. 
 Head over and follow me on Instagram for more beauty, fashion and fitness inspiration @donnatryba. If you enjoyed this post please spread the love and share with a friend. Sending good vibes from downtown Austin, Texas.