Looking for a fun beach getaway that offers amazing shopping and stunning beaches? Want to avoid the touristy crowds and walk among the see-and-be-seen crowd? I suggest heading to St. Barts Island! We went last week and y'all…..there are no words! This place is a tropical destination like no other – can't wait to share the details on this luxury destination!
(Click on any picture widget to shop the items I wore on my vacation.) 
It was a trip like no other!  Three other couples joined us for a 5-night stay in a hilltop villa with a stunning view! (We rented the villa through Eden Rock….contact them if you want to have them arrange your trip – their customer service was amazing!
Flying commercial, it's normally an all-day trip from Texas since you have to fly into St. Maarten and take a little jumper plane into St. Barts.  We were so dang fortunate to hitch a ride on our friend's plane. It was a quick 5-hour flight from Austin into St. Maarten.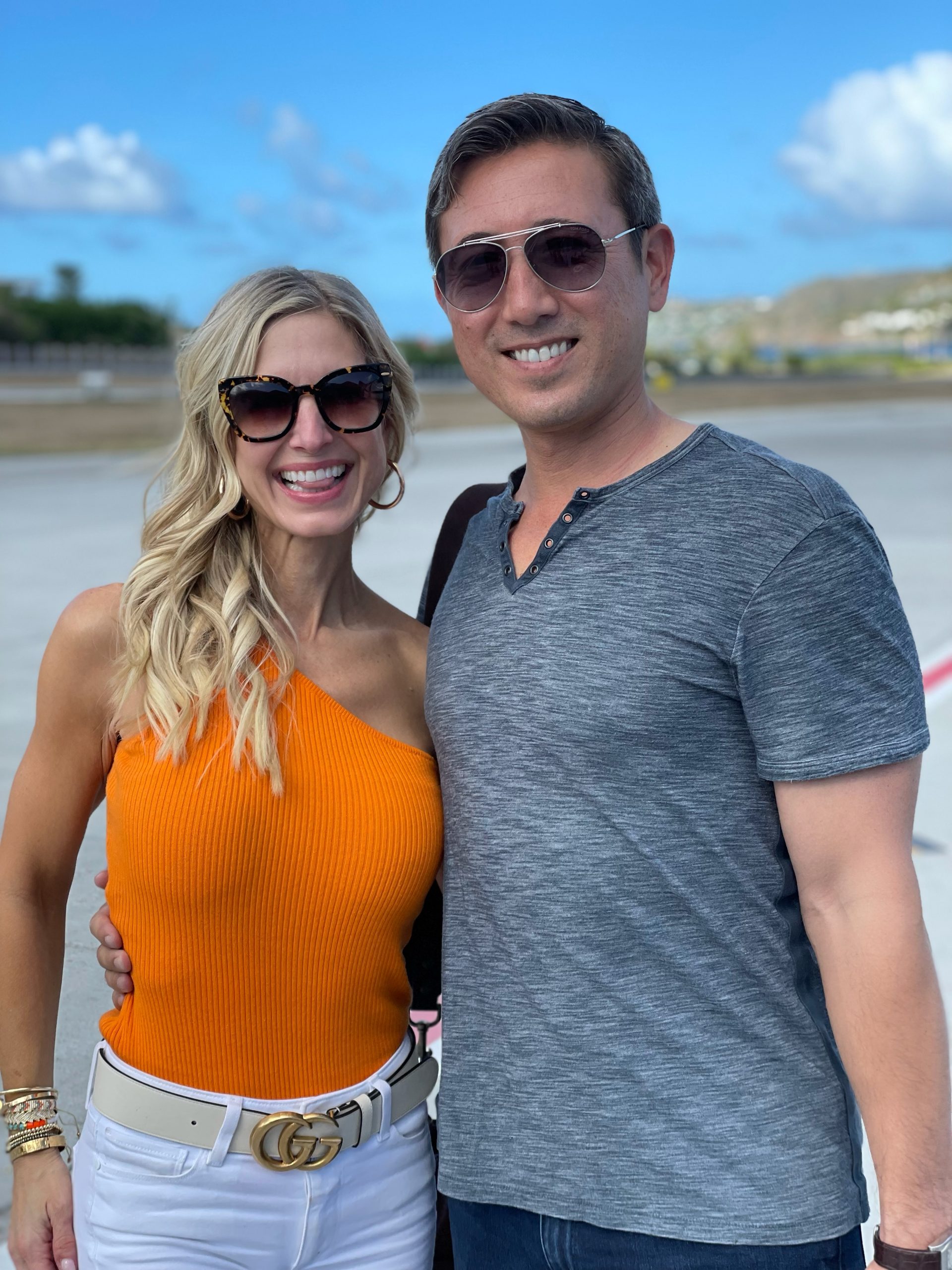 The puddle jumper plane from St. Maarten into St. Bart's is a real nail-biter you guys….we had to land on one of the shortest runways in the world! As you can see, Andy and I are super excited to be on the ground – haha we made it!
I shared our trip on IG and saved it to a highlight if you want to see more videos from our villa and the island.

It's a smallish island with 16 beaches,  all with soft white sand and clear blue warm water. I'm including a list of the different resorts, restaurants, and beaches we went to:
EDEN ROCK RESORT
This resort is beachfront and offers a great view for dining and daytime lounging.  We spent the day hanging here and enjoying the view.

It's also a hotel with beachfront rooms right on St. Jean beach. Again, amazing service and yummy cocktails.
NIKKI BEACH
Sunday afternoon at this lounge is the place to be in St. Barts. We first ate in the restaurant while a played some cool tunes. The giant sushi boat was surprisingly yummy! Andy, who is from Japan, even commented that the fish tasted fresh. We really needed a good meal to sustain us for the day because it turns into quite the party once the crowd gets going!
We rented a lounger on the beach for the afternoon and sipped cocktails and swam in the warm water. We really enjoyed the  "rose all day" vibe and fun party atmosphere. Never been anywhere like this before and it's for sure a place to people watch and let loose!

CHEVRAL BLANC
This is a boutique luxury hotel right on the beach. Amazing service and the best meal we had on our trip. Yummy seafood, delicious hummus,  salads, and one of the best views while dining. They have a cute little boutique shop full of swimsuits and resort wear too!
BONITO
Peruvian-style food with a french flair. I loved the chic all-white decor, it created the perfect ambiance to celebrate my birthday!  Be sure to go at sunset and enjoy the view! The cuisine was amazing and Bonito had one of the best wine lists I have ever seen.
BAGATELLE
We went on a Tuesday. It was quiet and almost empty. Probably the most unimpressive meal we had during our trip. It's more of a party scene on Sundays I hear, with people dancing on the tables and a live DJ. It's not a place to go for the food!
YACHTING
What a splurge you guys and totally worth it! Touring the beaches by boat is an experience like no other!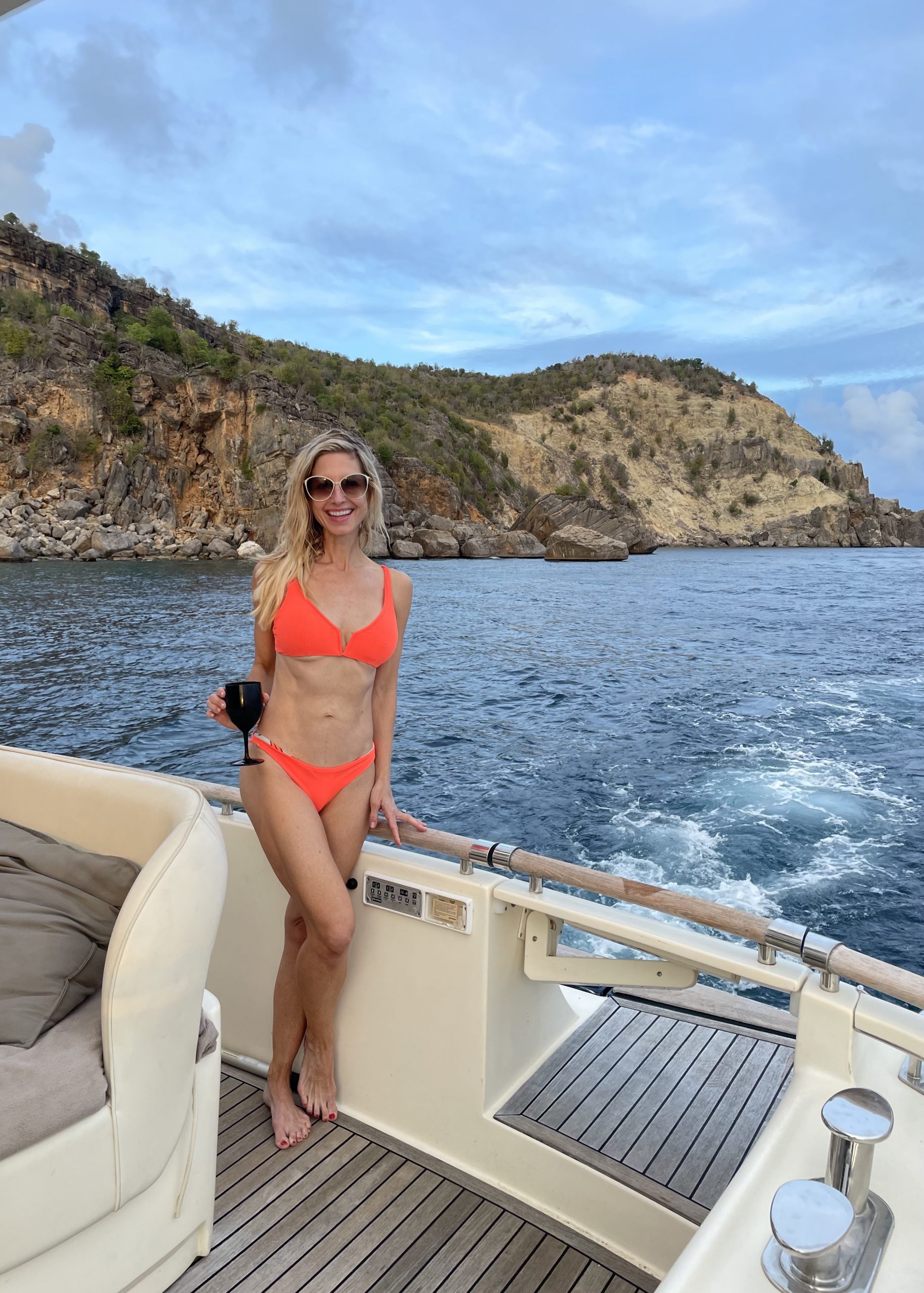 We cruised around for half a day in the afternoon and swam in the warm water. We cruised by Shell Beach and Gouverneur beaches….y'all it was gorgeous and unlike anything I have ever done! I made a video if you want to see more of the yachting experience.
COVID INFO
You must have a vaccine card and a negative test to enter the island. Otherwise, the entry was easy and nearly all places were pretty relaxed about Covid restrictions.

TIPS TO NAVIGATE THE ISLAND
1. We chose to rent a villa – this is the way to go if you are traveling with a group. There are only a few hotels and they are super expensive! The island does this intentionally, they want to keep the crowds small. They only have a few beachfront rentals on the entire island and they are super pricey
2.  Our villa was at the top of the island with a stunning view. We had to rent a car (or take a taxi) to and from the restaurants etc.  Again, the island is small so it's only about a 15-minute drive to get anywhere on the island.
3.  Eden Rock resort rentals was great at helping us set up our villa. We pre-ordered groceries and the concierge made all our dinner and boat rental reservations. I recommend renting through a service like this as they will help you make your reservations etc.
For more travel inspiration, head to Instagram and follow me @donnatryba. I really have the travel bug now that things are more open again – I'm always posting my travel tips and destinations in my IG stories.
If you enjoyed this post, please spread the love and share with a friend.  Have a great week y'all and thanks for reading along!