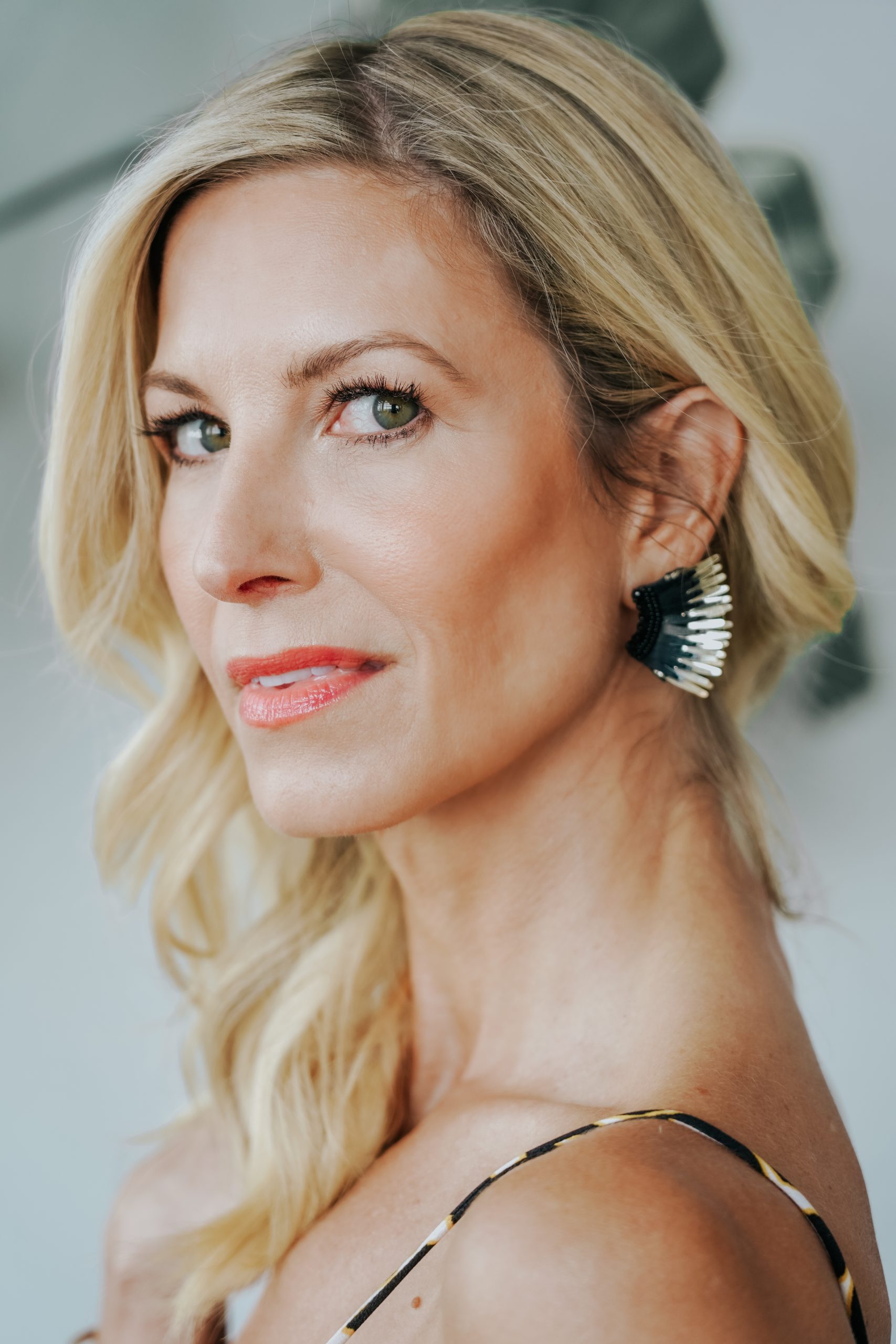 Are you noticing visible lines on your lips and neck? Has the skin on your neck started to look crepey? Are there deep lines forming around your lip line? I know the feeling y'all! 
Two places we forget to protect – our lips and neck! The skin in these two areas is very delicate – and it's two places we often forget when doing our anti-aging treatments. 
Excited to share how to protect your lips and your neck: my anti-aging skincare routine for lips and your neck.

PROTECT YOUR POUT
Lips are different than the rest of the skin on your face….they dry out quickly if you don't keep them moist. I know that losing volume is common and y'all I'm fighting all the signs of aging as best I can!
HYDRATE
I treat my lips the same way I treat the rest of my skin. Cleanse, moisturize and apply all my anti-aging products to them every day and night.
My skin tends to be very dry….and my lips are too! I keep them moist by using an antioxidant cream day and night.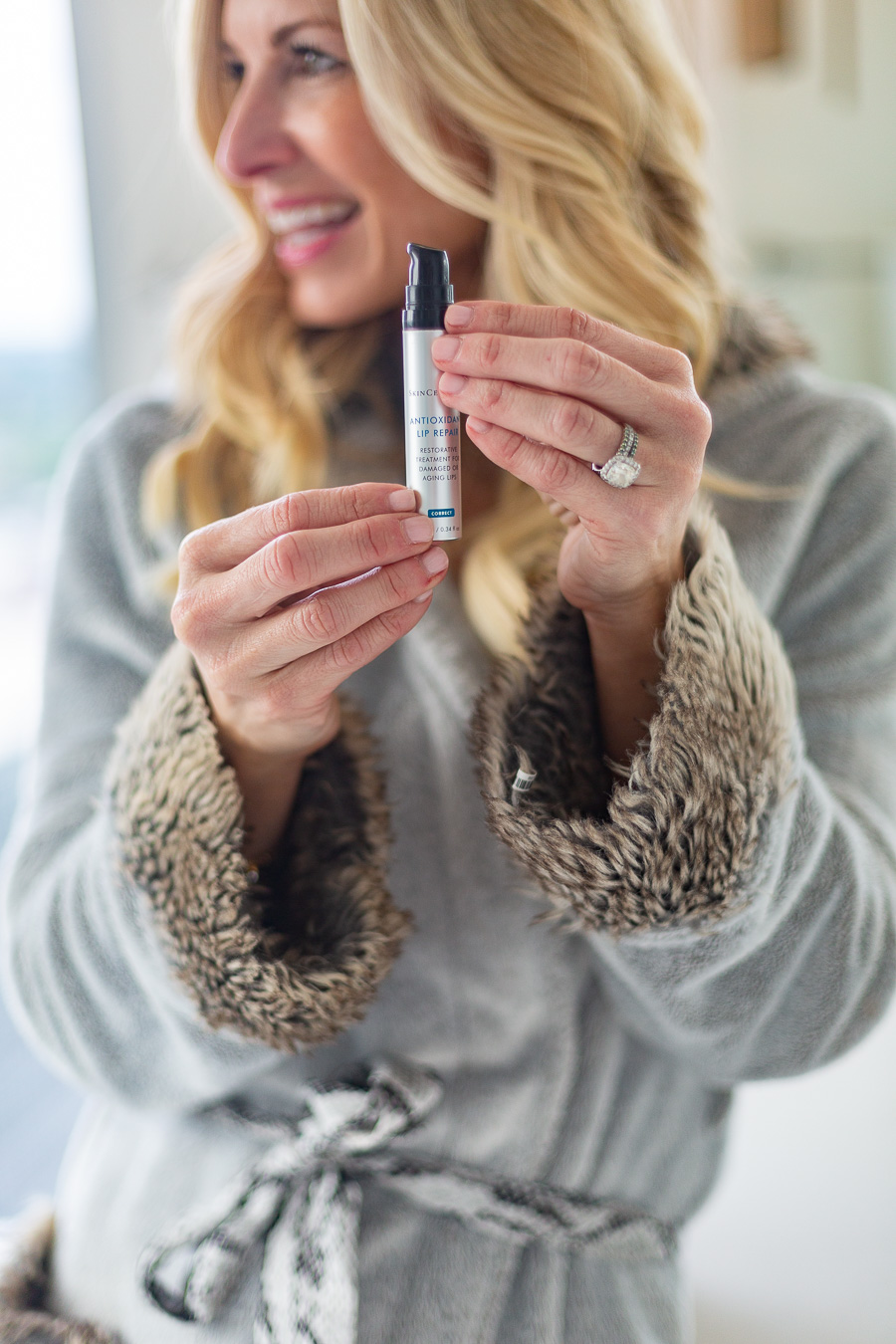 I love this product by Skinceuticals. It contains anti-oxidants to repair environmental damage, smooths fine lines, and hydrates. I apply it morning and night.
I have been using this for a few years now and have really seen a difference in the fine lines on my lip line. They are much smoother and less pronounced than before!

Revision Skincare YouthFull Lip Replenisher is my new favorite product for my lips!  It has hyaluronic acid to plump lips and softens the fine lines.
I use this every night before bed – I have noticed a remarkable improvement in the fine lines around my pout.  I also put this on sometimes over my lip gloss for an extra plumping effect.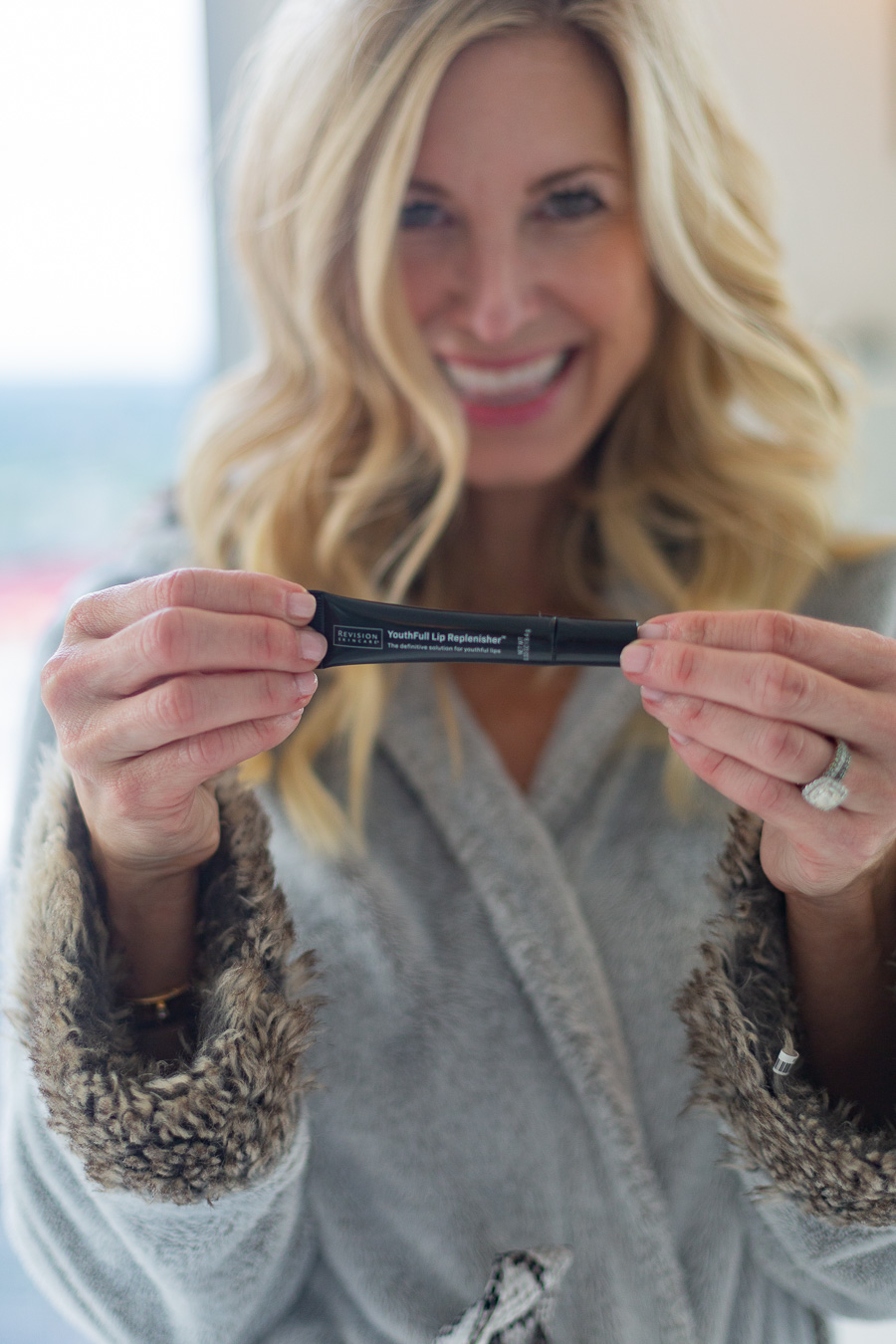 USE  SPF
Lips need sunscreen to prevent them from drying out and becoming chapped and flaky. I often wear lipgloss or lipstick with SPF already built-in.
Fav new product alert! This color balm contains SPF 50 while adding color to cheeks and lips and comes in three gorgeous colors: berry, blush, and bronze.

Perfect pout lipstick is one I have been wearing a lot lately. It has SPF 30 built-in along with peptides and hyaluronic acid to naturally plump. I love the colors and it feels silky smooth on my lips. This lipstick also has a built-in cap – love that design! Comes in nine stunning colors.

These are my two favorite lip sunscreens. The one by goop is clear, I put it on over my gloss when I'm out in the sun. The Kiehls Butterstick Lip Treatment has SPF in it and coconut oil and comes in five colors.

EXFOLIATE
I try to remember to exfoliate almost everywhere. Regular exfoliation of skin boosts cell turnover and improves the appearance of rough texture. Don't exfoliate your lips more than twice a week, because you can dry them out.  I always follow up with a replenishing, nourishing balm or mask.

These are my two favorite lip exfoliators. I follow them up with this Tatcha leave-on jelly lip mask. It makes my lips feel lush! Tatcha is such a luxurious brand and I love the peachy scent.
PROTECT YOUR NECK
It's one of the first places we show signs of age and it's often ignored during your skincare routine! I'm grateful I started seeing a dermatologist when I turned 30 who put me on a skincare routine – she reminded me to NEVER FORGET TO PROTECT MY NECK!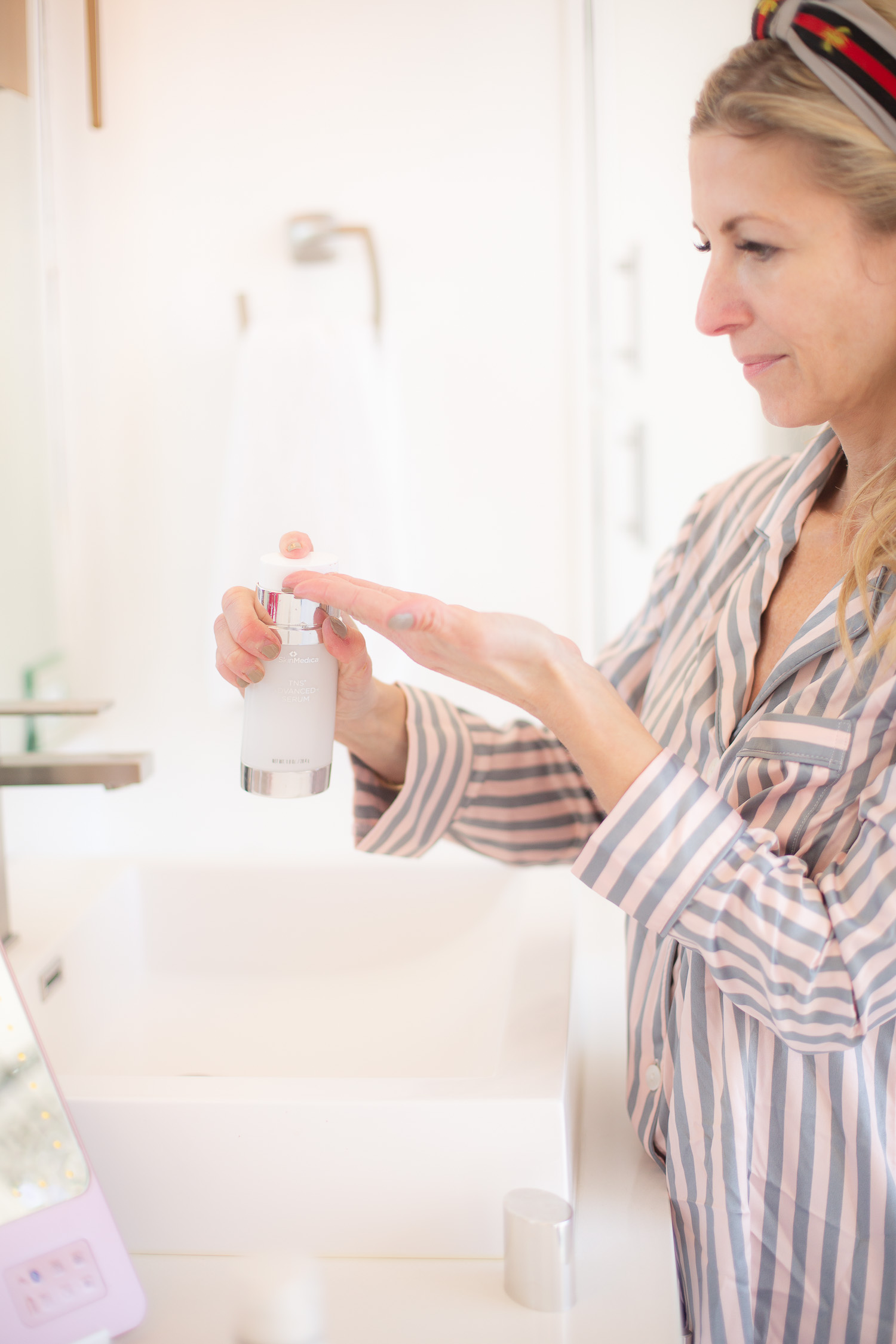 I cleanse, moisturize and apply all anti-aging products to my face and my neck, every morning and night! This includes retinol and sunscreen too!

In addition to a small amount of botox a few times a year, I also swear by two products to protect the skin on my neck: Nectifirm by Revision Skincare and TNS serum.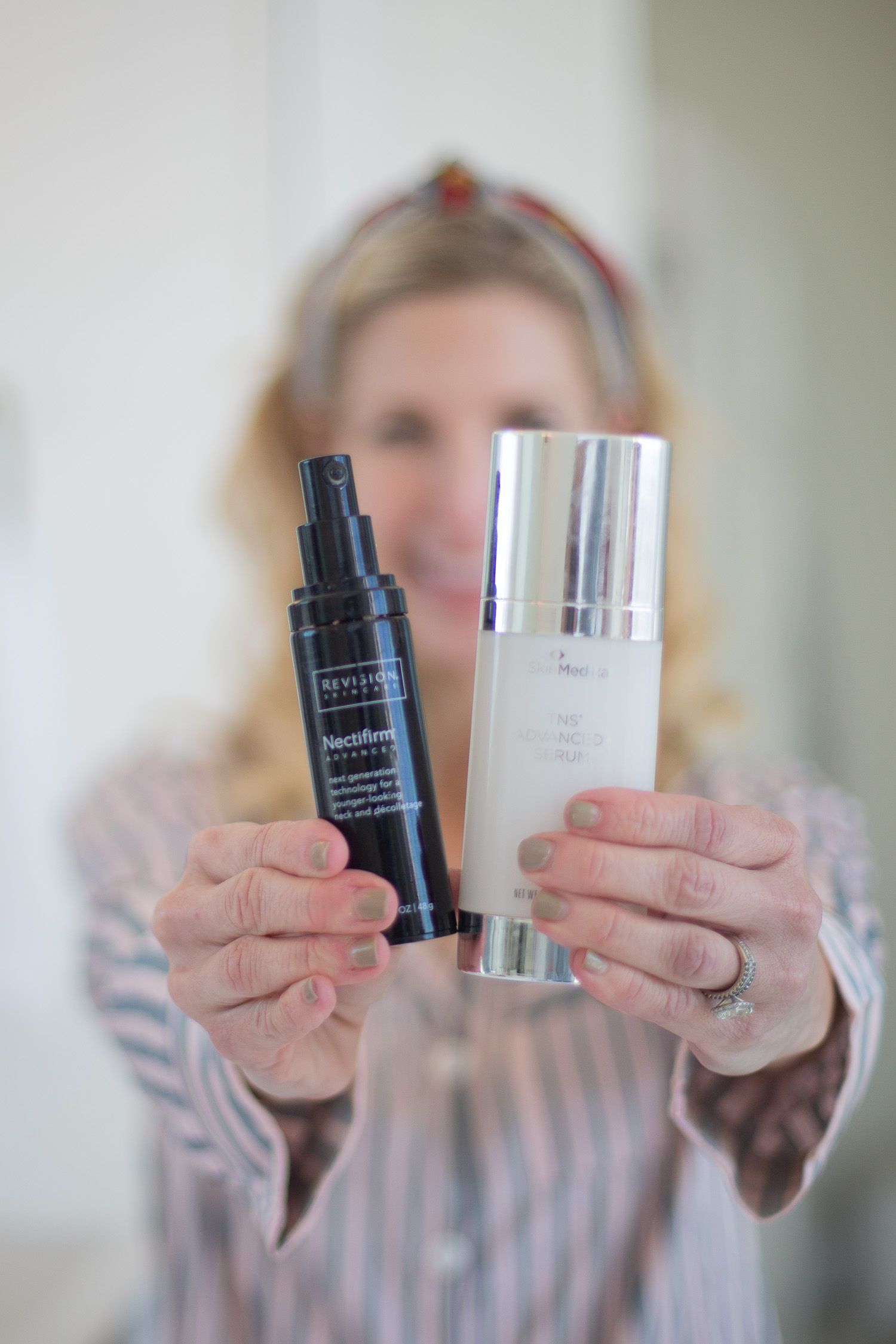 I have been using Nectifirm for about 3 years – it's a game changer! It has peptides and several potent extracts that have helped my skin look firmer and smoother. It contains protein- and amino acid-rich serum that actually stimulates your skin to make collagen – it's one of the only products on the market that can do that!

I hoped you enjoyed this post on how to protect your lips and neck!  If are looking for more product recommendations check out this blog post for 10 tricks to help you look 10 years younger.
Have you followed me yet on Instagram? I would love to see you there! I share all things skincare, fitness, beauty, and fashion @donnatryba.  Another one of my favorite articles on anti-aging skincare can be found here. 
If you enjoyed this article, please spread the love and share it with a friend! Have a great day y'all!  Sending good vibes from downtown Austin, TX.