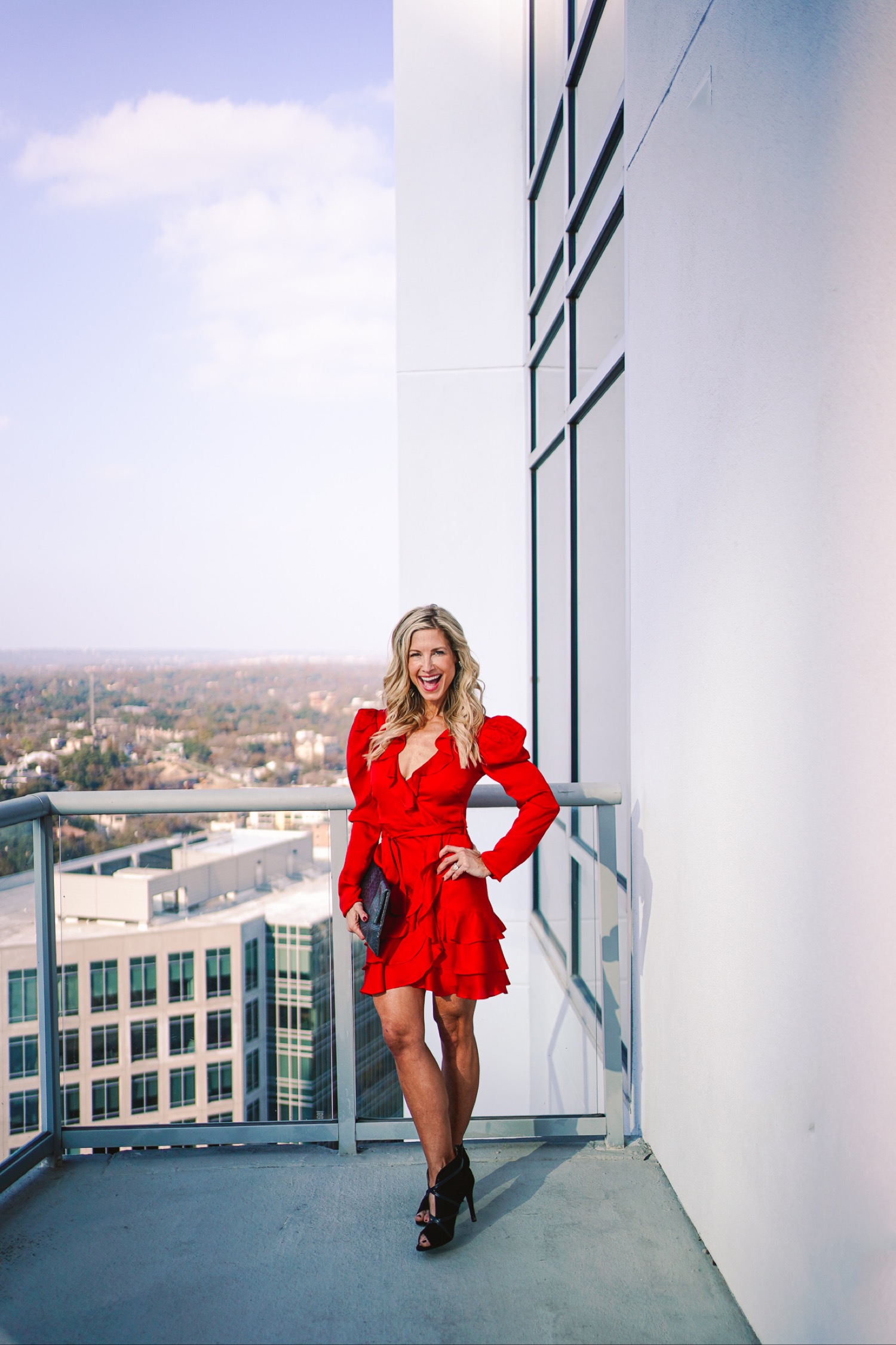 Who else is looking forward, more than ever, to ringing in the New Year and saying goodbye to 2021! This year was still weird. I am really ready to refresh and get a new start!
Finding the perfect outfit always fills me with joy and excitement. While it's fun to dress festive for the holidays, what I love more buying pieces I can wear more than once!
I have found some great outfits for you that include pieces that are perfect to wear to any gathering, New Year's eve, Valentines Day and all winter long. Click on any image to shop.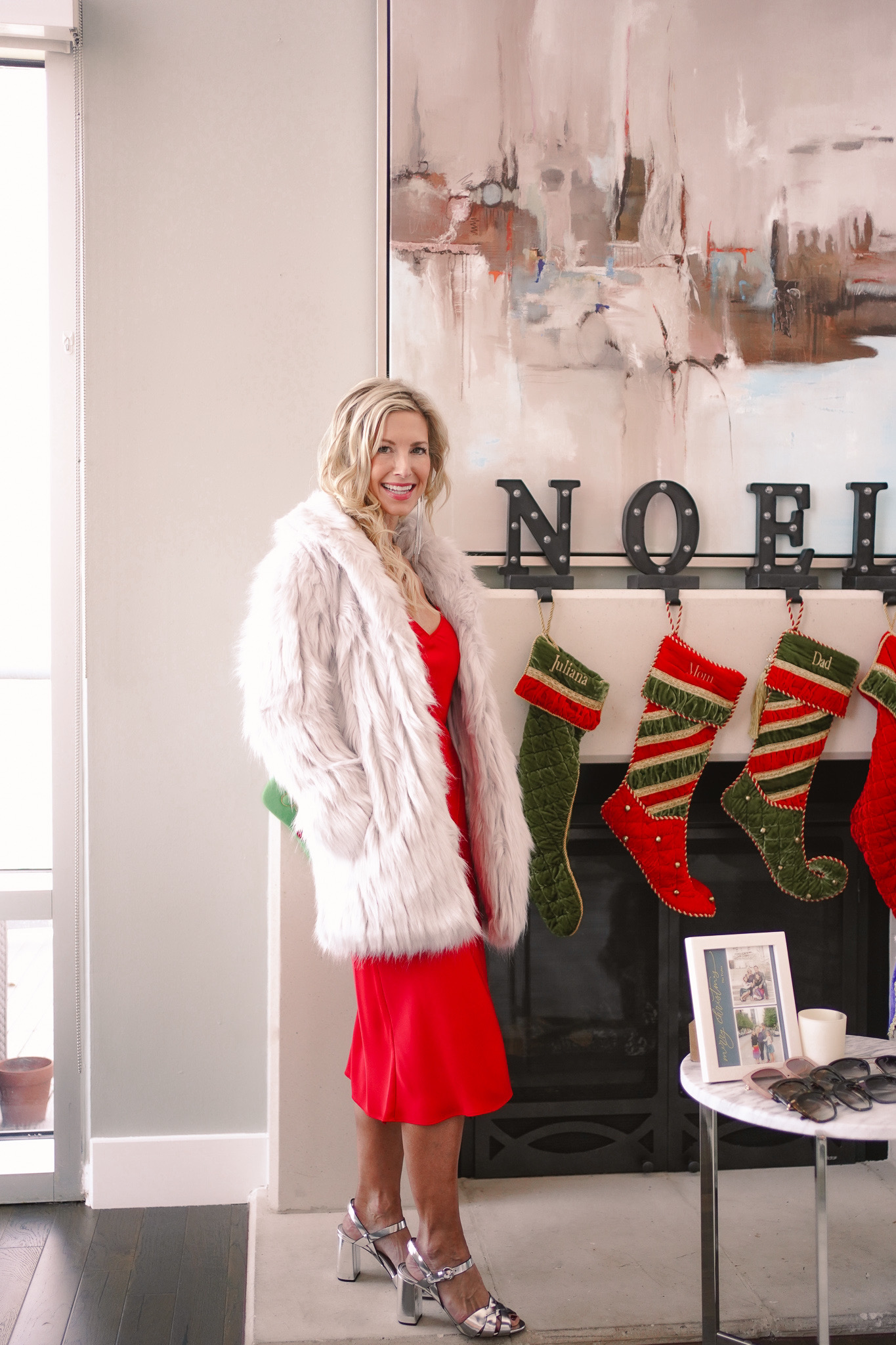 This faux fur coat runs oversized and is only $149. I'm wearing an xxs, I'm 5'2″. I  can't wait to wear it skiing in Colorado for Spring Break.
A red slip dress is perfect year round! You can wear it again for Valentines Day or wear it also as a midi skirt too.
This slip dress is special on its own and dresses up easily with heels. I love the vibrant color and its so versatile. On major sale only $44!
 I put a little white tee over it with sneakers to make it casual, threw on a sweater and mules for another casual look.
This one shoulder faux leather dress from Express is my new favorite! Only $49 and I can wear it all year long. I put booties with it to give it an edge. Heels will dress it up.
I love a fun top. These are all $50-100. This velvet pink puffy sleeve is so on trend and is fun all winter long. A black mock turtle neck is a wardrobe staple. This cream lace balloon sleeve can be dressed up and down.
Click on any image below to shop! These are all on major sale. I am wearing an xs, I'm 5'2″.
All  looks below include great wardrobe staples like faux leather leggings and a white tunic – all around $100. Add a fun pop of color to a black and white outfit to elevate the look!
A moto jacket is a classic piece to have in your wardrobe. I wear this all year long! Looks great with jeans and sneakers too. A silk midi skirt dresses up and down easily.

Happy shopping! Hope this post inspires you to add some new and exciting pieces to your wardrobe. Most of these don't break the bank and can be worn over and over again.
STAY TUNED! I will be rolling out some exciting blogs on health and fitness soon! Once the new year is here, I know we will all be looking forward to getting back on track with weight goals and eating better. I have all the plans made and I can't wait to share them all with you!
Head over and follow me on Instagram for more beauty, fashion and fitness inspiration @donnatryba.
If you enjoyed this post please spread the love and share with a friend. Sending good vibes from downtown Austin, Texas.


**I  partner with affiliate platforms where commission may be earned based on clicks and or purchases, and I would love it if you decided to use the links above! Affiliate links help bloggers like me to fund the free content that we provide on our blogs.