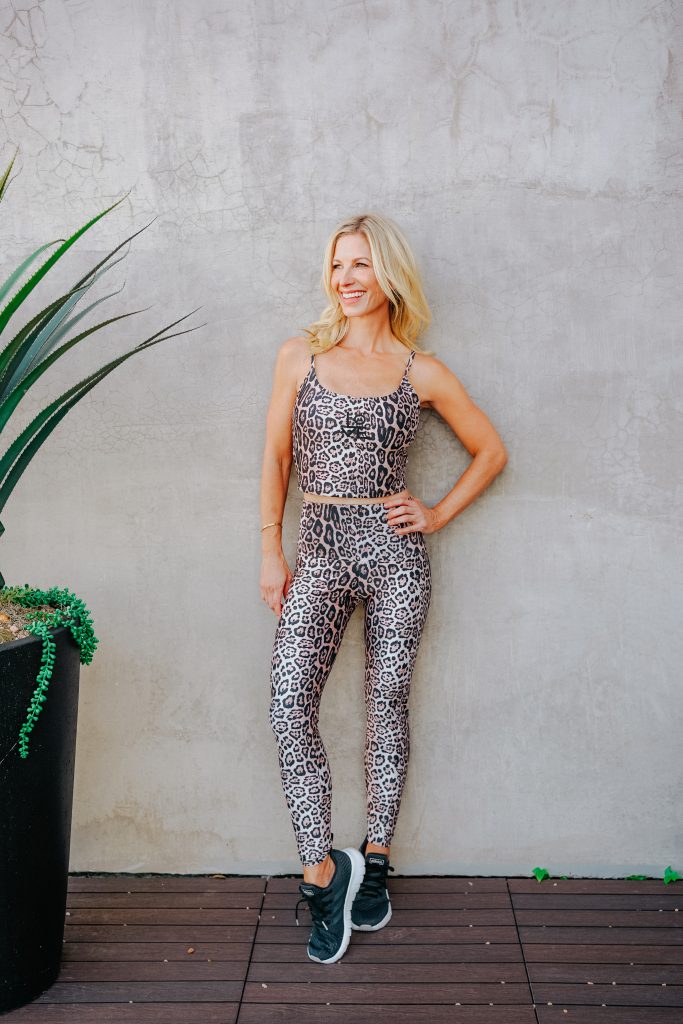 When the big milestone birthday was approaching – I decided I needed to shape up, lose the last bit of baby weight and enter my 4oth decade on this earth with more confidence. I made three changes  in my 40's that have helped me feel healthier than I ever have before. Excited to share three secrets to getting fitter after 40 – or any age!
Of course we all know that getting there is the hardest part….but staying fit is easy! No one tells you that part!   Once I started leading a fit lifestyle I developed really good habits that are easy to stick to.
Intermittent Fasting
I started intermittent fasting three years ago and decided that it just really fits my lifestyle. I find its much easier to control when  I eat rather than exactly what I eat. Just remember…..IF is not a diet, it is a timed approach to eating. 
I find that IF is just so SIMPLE. No fussy menus to follow or complicated shopping lists. I have done all that in the past but I can't stick to it, including versions of Paleo and Keto.  I'm a decent cook and  I can follow a recipe pretty well. But all that meal planning and advanced food prep was exhausting!
My schedule: I follow an 8/16  intermittent fasting plan….eat during an 8 hour window,  fast for the other 16. I eat fewer meals, and snack less. Cuts calories fast!
Breakfast at 10 am, lunch at 1 pm, a very small snack sometimes at 4 pm and dinner at 6pm. Some people  skip breakfast and fast from noon to 8 p.m.
My goal was to loose about 12  pounds. I took my time and developed it into a lifestyle. I eased into fasting and worked up to a 5-6 day a week fast.

Breakfast:  low carb version of oatmeal or organic greek yogurt with  almond butter and berries. Lunch: protein smoothie or a grilled chicken salad, maybe a small  snack around 4 pm, like apples and almond butter. Dinner was a lean protein with grilled veggies.
It took about 3-4 months to lose 12  pounds. I know that seems like a small number, but I'm only 5'2″. 12 pounds on me is 2 clothing sizes.  I have been able to maintain that weight loss for several years by fasting about 3 days a week.
What I really really love about Intermittent Fasting is ……you don't have to completely restrict anything! NO counting calories or totally giving up your favorite food. I still drink wine, and have my favorite foods in moderation.
I simply cut down my portion sizes and focused on making good, healthy choices during that 8 hour window. It is a very simple lifestyle…….and it works for me! 
Weight Training
The big changes in my physique really started after I began strength training.  I hired a personal trainer a few years ago and it is one of the best decisions I have ever made.
My original goal when I started weight lifting was to lose the last bit of baby weight from having my last daughter Mia. But I grew to love the challenge and the burn, but mostly the results!
 I am now addicted to the  endorphin rush of the sweat and burn. I also use it to work out my anxiety too.  I'm 46 years old now and have more energy and less body fat than I did in my 20's.
I no longer have cellulite you guys! That is unbelievable to me. I feel more confident in a bikini now than I ever have in my life! It's crazy but true.
Consistency is Key
The changes in my body did not happen overnight.  It took one very important thing to really see major results….CONSISTENCY.
I show up three times a week to train without fail. I do at least 2 session of cardio a week – usually a peloton ride or a spin class.
If I am tired then I do it tired. If I only have 20 minutes then I just do 20 minutes. But moving my body 5-6 times a week is now a HABIT for me.
It's like brushing my teeth – it has become my lifestyle. I take a weeks off here and there when I go on vacation – but I get right back on track when I get home.
Of course, you can't out train a bad diet. I make good food choices too. But being consistent with healthy diet and regular weight sessions with my trainer has made all the difference in my physique.
Looking better and easily fitting into my clothes gives me the confidence I need to take on every day with my best foot forward.
I hope this gives you some inspiration and motivation to take on this year and be the best YOU that you can be! If you want more fitness tips head to Instagram and follow me @donnatryba or check out this article about the 7 daily habits I follow to lose weight and keep it off.
Sending air good vibes from  downtown Austin, Texas.