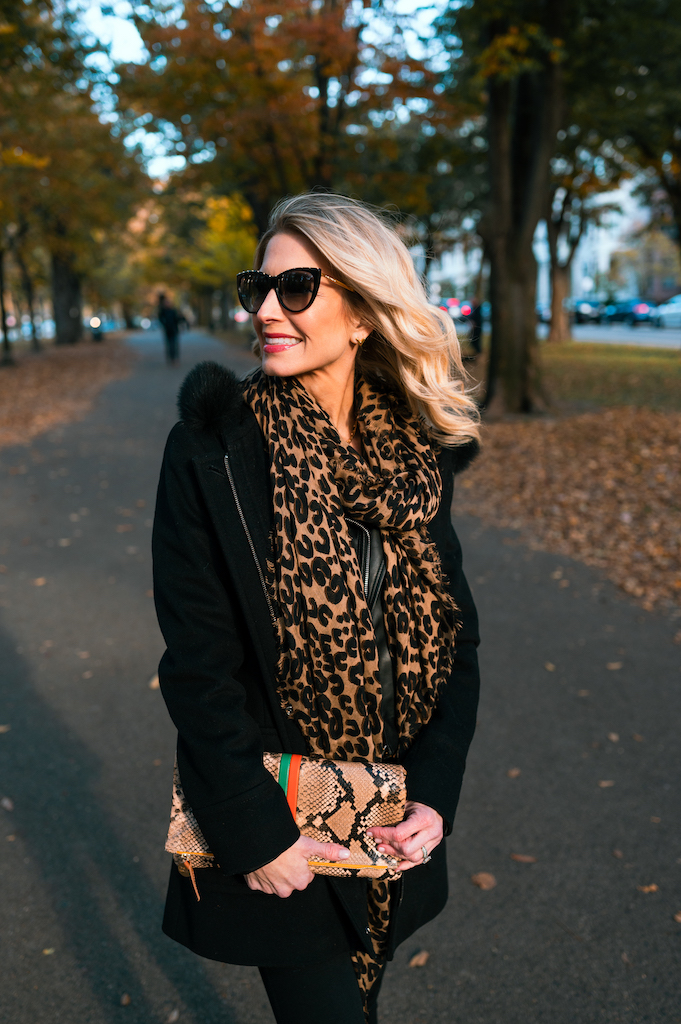 It's fall y'all! Who else is looking forward to the cozy fall fashion this year? Ready to break our your comfy sweaters, scarves and boots? Me too!
 It was a really hot summer in Austin, Texas so I'm looking forward to cooler temps. Last week we headed into a new season – I've been zeroing in on the fall essentials I'll be adding to my closet. These are classic combinations – ones that are so easy to throw on and mix and match together. So excited to share 5 simple and cozy fall outfit ideas you will love.
Sweaters and Jeans
One of my favorite go-to looks is a cozy sweater and jeans. This grey and pink sweater by Paige and black denim is perfect for a girls night out or a casual lunch. I love the cold shoulder detailing. It's so easy to dress up and down.
This heart sweater is one of my favs from Amazon. Light weight and only $30! Amazon as the best deals for fall fashion!
  Leather Jackets
Leather jackets are staples in my wardrobe – and are also very affordable these days. It's the perfect layer over tees, with jeans or skirts. I love cropped ones and moto ones….the options are endless!
Faux Fur
This faux fur coat is one of my favorite things I own. It's from Revolve and  looks like it cost a fortune but is very budget friendly. I get compliments every single time I wear it. It really adds a pop of color to any outfit.
Sneakers and Scarves
Sneakers and scarves are practical, stylish and an easy combo that makes your wardrobe feel endless.  I collect them in all different colors and patterns. These golden goose animal print sneakers were a splurge – but I literally wear them all the time. There are so many great dupes of this brand out there at affordable prices.
My obsession with scarves goes deep y'all. I have several drawers full of them in my closet. It's a bit embarrassing! I tend to purchase new ones when I travel as little momentos of the places I've been to.
Can't wait to see you rocking all these styles this fall!  Be sure to follow me over on Instagram @donnatryba – I'm always posting fitness and fashion tips there to share with you all! Sending air hugs and much love from downtown Austin, Texas.