I have a confession…I don't like vegetables. I drink a green juice or smoothie to get the vitamins and minerals that I need to stay healthy. That is why I am sharing the recipe for my favorite green juice you will love.
 Not only is it an excellent way to get in a bunch of green goodness, but there are a whole host of benefits that come along with green juice.

One key thing to remember: keep the sugar content in your green juice very low.  I know what you are thinking, doesn't it taste funky without some sweetness? The more you drink green juices the more you get used to the taste, just like anything else. I love adding a low sugar fruit to naturally sweeten a juice like an apple, lemon, lime,  and any berry.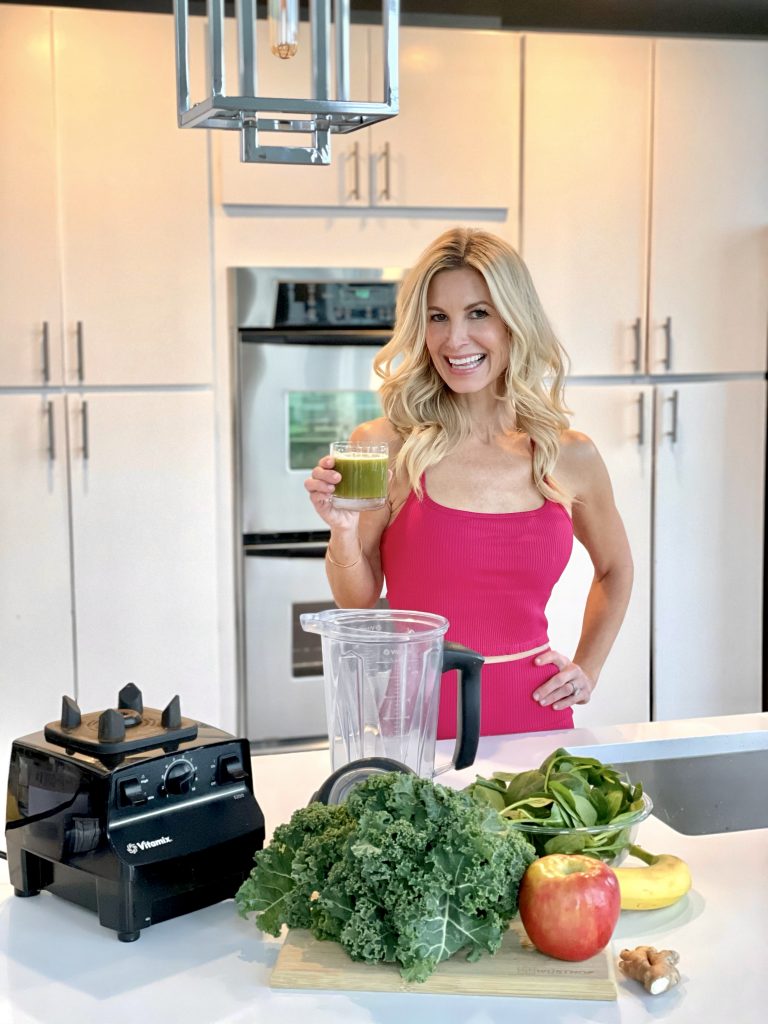 HEALH TIP: add some pineapple to aid digestion. Some greens make me feel bloated and gassy.
Pineapple contains a natural enzyme called bromelain that stops the tummy woes from green veggies. It does have a higher sugar content than many other fruits, so I use it sparingly.
WHICH JUICE IS BEST?

Green juices can be high in sugar. I like to stick to water-filled green veggies such as spinach, kale, celery, cucumber, and broccoli. To sweeten any juice, I like to add in an apple, pear, or frozen banana or a few chunks of pineapple.
 Green juice on an empty stomach is a great way to absorb all the nutrients and get your daily fiber intake.
I typically use my Vitamix blender – if you don't have one y'all – omg this blender has been life-changing! It's worth every penny. Blends so smoothly – almost the consistency you would get at a smoothie or juice store.

BENEFITS OF GREEN JUICE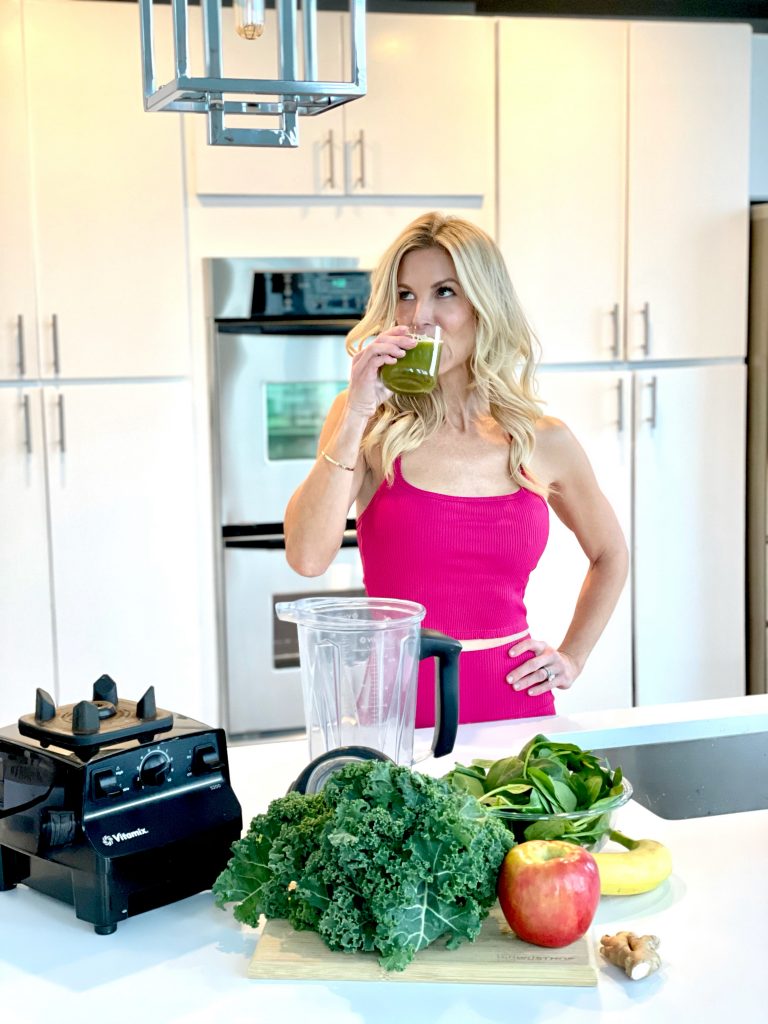 Here are some of the amazing benefits of drinking green juice every day:
IMPROVES YOUR DIGESTION
Over 70% of our immune healthy comes from our gut, and green juice is packed with enzymes that are great for digestion. Drink up!
STRENGTHENS YOUR IMMUNE SYSTEM
Green veggies are packed with an essential nutrient called chlorophyll. Chlorophyll is great for boosting energy, improving overall health, and fighting illness. It can also boost red blood cell production and assist cells in carrying oxygen around the body.
HEALTH TIP: I often take a chlorophyll supplement when I am heading on any ski trip. It oxygenates my blood and keeps me from feeling the effects of the altitude. This is the one I love:

IMPROVES YOUR SKIN
Green juice boosts hydration and is packed with antioxidants that help flush out toxins from the body. I can really notice a difference in my skin when I have green juice every day.
FIGHTS INFLAMMATION
Inflammation is the root cause of many preventable diseases. Green juices help fight inflammation by fighting the free radicals attacking the body. I have noticed that I am sick less often and have more energy when I started drinking one every day.
To make my favorite green juice recipe, just combine the ingredients below into a Vitamix. Y'all this blender is life-changing! I highly recommend getting one…I use it to make all kinds of things like soups too. Looking for more Vitamix recipes click here. 
Important tip: Do not add citrus peels to the juicer or blender. Remove the skins and add the whole lemon or lime in or just squeeze the juice into the blender.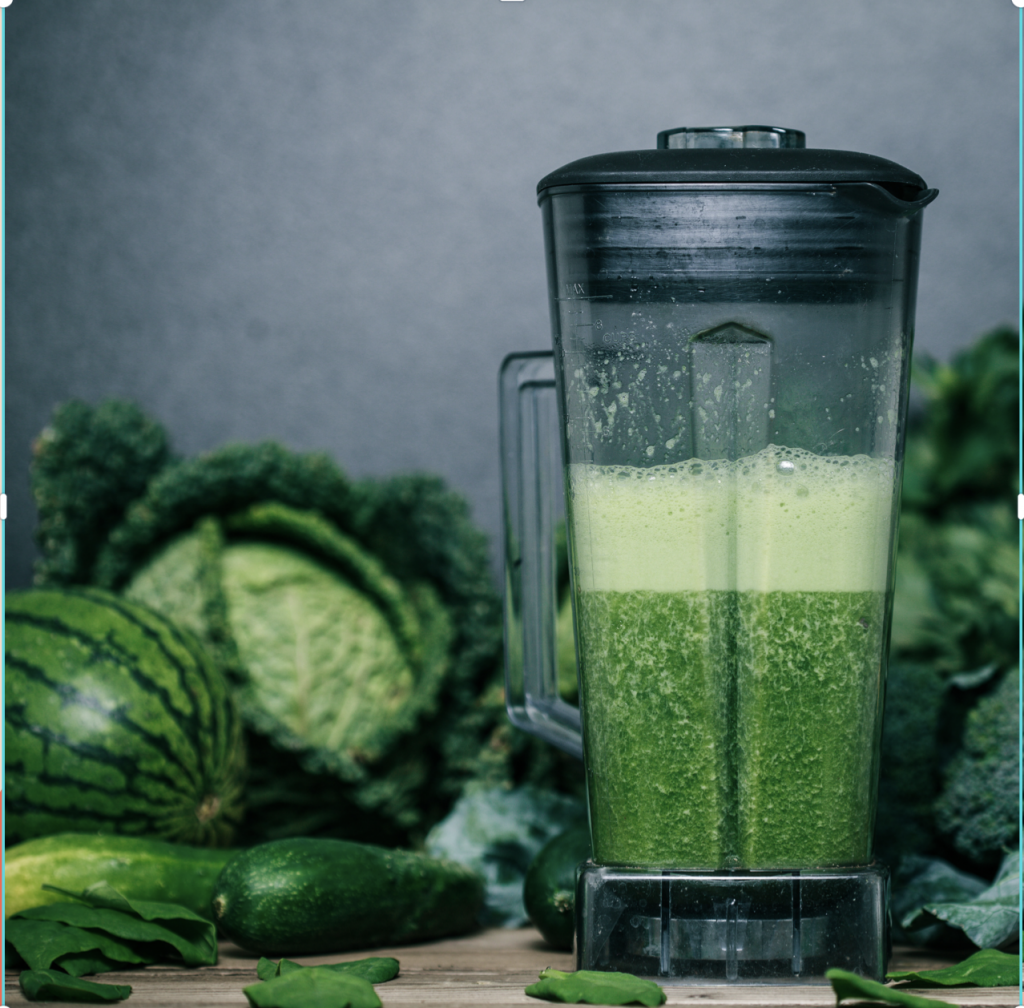 MY GREEN JUICE RECIPE
2

cups

organic spinach

1

cup

organic kale

1

whole organic cucumber

1

thumb size of organic ginger, peeled

the juice of one lemon

1/2

organic apple

a tiny bit of pineapple
Want to change this up and make it into a green smoothie? Simply add a bit of banana. I like to freeze mine – it makes the consistency very creamy. Bananas are very high in natural sugars, so use them sparingly. I add about 1/3 to 1/2 of a banana per serving.
Hope you enjoyed this blog post! Want more and wellness inspiration? Here is another article about the benefits of green juice. Be sure to head over to Instagram and follow me @donnatryba or check out this blog post that offers some easy tips on getting healthy this year.
Thanks for reading along friends. Sending you good vibes from downtown Austin, Texas.