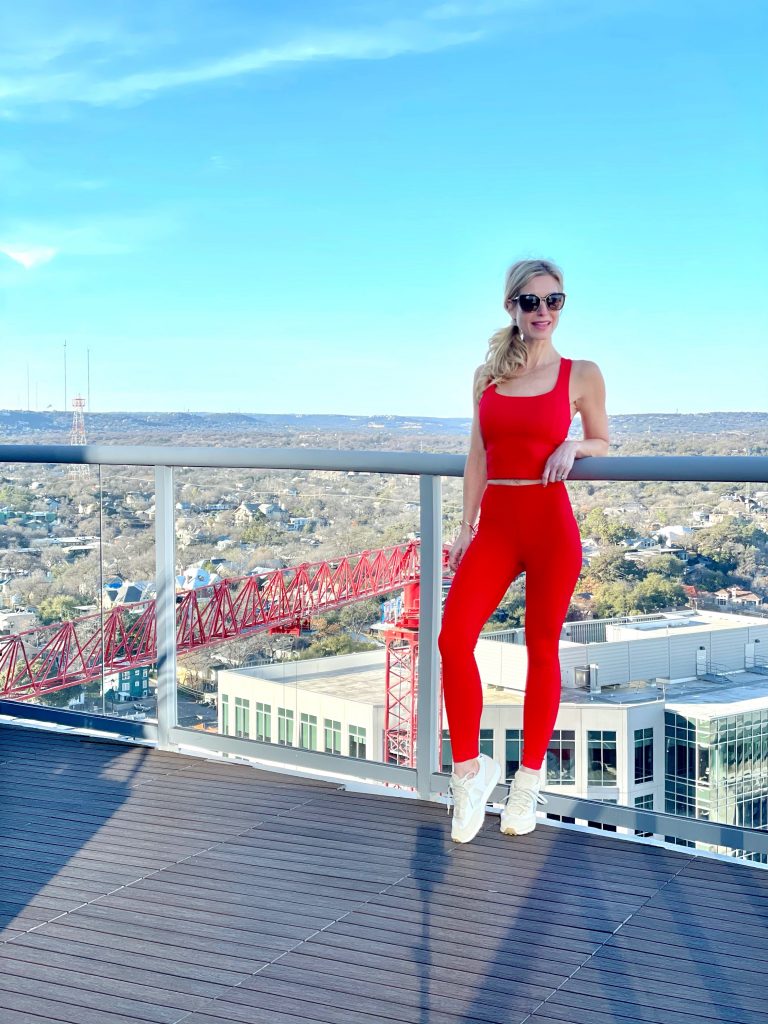 Clothing affects my mindset! When I have a new outfit to sport, I'm always more excited and motivated. This includes the gym too.  Exercise requires so much energy, so putting on the sweats you have been wearing for the past three days is an energy-zapper!
Getting over the holiday health slump is hard y'all! Getting back into a routine takes a lot of motivation and some best laid plans. That is why I invested in a whole bunch of new workout gear in January. Once I put on something I feel really good in, I'm more confident and motivated! That is why I'm excited to share the best new athleisure outfits to dominate your workout.
The good news is: you don't have to break the bank to look good while you sweat! There are so many affordable styles to choose from right now.  I tend to favor high quality pieces that will last, because I wear them every single day. But, if you are shopping on a budget, I've included some items that are affordable and still chic!
Click on the widgets below to shop any of these styles! 
ATHLETA


They have classic styles and high quality workout clothes I have loved for years. I'm digging this new snake embossed print – it's buttery soft. The leggings have a high waist band and  side pockets and the crop top has a high neck line and built in shelf bra. I am wearing an xxs bottom and small top.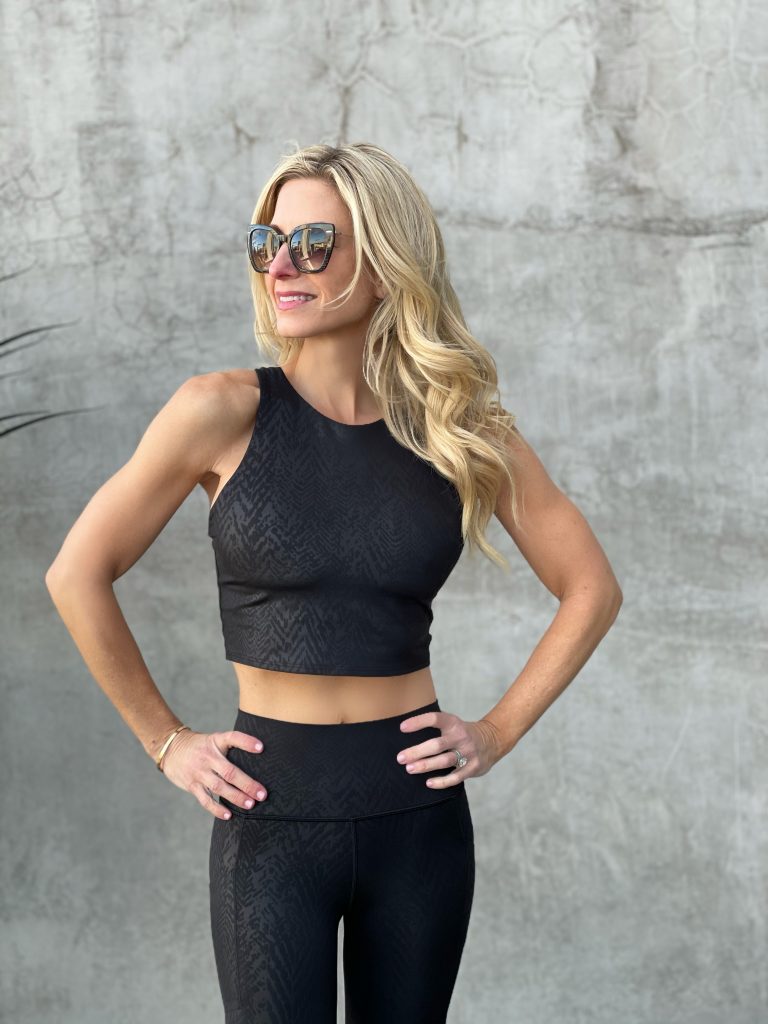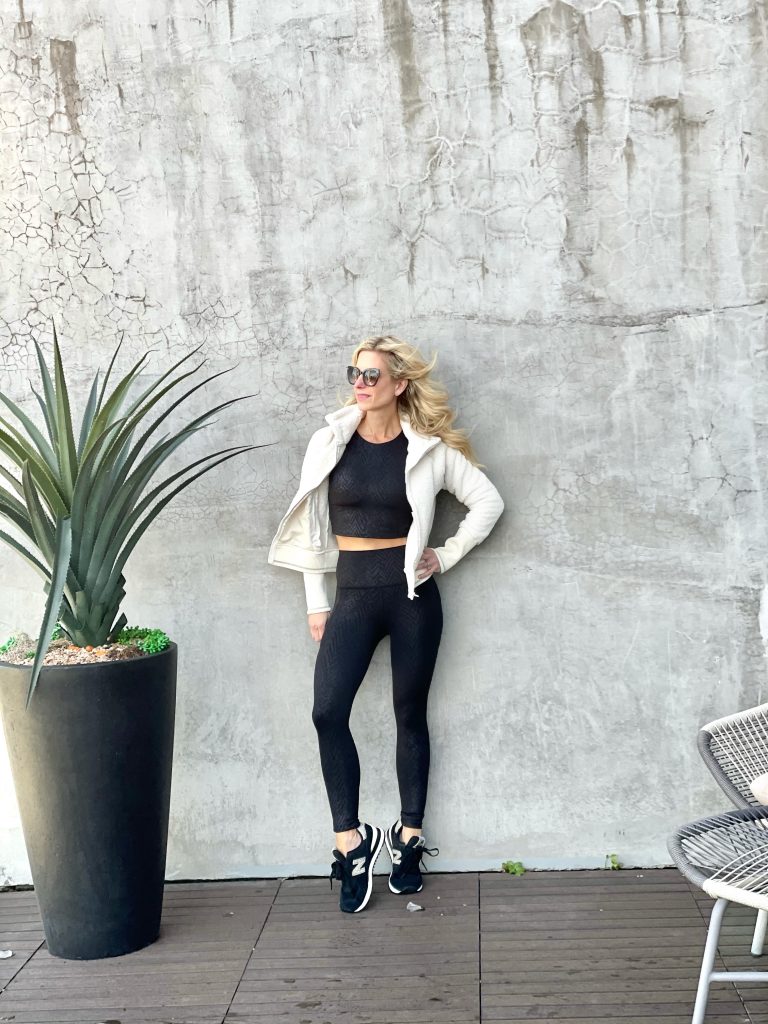 CARBON 38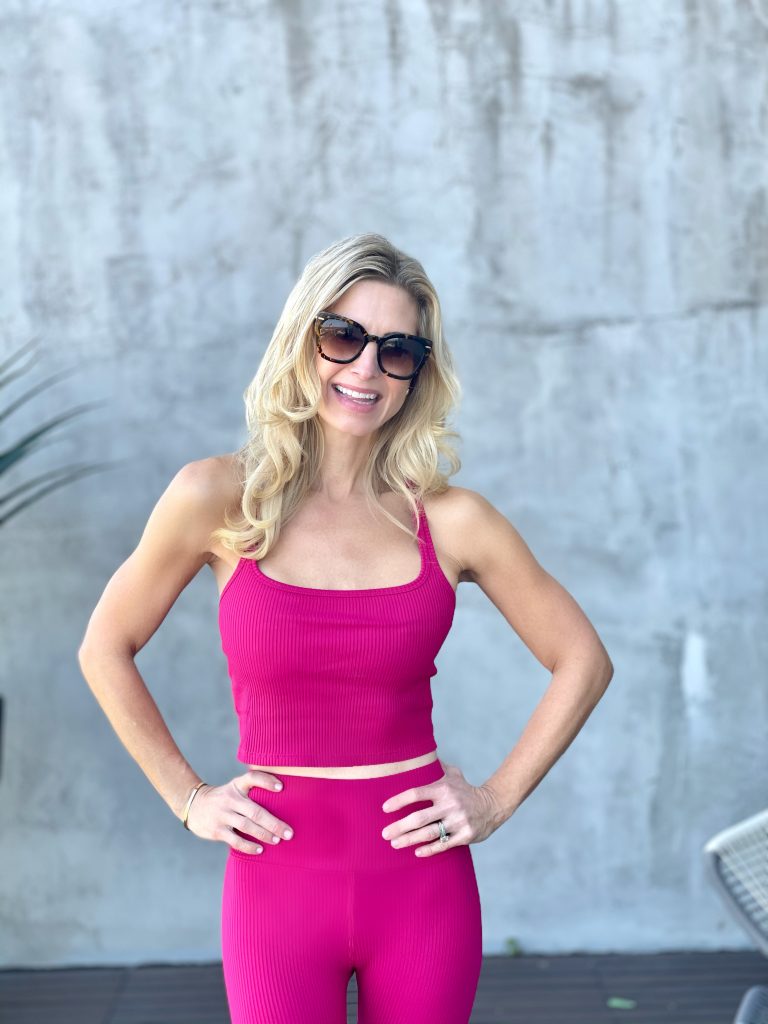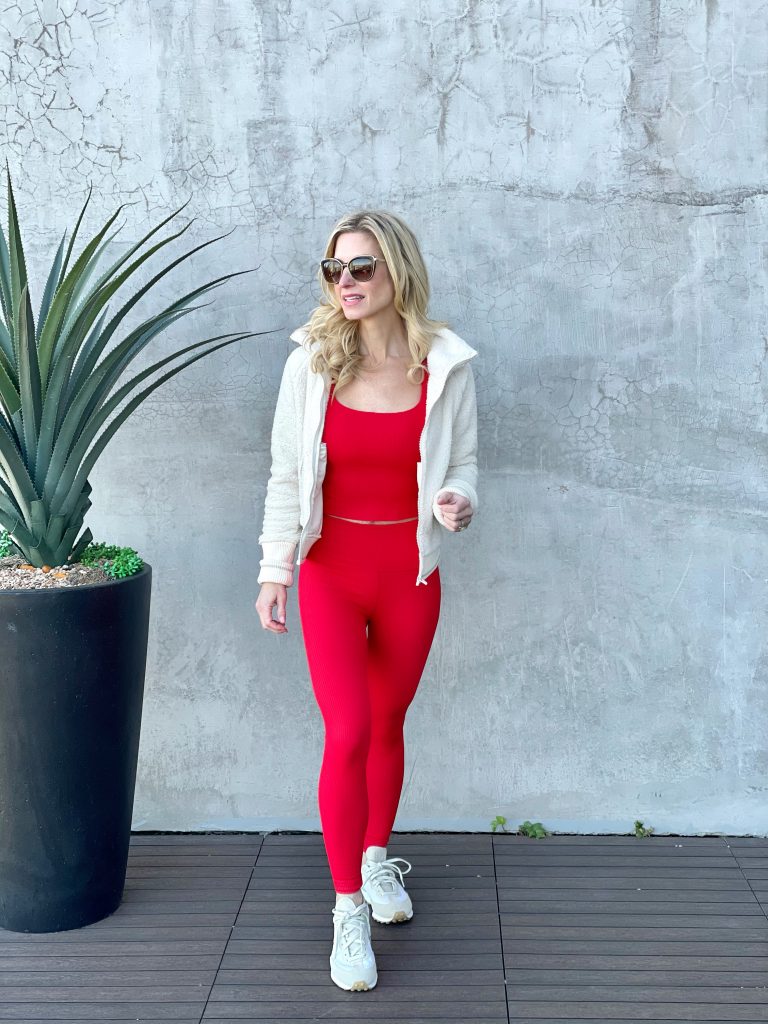 Hands-down the prettiest workout gear I own. I love the bold colors. Fits snug so you might want to size up, but they really hold you in! I'm only 5'2″ so I'm wearing an xxs bottom and small top. The crop tops have built in shelf-bras and I love that! They wash and wear brilliantly without fading.
The pink and red outfits have ribbed fabric. When you pull it out of the bag – it's not that impressive. But be patient! It looks so dang good on! The ribbing creates a flattering vertical line that is slimming on every figure. The high waist really holds you in and you can mix and match all 7 colors.
Chilly weather tip: add a puffer or sherpa coat. This is such a fun way to switch up your look and add some flare to your athleisure outfit. I love this how great this cream sherpa coat  looks with any bold color. Add some neutral sneakers like these from Veja and you are comfy and stylish too!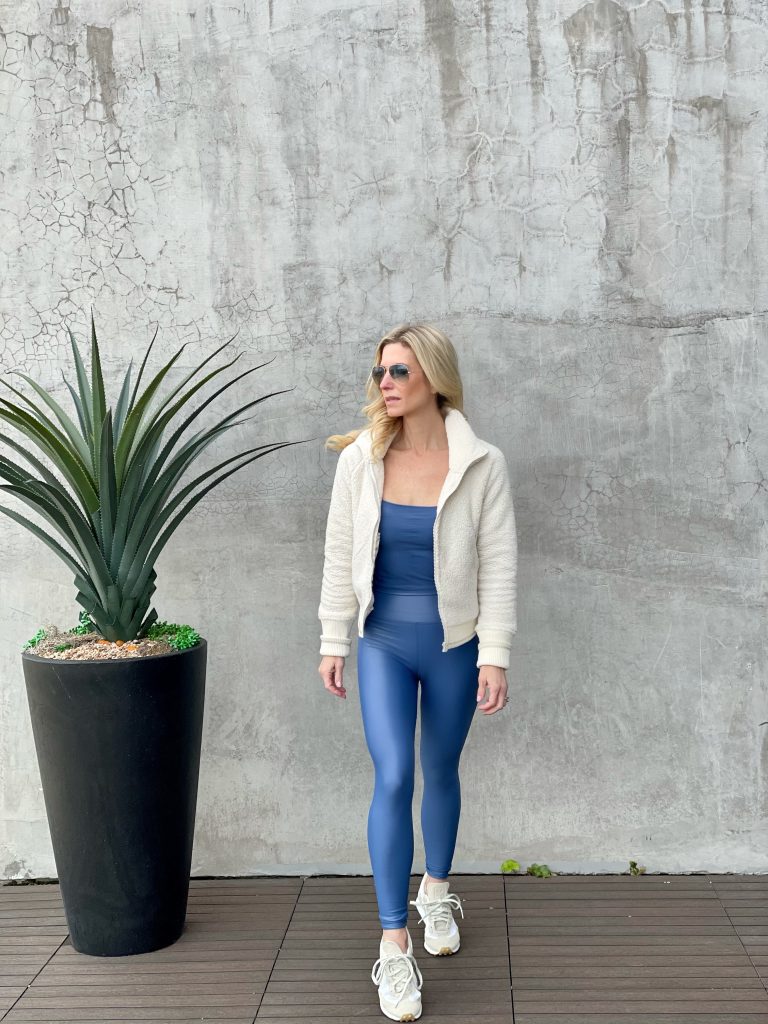 OUTDOOR VOICES


One of my all-time favorite brands! I love the simple and minimalist designs that allow me to dress for comfort but still look stylish. Their leggings have a bit of extra compression that is slimming but not restrictive. I can cycle, lift weights, squat and run easily in these leggings.
True confession……I sweat like a man y'all! I often wear this brand when I am doing extreme cardio, like going  for a run or to a spin class. Their clothing is made from something they call Tech Sweat, which is a lightweight and breathable fabric that wicks the sweat from my body. I don't feel so gross and sweaty in these leggings because the sweat isn't sitting on my skin!
AMAZON

Ok y'all these are my favorite budget friendly finds ever! This whole look is $40! The leggings come in full length and crop version and have one style that features pocket.
There is no compression but they do feel so comfy like a second skin. I wear the xxs – I'm only 5'2." I have them in 4 colors and have washed and dried them many times, they don't shrink or fade.
This crop is so dang cute and comes in like 5 other designs. It has a built in shelf bra too. I'm wearing a size small, I'm a 34C cup. Honestly the straps were a little long and aren't adjustable so I just put a little stitch in the back to make it fit me a little better. Totally worth $20!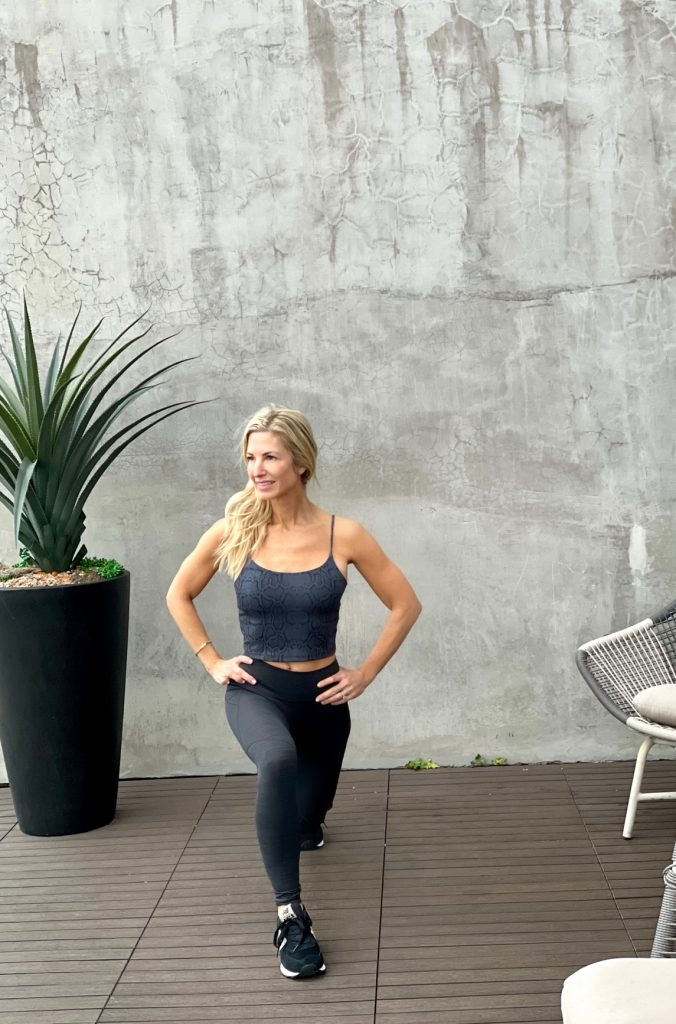 Hope this inspires you to try out some new workout gear – it sure helps me feel motivated. Looking for more fitness inspiration? Check out my blog post on 7 daily  habits I created that have helped me lose weight and keep it off!
Be sure to follow me on Instagram @donnatryba. I post workouts and other health tips there everyday! Sending good vibes from downtown Austin, Texas.
xo, dt