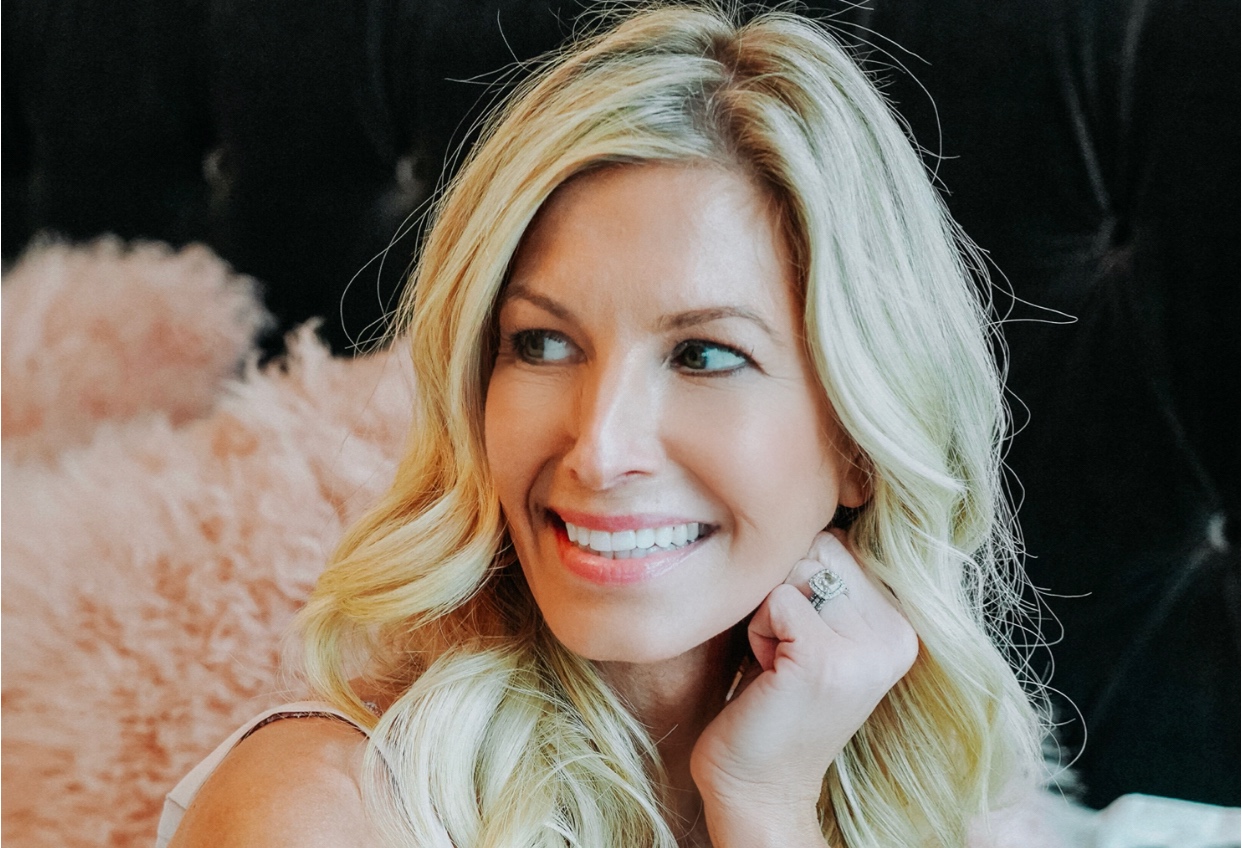 I'm 46….and I am so grateful to say that I don't feel it or look it. Want to know my secret? In addition to healthy eating and exercise, I am obsessed with finding and using the best skin care products to keep my skin hydrated and keep the signs of aging at bay. Excited to share my anti-aging skincare routine for maturing skin. 
I worked in the pharmaceutical industry for 15 years so I am used to doing research. I seek out high-quality products that have independent, clinical studies and evidence that they are worth the money.  I generally buy medical-grade skincare products versus over-the-counter.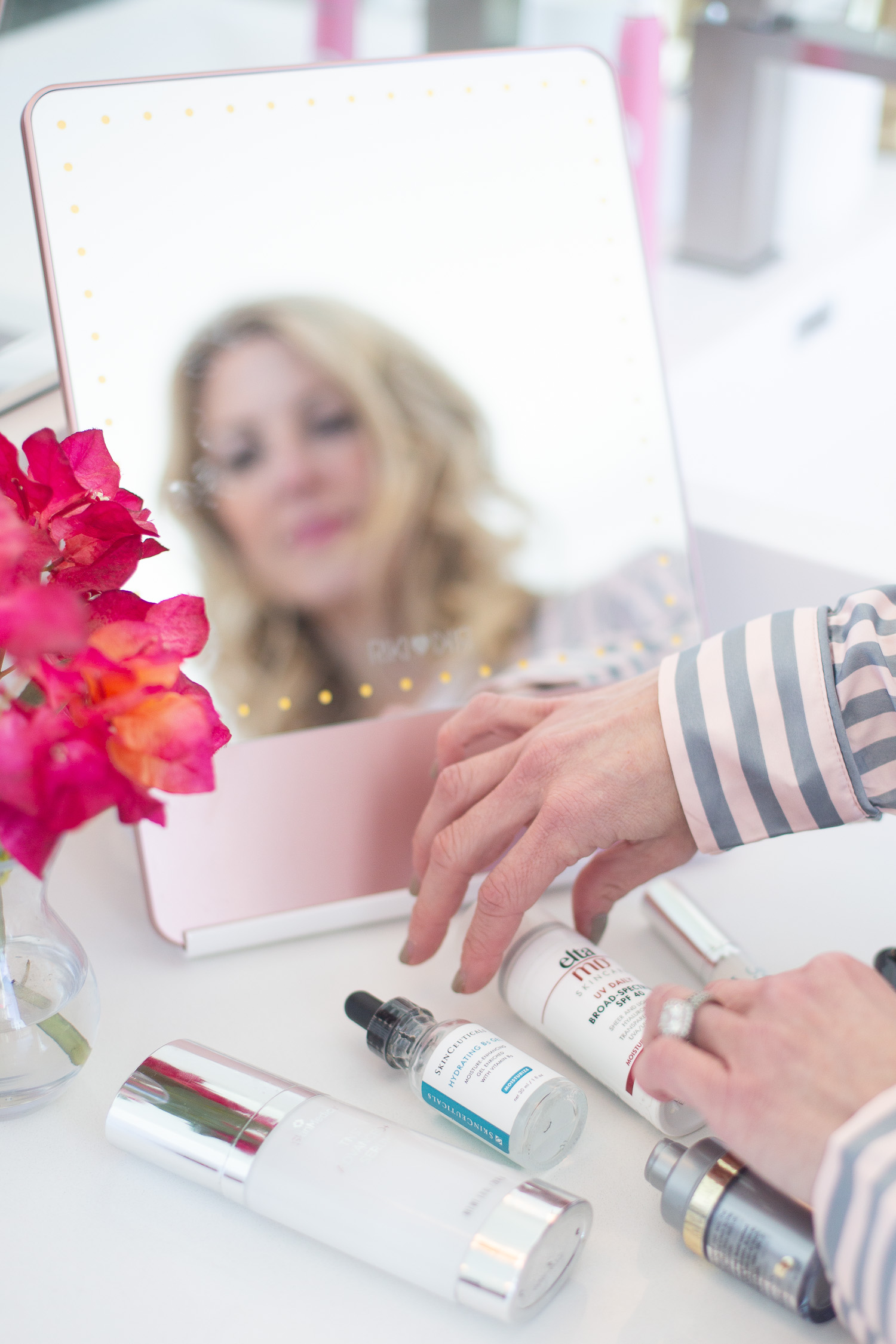 I don't mind picking up a moisturizer or soap at Sephora or Target if it's a brand I know and trust. But, when I am looking for a product to really perform or treat a skin problem I'm having, I invest in medical-grade skincare, especially for acne and wrinkles.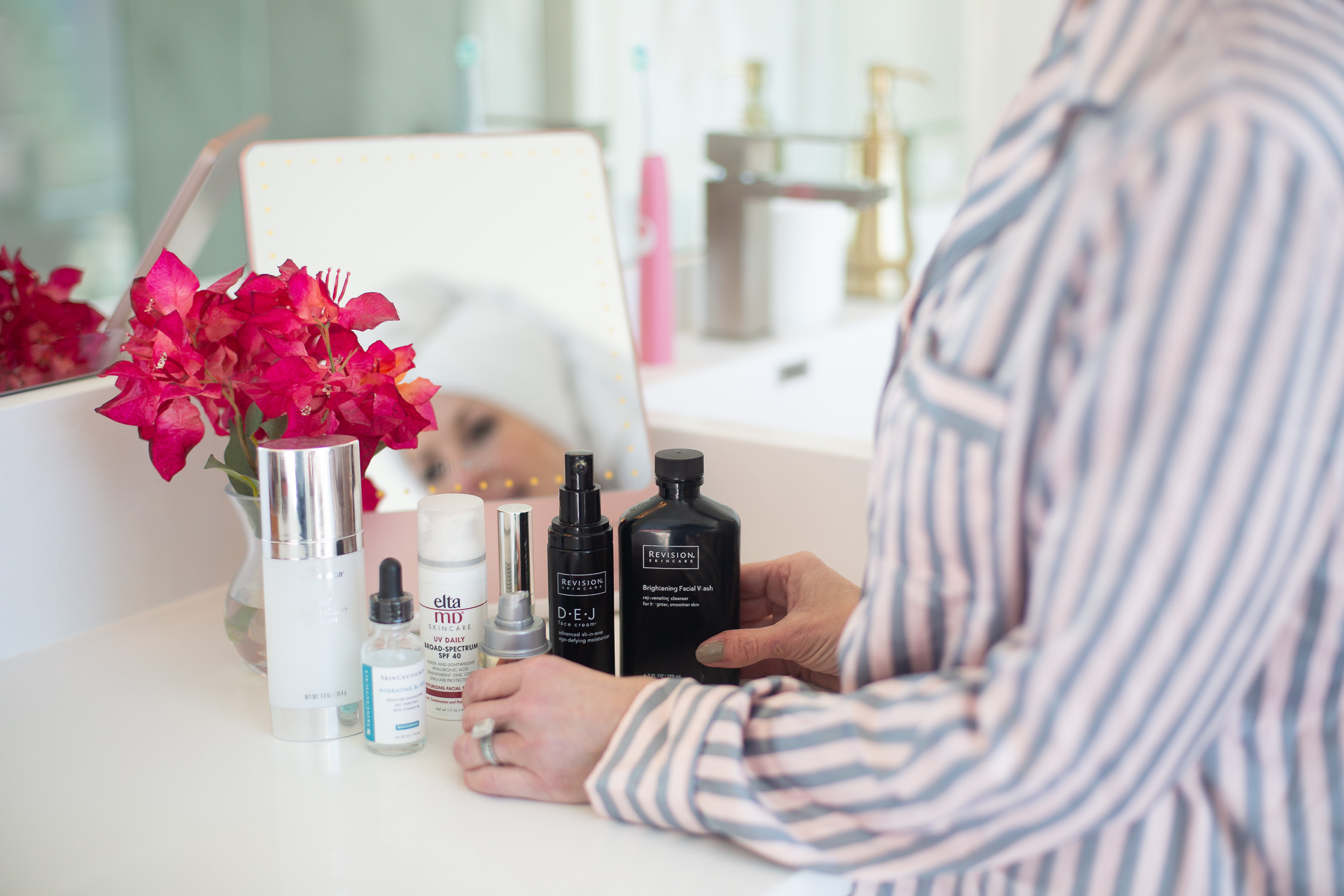 "Medical-grade" means it contains a higher concentration of active ingredients to penetrate the top layer of skin and actually work.  These products used to only be available at a doctor's office, but luckily now you can get them at reputable sites online. 
NEVER BUY THESE PRODUCTS ON AMAZON y'all!  I don't trust their storage facility. If I'm going to pay $100 for a skin cream, I want to make sure it wasn't sitting in a hot warehouse, which will destroy the ingredients inside. There are a few sites I trust and buy from:  iderma, dermstore.com and lovelyskin.com.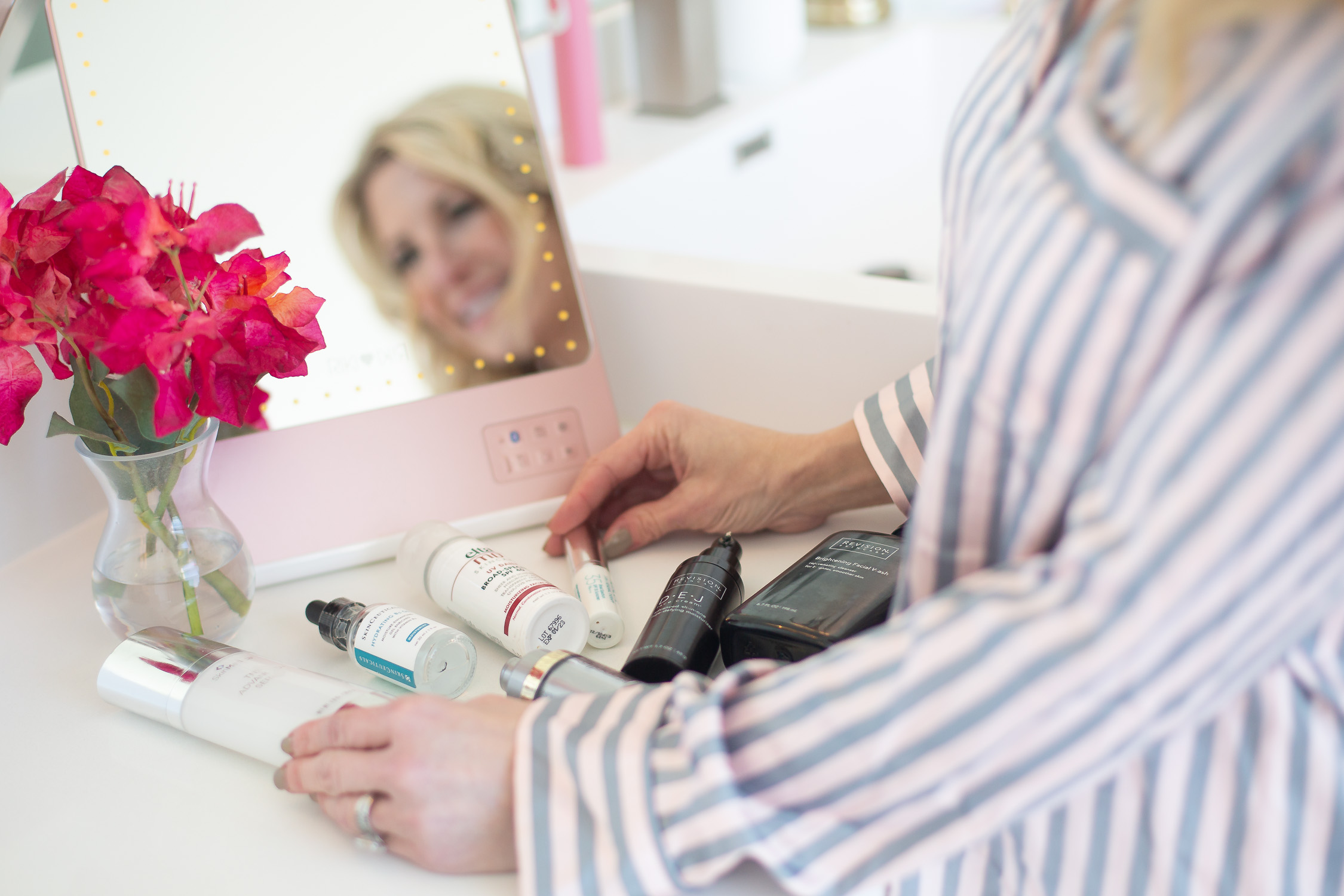 I change my products up fairly often, but I am sharing the ones I'm loving right now. Keep in mind that my skin tends to be a bit dry, but otherwise it's fairly normal.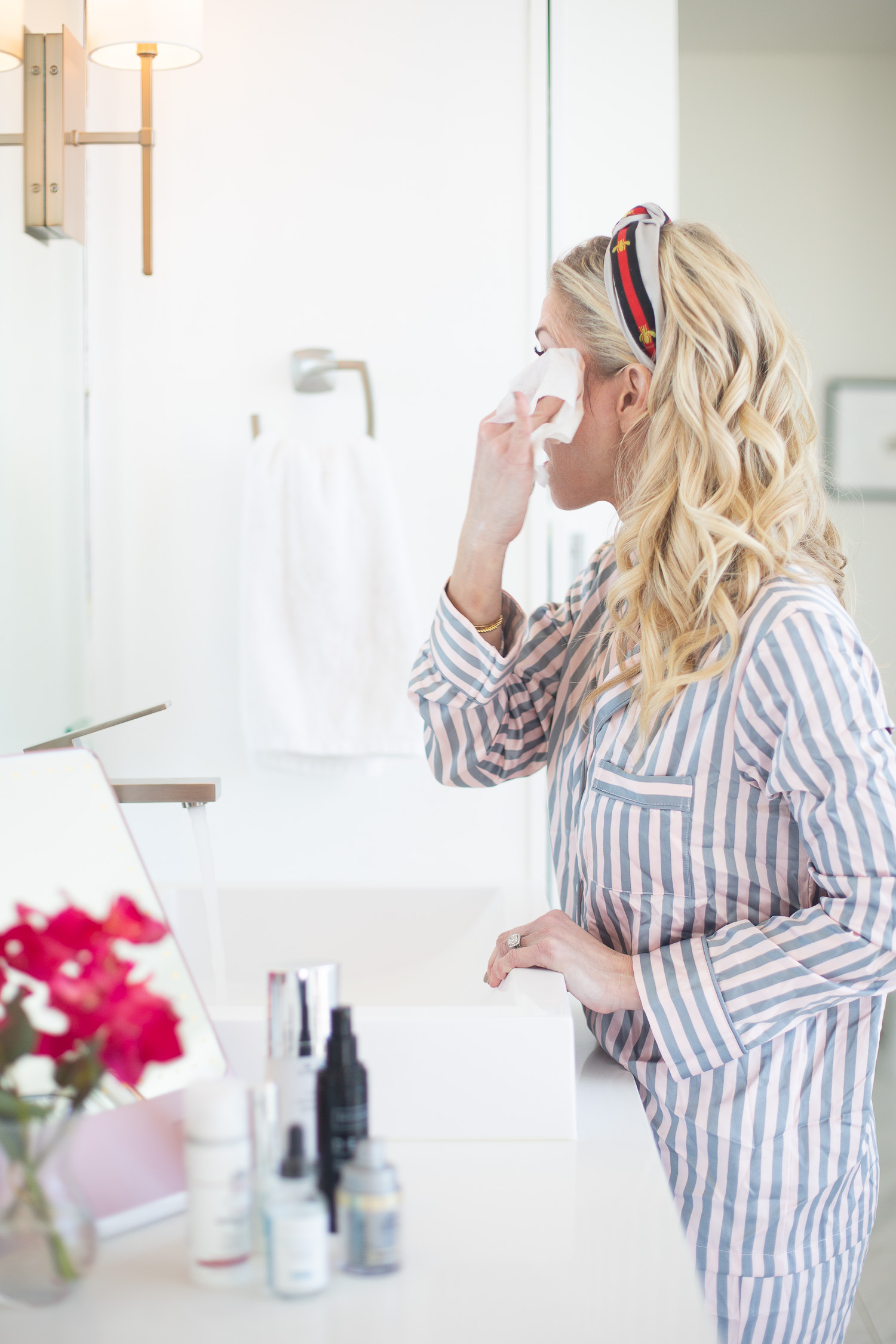 Click on any of the picture widgets to shop! The products I'm sharing are great for any skin type…dry, oily or normal! This is my basic routine for daytime and nighttime.
THE BEST ANTI-AGING SKINCARE ROUTINE FOR MATURING SKIN
Step 1: CLEAN SKIN! Allows all of the amazing ingredients to really soak in.  I dab a bit of  Revision Brightening Facial Wash on a Cetaphil cleansing cloth and gently remove all dirt and makeup. 
Step 2:  MOISTURIZE! I use the revision DEJ Moisturizing Lotion because it works as a great base layer and makes my skin feel smooth. You only need a dime-size amount. Rub into your face and neck.

If my skin is extra dry, during the wintertime or when I travel, I also slather on a bit of SkinCeuticals Hydrating B5 Gel. It contains hyaluronic acid and vitamin B5  to plump up fine lines.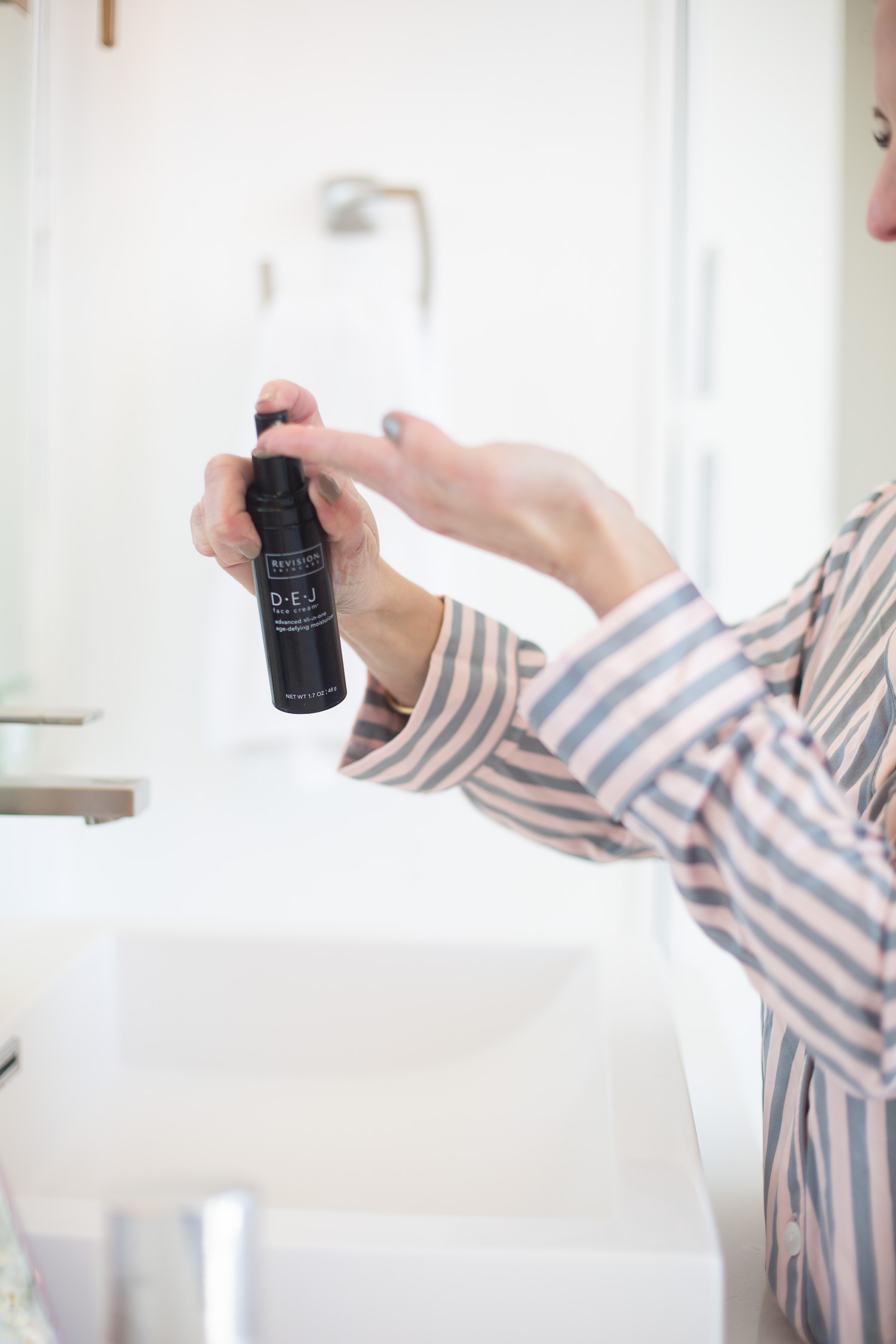 PRO-TIP: use the very tips of your finger for application, it wastes the least amount of product! 
Step 3: EYE CREAM! My eyes are where my skin is the thinnest so I actually use two different products to treat this area.  
I apply Biopelle Stem Cell Eye Cream… it is truly anti-age skincare for maturing skin. It has caffeine to decrease any puffiness and a little bit of retinol to brighten and smooth fine lines and wrinkles. It's great for any skin type and very gentle on your skin.
Then I use the Colorescience Total Eye. It eliminates dark circles under my eyes and doubles as a concealer for the daytime.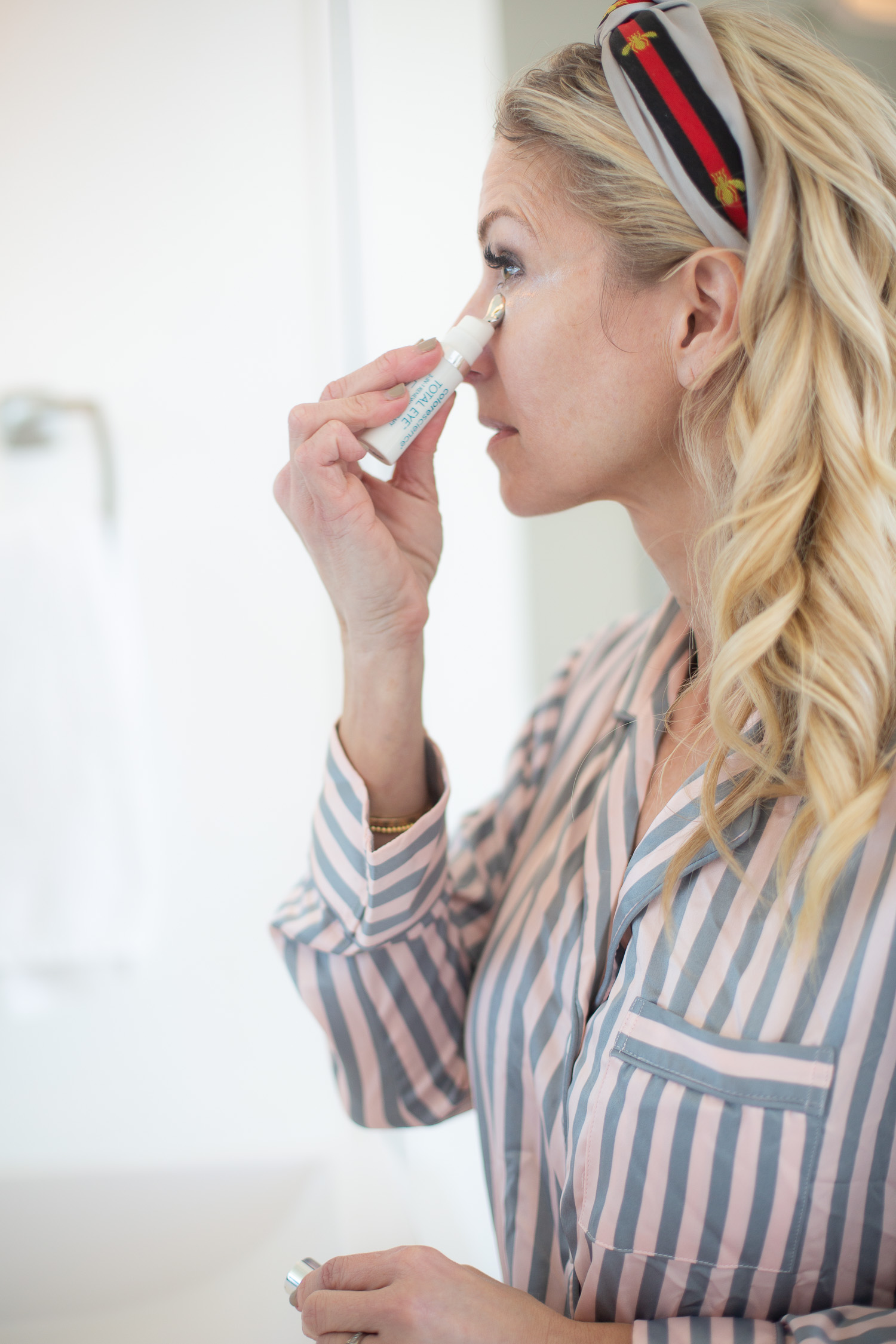 Step 4: ANTI-AGING!  I use several and switch them out when newer and better ones come on the market. Right now I'm loving the  Triple Lipid Restore cream.  It's pricey at $128, but trust me this is worth the money. I swear by this stuff –  it leaves my skin feeling like I just had a facial!

 TNS Advanced Serum by SkinMedica is really the holy grail anti-aging product…..it actually stimulates collagen in your skin. No other product on the market can make that claim.  Since this is more expensive and I want to make it last, I will put a small dab on the back of my hand and rub it onto my face so I get every last drop!

The best anti-aging product in my arsenal is good retinol. I apply one twice a week all over my face and neck. It's something you need to work up to because it can cause your skin to peel! Start with a .5 retinol to a 1.0.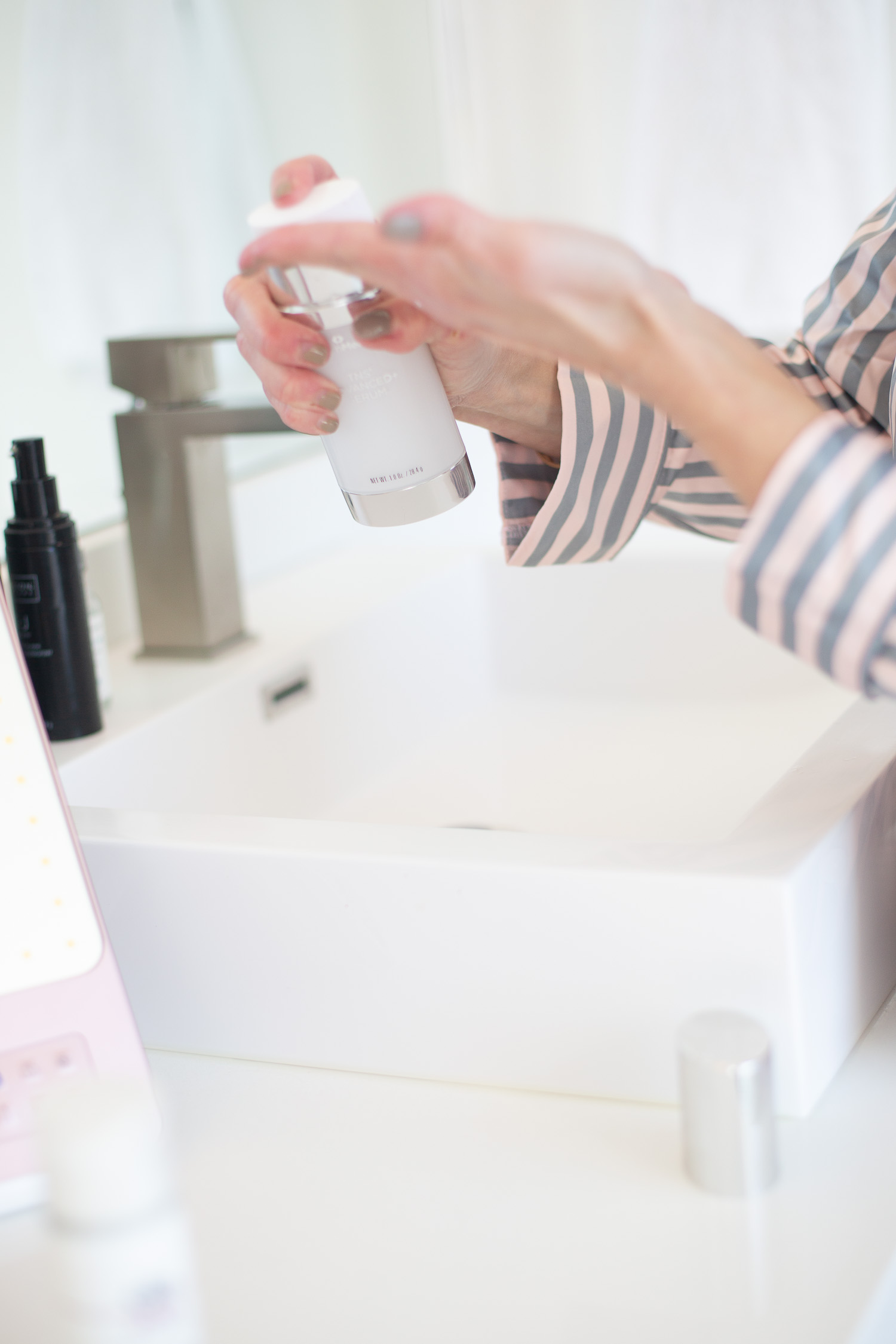 Step 5:  PROTECT YOUR NECK! I swear by Nectifirm by Revision Skincare. The skin on our neck is so often overlooked and one of the first places we show signs of aging. I have been using this for years and I swear its one of the reasons the skin on my neck isn't wrinkled or crepey.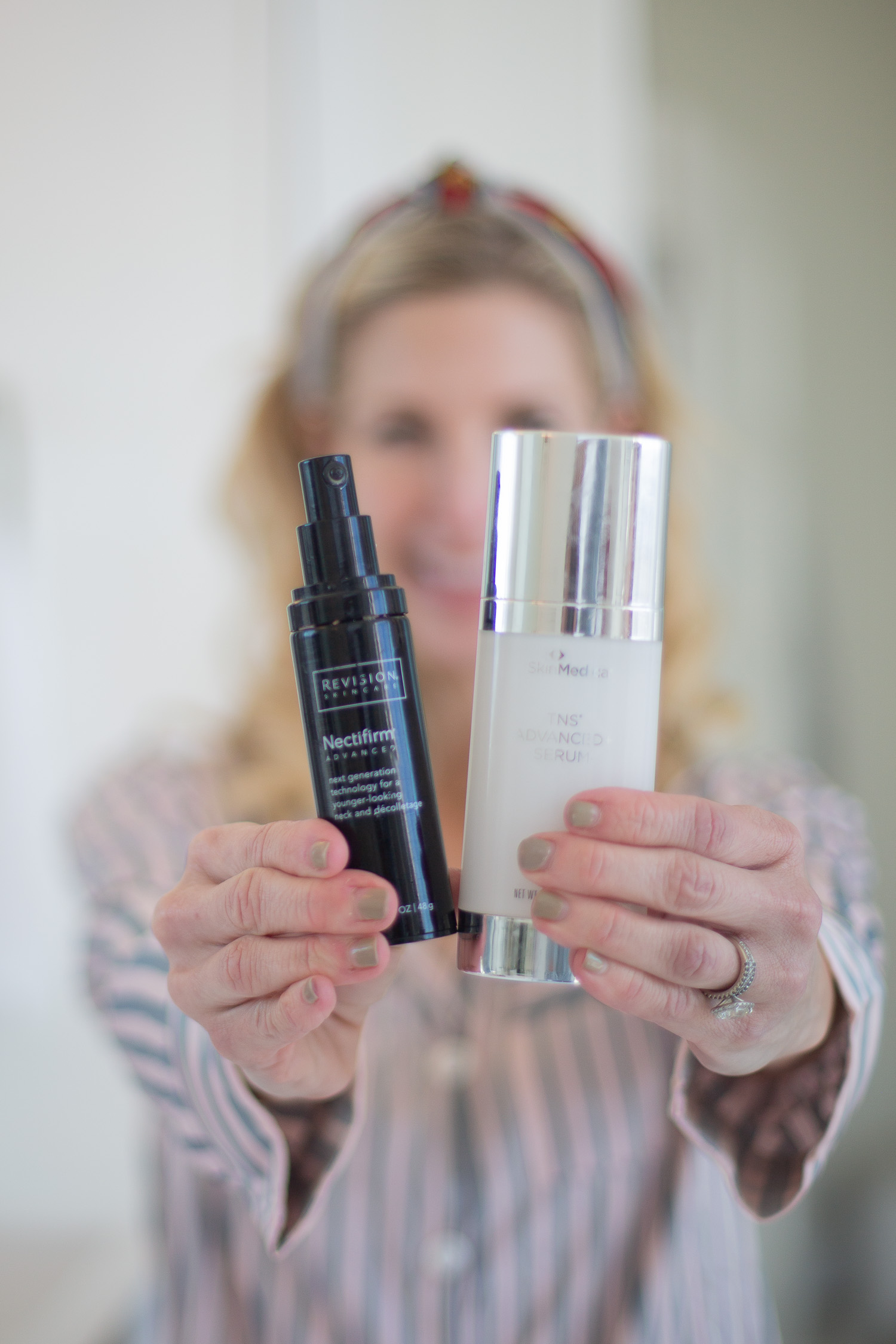 If it's daytime always wear sunscreen! I love the Elta MD because it's broad spectrum, doesn't smell funky and applies so smoothly and evenly on my face. I also love the mineral sunscreen powder from Colorscience. I keep one in my car and beach bag because it won't melt and I can brush it on over makeup to reapply.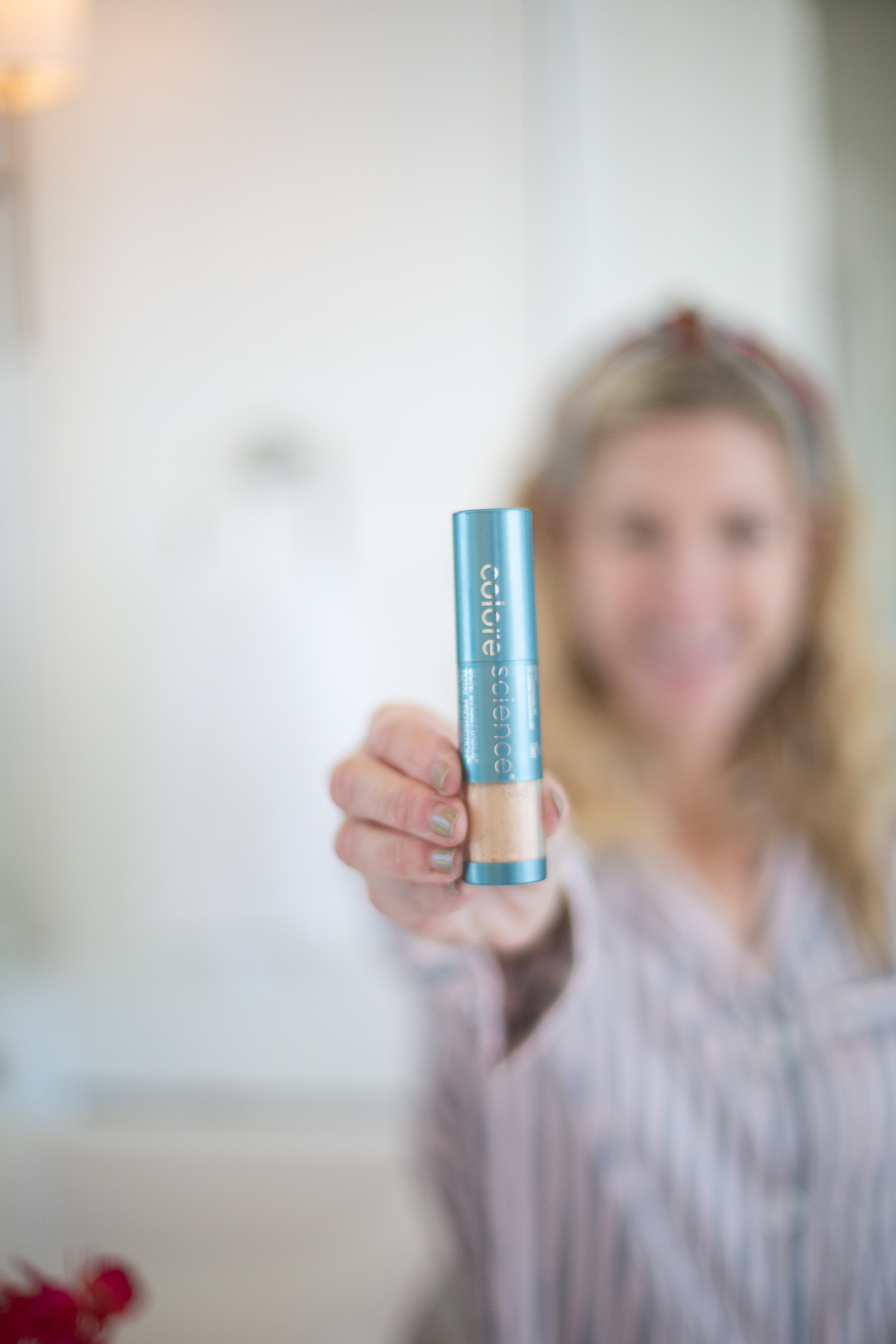 I hoped you enjoyed this post on my anti-aging skincare for maturing skin. If are looking for more product recommendations check out this blog post for 10 tricks to help you look 10 years younger. Have you followed me yet on Instagram? I would love to see you there! I share all things skincare, fitness, beauty, and fashion @donnatryba.  Another one of my favorite articles on anti-aging skincare can be found here. 
Have a great day y'all!  Sending good vibes from downtown Austin, TX.